It was a great day of boating on Dal Lake in Srinagar for the 23 Members of the European Parliament (MEP), who arrived in Jammu and Kashmir on Tuesday to "see for themselves" the situation in Kashmir following the removal of the special status of the state under Article 370.
Although divided by countries, most of the members are united by their right-wing or far-right political positions. Their stand towards immigrants, Muslims and, even the European Union, is similar.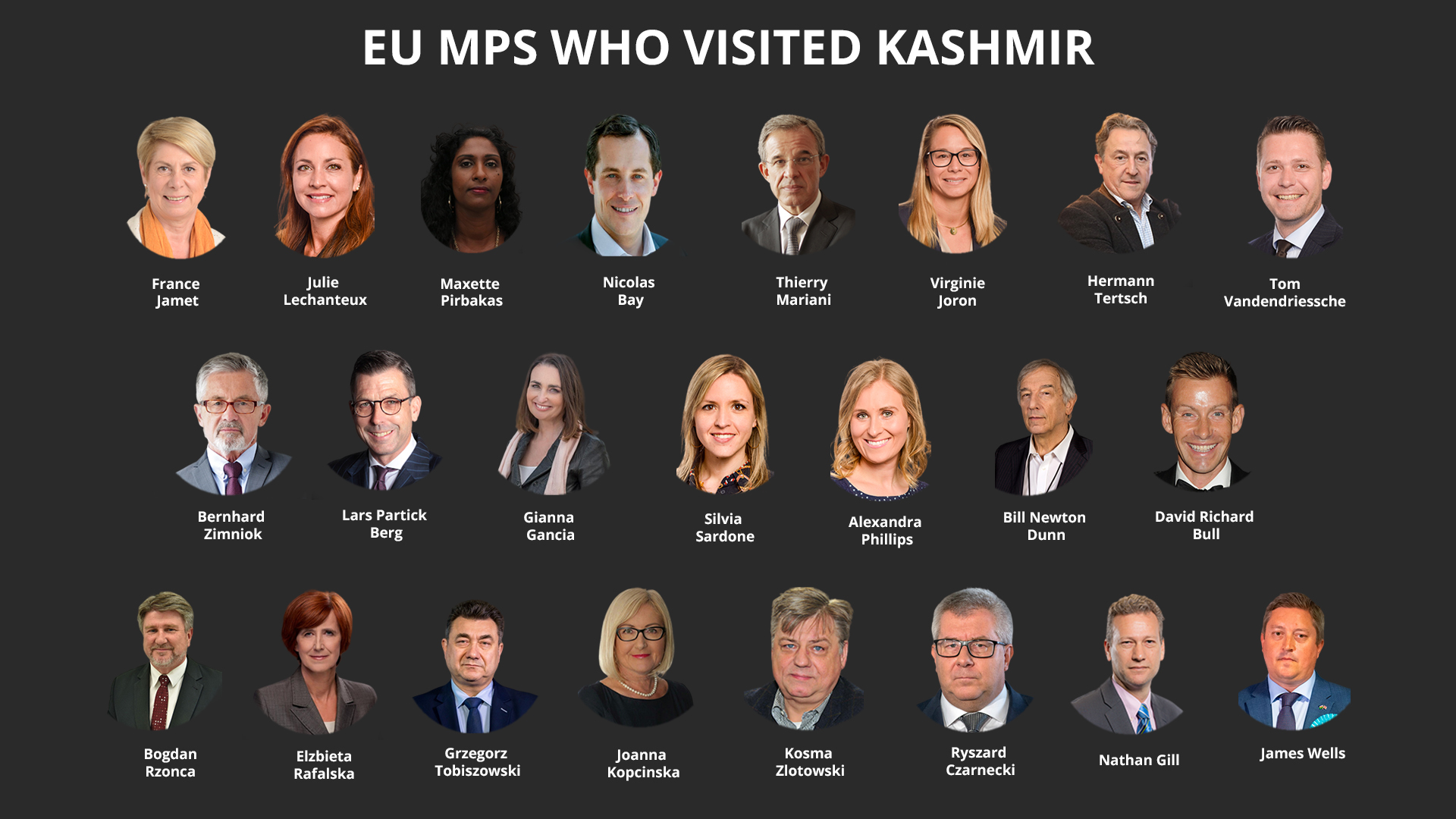 Also read | EU delegation's unofficial Kashmir visit proving to be 'PR disaster' for BJP
Initially, 27 members were invited for the Kashmir trip, but four Left-leaning members returned to their home countries on October 29, a day after landing in India. Of the 23 members, all the six delegates from France belong to Marine Le Pen-led National Rally, while another six from Poland represent the Law and Justice, another right-wing populist party.
Except for Liberal Democrats' Bill Newton Dunn, the other four members from the UK are part of Nigel Farage's Brexit Party. Both the German delegates, Bernhard Zimniok and Lars Partick Berg, are from Alternative for Germany. Italy's Gianna Gancia and Silvia Sardone belong to the League party. Belgian delegate Tom Vandendriessche is from Vlaams Belang, while Hermann Tertsch of Spain is from the Vox party.
Also read | 'Friendly' EU team to whitewash Modi govt actions in Kashmir
In line with their party thinking, the MPs also have voiced their anti-immigrant, anti-Islamic and anti-climate movement stand,
To the Emanuel Macron-led French government's announcement recently to welcome 150 of the 356 migrants, who are set to arrive in six European nations, Thierry Mariani, who is among the French delegates to India, tweeted that the other 22 countries were not accepting the 'unlimited immigration'.
MEP Nathan Bill of the Brexit party of the UK has been claiming that climate change was man-made. In a recent tweet, he said, "Complete stupidity to think by sticking a bunch of wind turbines all over Wales that we are somehow going to stop the weather from changing."
Also read | Not part of 'Kashmir PR stunt', EU MP asks what India is hiding
Interestingly, when he was a UK Independence Party MEP in 2014, Bill had admitted to employing dozens of migrant workers from Poland and the Philippines in his company, despite the party's anti-immigrant stance.
Though the Brexit party and UK Prime Minister Boris Johnson's Conservative Party seek Britain's exit from the EU, the former is against the latter's negotiation.
Alexandra Phillips, another MEP who is in India, has been quite critical of the UK Prime Minister's Brexit deal. She had been stubborn for a clean exit from the EU without any negotiation.
In a recent TV show, Phillips had said that she would even leave the UK if the Brexit deal was passed, not realising that it would make her an immigrant.
Also read | US Senator denied nod for Kashmir visit, says India must be open
Silvia Sardone is an MEP from the League, a right-wing party in Italy, whose federal secretary and country's deputy Prime Minister Matteo Salvini, during his EU parliamentary election campaign, assured voters of deporting more illegal migrants from the country. She termed the proposals for the European green deal as a reinvention of the wheel. She had also come out against the hype, as she claimed, around Swedish teenage environmental activist Greta Thunberg.
Another MEP from the party, Gianna Gancia had been demanding the EU Commission to cut ties with Iran and impose sanctions on the country, claiming that it had been violating human rights. Her party leader Salvini, during the EU election campaign, said he would close mosques and prevent opening new ones, which according to Gancia, is not a human right violation.
Also read | Modi, Ajit Doval brief European panel ahead of Tuesday's Kashmir visit
Polish right-wingers who visited Kashmir too are not any different. Ryszard Czarnecki from the Law and Justice, on September 17, extended his support to India on the abrogation of special status under Article 370 during a debate in European Parliament.
"We need to look at terrorist acts that took place in India, Jammu and Kashmir. These terrorists didn't land from the moon. They were coming from the neighboring country. We should support India," Czarnecki said.
During an election rally in 2015, founding chairman of the Law and Justice and former Polish PM Jaroslaw Kaczynski said migrants carry parasites and protozoa. He went on to say only his party could save the country from an influx of Muslim migrants.
The lawmakers will be in Jammu and Kashmir on October 30 too and are expected to assess the situation in the UT.