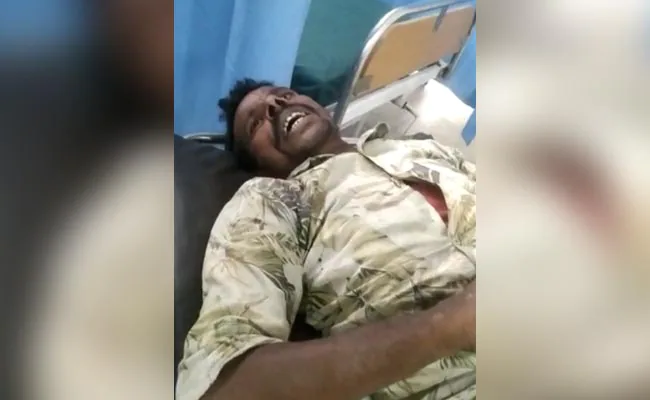 Days after a group of Nihangs murdered a labourer at the farmers' protest at Singhu, near the Delhi-Haryana border, for allegedly desecrating the Sikh holy book, another man has been attacked at the site, reports said on Friday (October 22). Authorities have arrested a Nihang in connection with the attack.
Also read: Singhu murder: Nihang sect member surrenders; family demands justice
Videos of the victim have been circulating on social media in which he is seen lying on a hospital bed. Manoj Paswan says he was transporting chicken from a poultry farm when a man stopped him and demanded a chicken. He claims that he was assaulted with an axe-like weapon for refusing to part with a bird.
"I told him I couldn't give him a chicken because I was answerable to the shopkeepers and farm owners. I'm a labourer and could lose my job if even one chicken goes missing," he says.
Also read: Lynching at Singhu border: Who are the Nihang Sikhs?
Paswan says he told the man to go to the poultry farm nearby and buy a chicken from there. "I even showed him the invoice slip as proof but just as I took it out from my pocket he noticed that I also had beedi in my pocket, which infuriated him and he attacked me," he says.
A 35-year-old labourer was found murdered at the protest site in last week. Lakhbir Singh was found with his hand chopped and with multiple injuries. Nihang Saravjit Singh, a member of the Nihang group, surrendered to the Haryana police by the evening of October 15 for the murder. Two other Nihangs were also arrested later.
Also read: 'He was made to do this': Singhu victim's neighbours come to his defence
Lakhbir was survived by his wife and three daughters. His family demanded justice for him at the earliest. The family is unaware of the motive behind the murder. A minimum of three videos circulated on the internet showing Nihangs standing around Lakhbir Singh asking him his name and native village.
Residents of Tarn Taran district, Punjab, told the media that Lakhbir was a drug addict and could have been lured to the site of the demonstration.
Paswan's incident is the second act of violence by members of the Nihang sect at the Singhu border.