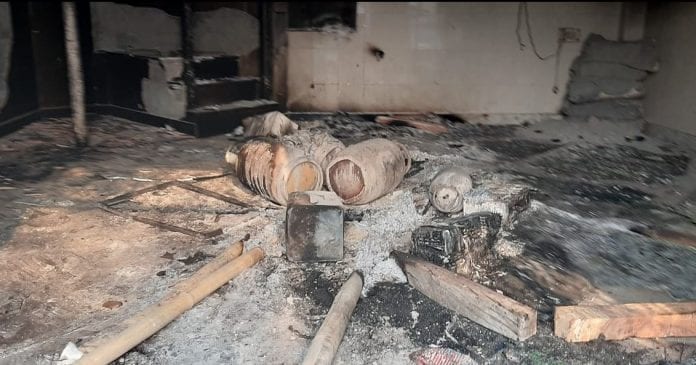 A week after mobs armed with guns, swords and acid razed parts of Muslim-dominated areas in northeast Delhi, the atmosphere on the streets littered with shattered glass, stones and burnt vehicles, is far from calm.
A sense of panic has gripped the residents of the area, especially those who have been forced to flee their burning homes, leaving behind their valuables and documents.
Home no more welcome
Hundreds of Muslim families have fled the Hindu-dominated area of Shiv Vihar, one of the worst-hit during the communal riots that raged for three days, and taken refuge in the neighbouring Muslim-dominated area of Indira Vihar.
Several localities have opened their homes to bereaved families while others have taken refuge in local mosques. In one of the congested bylanes, 14 people, mostly women, have been living inside a tiny room in a small two-storey building.
Evacuees say while their attackers have halted the rampage, their houses are still being looted.
"Now that all the Muslims (of Shiv Vihar) have fled, they are no longer burning properties because the blame would directly fall on them. But thieves are breaking into our houses and shops every day, and stealing what is left," claims 18-year-old Imran.
Although entry into Shiv Vihar was restricted, residents say miscreants managed to get past the paramilitary and police forces under the pretext of being residents or shopkeepers, to loot shops.
"When my father went to collect our valuables on Saturday, he was attacked with a knife by locals he had known for years. They abused him with communal slurs," he adds.
Imran says the mob also played loud music to celebrate its victory after the riots on Monday.
Several residents owning bakeries and kirana (grocery) stores said that sugar, flour and other ration worth lakhs of rupees were stolen in their absence.
"Our Hindu neighbours called us and informed that many people broke into our house on Friday and robbed everything they could lay their hands upon," says 52-year-old Wasima, who had to leave her house in Shiv Vihar at 1 am on Monday.
Related news: In riot-hit Delhi, Muslims tell tales of targeted violence, police apathy
Shunned by familiar faces
Many of the residents said they were chased away by locals whom they have known for years when they tried to come back home or collect their belongings after the riots ebbed.
The imam (head) of a mosque who had gone to collect his clothes on Saturday, had to run back to Indira Vihar when locals threatened him of dire consequences if he ventured into the area.
Some who did manage to reach the spot found nothing worth carrying back. A few were denied entry by the police because they did not have ID cards.
"I had packed my family's documents and valuables in a bag, but I had to leave it behind because I carried my neighbour's three-year-old daughter in my arms," says 50-year-old Sumaiya, who has taken refuge in a mosque in Indira Vihar, along with hundreds of others. "Now, they (police) are not letting my son enter Shiv Vihar because he does not have an ID card," she adds.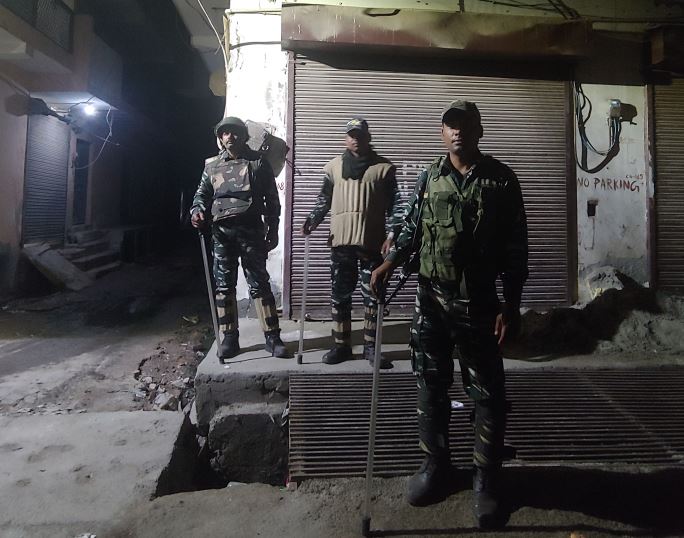 She likens the Delhi riots to the 1979 riots of Jamshedpur. "I witnessed the riots of 1979 where Hindu extremists went on a rampage, killing people and raping women. The current scenario is a haunting reminder of that," Sumaiya adds.
Walking through the charred vehicles, mosques, houses and shops in the deserted lanes of Shiv Vihar, one gets the chill of entering a ghost town. Inside a burnt-down mosque, a few cylinders can be seen, suggesting it might have been a planned move.
A man who was collecting burnt pages of the Koran said he would bury them in a graveyard. The stench of burnt materials had faded, but the soul-stirring images of Muslim houses that were burnt will always be a reminder of the horror that unfolded on February 22.
Uncertain future
A feeling of distrust envelops the air at Indira Vihar, where several Muslim families have taken refuge. Many who have taken shelter in a local mosque are scared even to step outside. They haven't had a change of clothes – tattered, soaked in blood and bearing burn marks – for the past six days.
Several non-profit organisations have stepped up efforts to ensure that the Delhi government's ₹25,000 relief reaches the victims. Since ID proof and bank account are necessary for getting the relief, many who do not have the latter are now getting accounts opened. However, those who have lost their ID cards or are unable to retrieve them are worried how they would get the monetary aid, and are scared for the future of their school-going children.
"My school uniform, books, ID proof, everything is in Shiv Vihar. How will I take my Class 10 boards," asks a worried Muskaan, 15, barely able to understand the tragedy that has befallen her. "I have so many Hindu friends in school who called to check on me. Then why did they (Hindus) come after us. Why did they burn our mosque? What have we done?"
Therefore, the question remains: Do these people even want to go back to the place they once called home?
Related news: Delhi violence: As night falls, sleep fades and fear grips residents 
Many who have lost their houses and savings say they have no reason to; they would rather return to their native villages. Those who have lost their loved ones do not want to walk down the memory lane. Those who have fled do not want to re-live the horror. And those who have nowhere else to go are stuck between being homeless and living in fear. Muslims in neighbouring areas who feel they have been relegated to the status of second-class citizens in their own country are also terrified of living in the vicinity of the massacre.
"We will go back only if the government assures us security and when other Muslims come along," says 22-year-old Afzal, who still guards the streets of Indira Vihar, barely ready for any untoward incident.
"They have swords and guns, we are standing with sticks and helmets," adds Imran.
Along with Imran, several other sleepless men come out to the streets after the sun sets in.
Central Reserve Police Force (CRPF) personnel have been deployed about every 500 metres in Jaffrabad, Maujpur, Gokalpuri and Mustafabad, among other riot-hit regions.
"What the Narendra Modi government has done is clearly wrong and unjust. Innocent and poor Muslims have been the target of this communal violence," says a jawan under condition of anonymity.
BJP to blame?
Residents, including many from the Hindu community, have largely accused the BJP government of orchestrating the riots.
"Today, it is Muslims, tomorrow it will be us," says a Hindu resident under the condition of anonymity. "They have a problem with everyone who does not follow their orthodox Hindu ideologies. Freedom of religion and expression has gone for a toss."
One of the worst episodes of communal violence in the country in nearly 20 years has left 46 people dead and over 300 injured so far. Most of the victims admitted to Guru Tegh Bahadur Hospital had gunshot wounds but there were also acid burns, stabbings, head injuries and mutilated genitalia. A man whose wife got burnt has been seen offering namaz for several hours in a day since Tuesday. Several families have been camping in the hospital for almost a week now with many depending on volunteers and NGOs for food and medicine.
Related news: Delhi riots: Some stories symptomatic of old patterns, police inaction
Amid "state-sponsored violence" and rumours of it spreading to other regions, the Indian capital seems more unsafe than ever. But this message of peace and brotherhood by Visheswar Dalal Rathore, the only Hindu family living among Muslims for the past 27 years in Indira Vihar, is one that seems obvious, but more important than ever before.