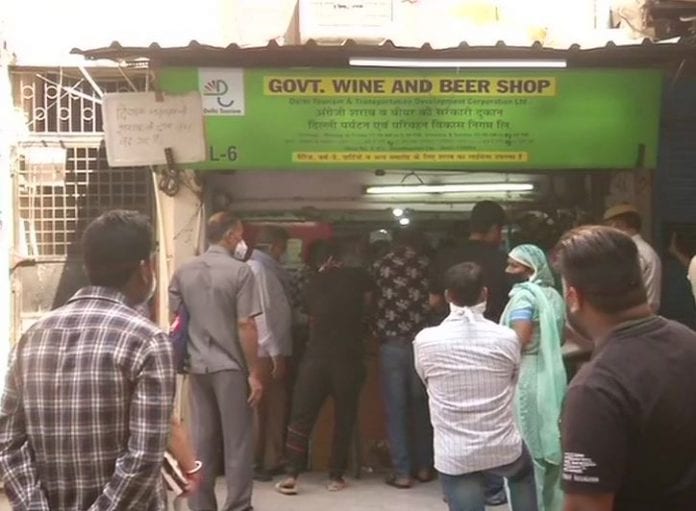 Chaos and confusion reigned supreme in the Nation Capital Region (NCR) on Monday (May 4) as tipplers ran amok to buy liquor after a 40-day dry spell due to the COVID-19 lockdown across the country.
Long queues were seen outside liquor shops from 7 am, two hours before the shops were to open. Government-owned liquor shops in Delhi opened at 9 am but had to down their shutters within 40 minutes after frenzied crowds failed to maintain social distancing norms and were seen piling on each other. Neither the staff of liquor shops nor the police could contain the high spirits of the over-excited tipplers.
Related news: Delhi to impose 70% special corona fee on liquor from today
Only a few could get their quota of drinks and a majority had to go home empty handed after Delhi Police, considering the unmanageable state of the crowds, directed all liquor shops to be shut down. Earlier, police had to use mild force to disperse unruly crowds in some places.
The department later prepared a report to suggest extension of timing of liquor sale to avoid crowding and social distancing violation at liquor outlets.
Twitterati also reacted to the chaos seen in Delhi with the hashtags #SharabiSarkar and #liquor trending even a day after the grand fiasco. A red-faced Delhi Chief Minister Arvind Kejriwal, later in the evening, announced a 70 per cent 'Special Corona Fee' on liquor which means that liquor in the capital would cost 70 per cent more, effective from Tuesday (May 5).
Attempts to cross over
Adjoining Uttar Pradesh had a different story to tell. While liquor shops opened in Noida (Gautam Budh Nagar), no shop was allowed to open in Ghaziabad. This shows the lack of planning and coordination between top-notch excise department officials and respective district magistrates of Noida and Ghaziabad as both districts fall into the category of red zones.
Such was the desperation amongst tipplers of Ghaziabad that many tried to cross over to Noida to replenish their stock of booze. As the border between the two districts is already sealed, scores were sent back by police.
In a bizarre case reported from Ghaziabad district, two people died and one was hospitalised after they concocted their own booze at home. It was later revealed that the trio had used nail paint remover, hand sanitiser and some chemical to make liquor at home.
Liquor shops in Ghaziabad, however, opened on Tuesday.
Related news: Liquor shops in Delhi shut after crowd turns unruly, defies social distancing
Principal Secretary Excise, Sugar Industry and Cane Development of Uttar Pradesh, Sanjay Bhoosreddy told The Federal, "We are very strictly following social distancing norms at all 26,000 liquor vends in the state. Anyone found without a face mask in the queue for liquor, would be turned away. It would also be mandatory for shopkeepers to wear masks, gloves and use hand sanitiser at regular intervals. Strict action would be taken against anyone and everyone who does not follow these norms".
Gurugram and Faridabad authorities had, however, have decided against opening any liquor shop. Till the time Haryana government takes any decision on this matter, the dry season will continue for residents of these two cities.