After a landslide victory in the Delhi assembly elections, AAP convenor Arvind Kejriwal is set to take oath as the chief minister of the national capital for the third consecutive time at the history Ramlila Maidan on Sunday (February 16). The ceremony is scheduled to begin at 10 am, said officials.
In view of the ceremony, traffic regulations will be in place in the area from 8 am till 2 pm, they said. The officials said 2,000 to 3,000 personnel from the Delhi Police and paramilitary forces, including the Central Reserve Police Force (CRPF), will be deployed as part of the security arrangements.
Related news: Suit up, junior: 'Baby Kejriwal' gets invitation to Feb 16 swearing-in
Drones are likely to be used for surveillance. Roads leading to the Ramlila Maidan will be under CCTV surveillance, the officials said. Only one reporter and one camera person from every organisation will be allowed to cover the event, according to the officials.
Door frame metal detectors and baggage scanners will also be installed in and around the ground. Police had also issued a traffic advisory on Friday regarding the restrictions that includes designated parking spaces for cars, buses, and OB vans. It also restricted movement of commercial vehicles on certain stretches.
Kejriwal will be sworn in as the chief minister of Delhi for the third time on Sunday. On two previous occasions, he had taken oath at the same venue — Ramlila Maidan. His Aam Aadmi Party (AAP) had swept the Delhi assembly elections, held last week, bagging 62 out of the total 70 seats.
Meanwhile, he has called a dinner meeting of his ministers-designate to discuss a roadmap for Delhi's development. Party functionaries said he will discuss with them initiatives that need to be prioritised and action items for the Delhi government in the coming three months.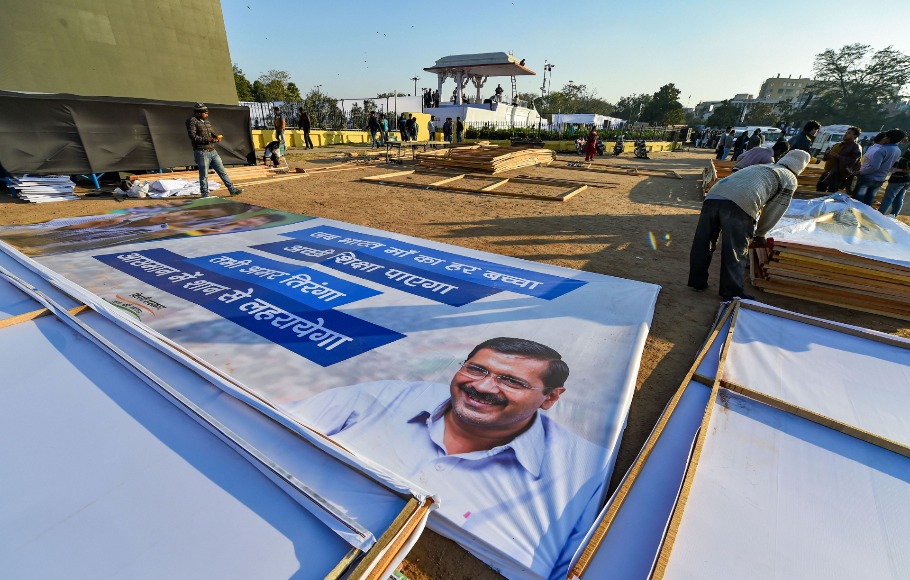 Related news: Purvanchal sway: AAP reaps benefits of a Cong political doctrine 
The meeting will also focus on developing a roadmap to make Delhi a global city, they said. Besides Kejriwal, six other MLAs — Manish Sisodia, Satyender Jain, Gopal Rai, Kailash Gehlot, Imran Hussain and Rajendra Gautam — will also take oath on Sunday.
Around 50 people from different walks of life who are responsible for Delhi's development will share stage with Kejriwal during his swearing-in ceremony, said Deputy Chief Minister Sisodia. He said these 50 people would include teachers, bus marshalls, and architects of the Signature Bridge, among others.
And a controversy…
Newly-elected BJP MLA from Delhi's Rohini constituency Vijender Gupta wrote a letter to Kejriwal on Saturday requesting him to withdraw a circular that made it "compulsory" for government school teachers to attend his oath-taking ceremony on Sunday.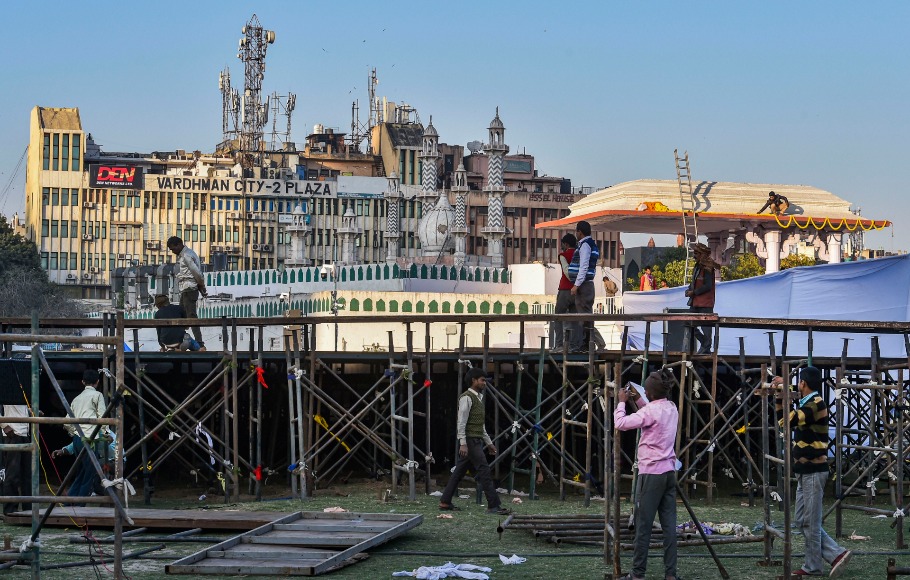 Gupta called the circular "dictatorial" that shattered his belief that Kejriwal's focus after coming back to power would be on governance and strengthening democratic ethos. "By virtue of the order, 15,000 teachers and officials will have to attend the oath ceremony," Gupta wrote in his letter.
Reacting to Gupta's objection, the vice chairman of Delhi Dialogue and Development Commission, Jasmine Shah, said teachers and principals were "architects" of Delhi's transformation in the past five years and they "deserved to be invited" for the swearing-in ceremony.
(With inputs from agencies)
Related news: Kejriwal begins victory speech with 'love you' message for Delhiites