The Aam Aadmi Party (AAP) in poll-bound Delhi on Wednesday (January 29) asked the Election Commission to impose a 48-hour campaigning ban on Union Home Minister Amit Shah for allegedly tweeting a "fake" video on state government schools.
Party leaders Sanjay Singh and Pankaj Gupta complained to the Election Commission against the circulation of the "fake" videos of Delhi government schools by BJP leaders to "falsely defame" Delhiites.
अमित शाह को झूठे और फ़र्ज़ी वीडियो फैलाने के लिए दिल्ली के बच्चों, उनके अभिभावकों और शिक्षकों का अपमान करने के लिए उनसे माफी मांगनी चाहिए। : @SanjayAzadSln#BJPInsultsDelhi pic.twitter.com/Rh6opkhaLW

— AAP (@AamAadmiParty) January 29, 2020
"Today we have registered a complaint and urged EC to ban Amit Shah from campaigning for 48 hours and immediately remove the tweet which contains fake video. Amit Shah and his MPs are constantly insulting the people of Delhi. They have spread fake and fabricated videos to malign Delhi Govt schools and its students," AAP said on Twitter quoting Singh.
In its complaint to the poll panel, the AAP also said BJP MPs — Gautam Gambhir, Parvesh Verma and Hans Raj Hans — made "false and fabricated" videos to put out a wrong picture of Delhi government schools to the people. The AAP has also sought action against the three BJP MPs.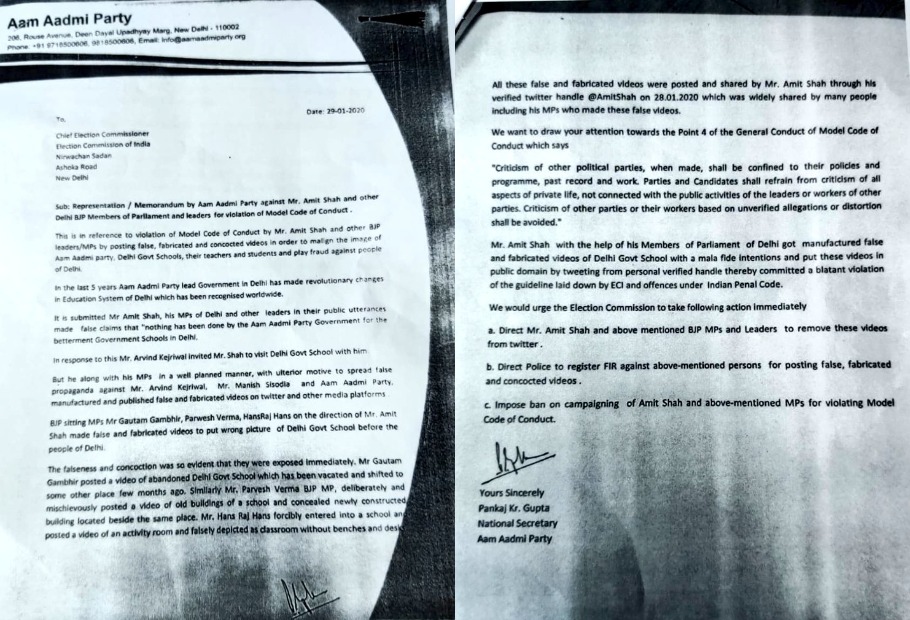 Also read | Shah says Delhi govt schools in miserable condition, Kejriwal retorts
Delhi Chief Minister Arvind Kejriwal on Tuesday had asserted that the videos of alleged deficiencies in the city's government schools shared by Shah were false. "The report by your MPs is false. You are misleading the people by making videos of schools that are closed," the chief minister said in response to Shah's tweet on Tuesday.
Reports suggest one of the schools showed in a video shared by MP Gambhir had a "public announcement" on its gates, saying the school has been shifted to another location due to renovation works.
(With inputs from agencies)