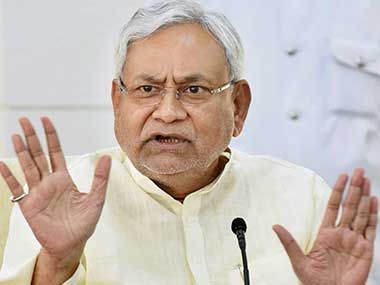 With dust settling on communal disturbances in Bihar, Chief Minister Nitish Kumar on Wednesday rejected charges of administrative laxity and vented spleen against Union Home Minister Amit Shah and the BJP, vowing to expose those who had orchestrated the riots.
The JD(U) leader also lambasted AIMIM chief Asaduddin Owaisi, calling him an agent of the BJP.
Also read: Bihar violence: 77 arrested, normalcy restored, say police
He was replying to queries from journalists on the sidelines of a function organised on the occasion of birth anniversary of former deputy prime minister and dalit stalwart Babu Jagjeevan Ram.
Kumar's remarks come a day after West Bengal Chief Minister Mamata Banerjee claimed that the BJP was bringing in goons to create riots in her state.
Taunting Shah
The Bihar CM taunted Shah over the much-publicised 'rioters will be hung upside down if BJP comes to power in Bihar' remark at a rally in Nawada district on Sunday, and reminded him of riots in 2017 "when our government had to arrest the son of a BJP leader".
Also read: Ram Navami | Bihar rioters will be 'hung upside down' if BJP comes to power: Amit Shah
The allusion was to the riots that broke out during Ram Navami, incidentally in 2018 and not 2017, at Bhagalpur. Union minister Ashwini Kumar Choubey's son Arijit Shashwat was named among the key accused in the case.
Remembering 'angry' Atal
The Bihar CM, who was a minister in the Union Cabinet headed by Atal Bihari Vajpayee, also reminded Shah how angry revered (shraddhey) Atal ji was, indirectly referring to the 2002 riots of Gujarat, when Prime Minister Narendra Modi was the chief minister of that state.
About the conflagration that erupted in Sasaram and Bihar Sharif last week, again during Ram Navami, Kumar asserted that there was no administrative laxity, but added the riots were orchestrated ('jaan boojhkar karvaaya gaya') and those behind the incident will be known soon. "Just wait, door-to-door searches are on," he said.
Also read: Two Bihar towns witness communal tensions post-Ram Navami
"The riots last week were planned thoroughly. No wonder, one of the places, Sasaram, happened to be where he (Amit Shah) was supposed to visit. And the other was Bihar Sharif, a town which is dear to me," said Kumar, who hails from Nalanda district, where Bihar Sharif is situated.
(With Agency inputs)