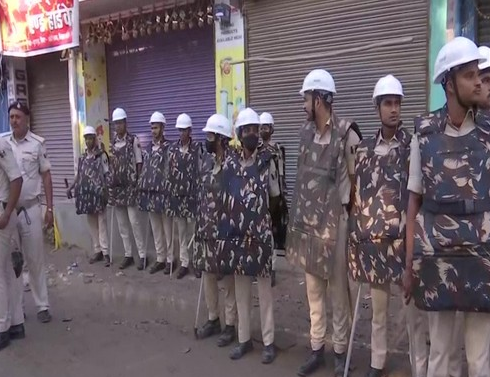 A total of 77 people have been arrested in connection with the communal violence that erupted in Bihar Sharif town in Nalanda district during the Ram Navami festivities, police said on Sunday (April 2).
One person was killed and six were injured in the violence that erupted in the state.
Normalcy has been restored in Bihar Sharif, the police said. Bihar Police in a tweet on Sunday said, "Normalcy has been restored in Bihar Sharif the situation is completely under control. Total of 77 people have so far been arrested by the district police as part of its investigation into the matter. Senior officers are camping in the affected areas..and adequate deployments of security forces have been made in the area".
The police dismissed rumours that are doing the rounds on social media about the rising tension in the area. The police urged the people to not pay heed to any such rumours.
Also read: Ram Navami | Bihar rioters will be 'hung upside down' if BJP comes to power: Amit Shah
A senior officer of the Bihar Police said, "Probe is on to nab other miscreants also responsible for Ram Navami violence amid prevailing tension in the area".
Police said that prohibitory order under section 144 Crpc is in place in Bihar Sharif after fresh clashes broke out on Saturday night.
The state police had on Saturday arrested 45 people in connection with communal riots at Sasaram and Bihar Sharif that erupted during the Ram Navami festivities.
Also read: Bengal: Weaponising Ram Navami to suit politics of right wing
Vehicles, houses and shops were torched and several people injured in communal flare-ups reported in both towns.
In Sasaram, the district administration ordered imposition of prohibitory order under section 144 Crpc on Friday afternoon after re-eruption of clashes, which first broke out the previous evening.
Earlier, Union Home Minister Amit Shah on Sunday expressed concern over incidents of communal violence in Bihar and spoke to Governor Rajendra Vishwanath Arlekar to take stock of the situation, sources said.
Also read: Ram Navami procession clash in Mumbai: 21 held, 300 booked
The Union Home Ministry has decided to send additional paramilitary forces to Bihar to help the state administration handle the situation arising out of the violence.
'Sasaram blast may not be communal in nature'
Bihar Police, however, are yet to ascertain if the blast in Sasaram was communal in nature or related to the Ram Navami celebrations. Prima facie, the incident is suspected to have occurred during the handling of illegal explosives at a private property in the city. The injured were admitted to the district hospital on Saturday night while a forensic team was sent to examine the spot of the blast.
Also read: Ram Navami celebrations marred by death of 11 devotees in MP, clashes in Maharashtra
Speaking to the media, Sasaram District Magistrate Dharmendra Kumar said the cause of the blast is yet to be known and that police are investigating all angles. "The blast was reported at a shanty, and a scooty has been recovered from the area. Prima facie it does not appear to be a communal incident," police told the media.
Shah addresses rally
Shah, who arrived in Patna on Saturday evening, addressed a rally in Hisua area in Bihar's Nawada district on Sunday.
State BJP chief Samrat Choudhary blamed the Nitish Kumar government in Bihar for the cancellation of the function at Sasaram, organised to celebrate the birth anniversary of Emperor Asoka.
Also read: 10 days of hate: Unprecedented sectarian violence since Ram Navami day
Fake news: Cops on 'Hindus leaving homes in fear of Muslims'
With some sections of the media reporting that "Hindus are leaving homes due to fear of Muslims in Sasaram," police have called these news rumours and assured residents that the situation is peaceful and normal in Sasaram.
"This is totally baseless and absurd rumour. No one has left his/her locality. If you can provide name, then plz do so. We appeal to the general public not to pay attention to any such rumour. The situation is peaceful and normal in Sasaram," Rohtas Police tweeted.
(With agency inputs)