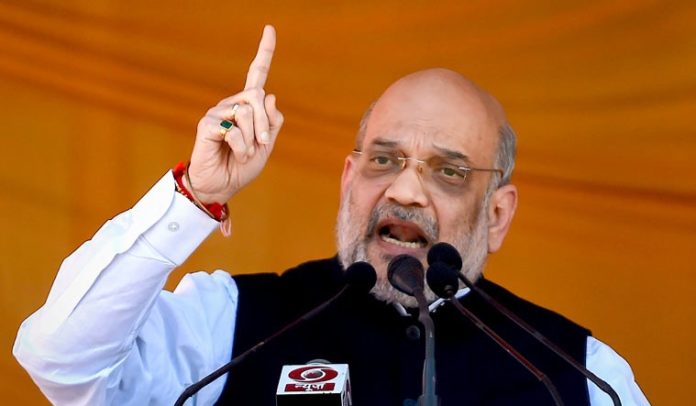 Samrat Choudhary, the chief of BJP in Bihar, stated on Saturday that Union Home Minister Amit Shah has called off his trip to Sasaram in Bihar. This decision was made due to the communal tension that was triggered during Ram Navami celebrations and the imposition of prohibitory orders in the area.
Addressing a press conference at the party's state headquarters here, Choudhary said Shah, who will be reaching Patna on Saturday evening, will address party workers in Nawada Lok Sabha constituency on Sunday as per schedule, even as he squarely blamed the Nitish Kumar government in Bihar for the cancellation of the function at Sasaram, organised to celebrate the birth anniversary of Emperor Asoka.
Also Read: Rahul Gandhi's disqualification: Mayawati can be key to Opposition unity
"It is clear that Nitish Kumar is not in control of the administration. Even Bihar Sharif, which falls in the chief minister's home district of Nalanda, is in turmoil. So are many other parts of the state," alleged Choudhary.
Union Home Minister of State Nityanand Rai had approached the state government with the offer of providing additional forces as per requirement but the entire administrative machinery seems to be in a state of sleep, he fumed.
"The imposition of Section 144 of CrPC in Sasaram is a clear indication that no large gatherings can take place. Hence, the honourable Home Minister has cancelled his visit to the town for Samrat Ashok's birth anniversary celebrations," said the state BJP president, whose party was last year dumped by Kumar, resulting in loss of power in Bihar.
Also Read: Government surveillance getting 'high level' public support: Status of Policing report
Widely regarded as the BJPs principal strategist, Shah has been visiting Bihar with a greater frequency than before since it lost power and found itself pitted against the Mahagathbandhan, a multi-party formation which Kumar has joined.
The BJP-led NDA, which had bagged all but one of the 40 Lok Sabha seats in 2019, faces an uphill task next year with Kumar's JD(U) in the opponent's camp and another valuable ally, Ram Vilas Paswan, dead and his LJP fractured.
Upon his arrival in the state capital on Saturday evening, Shah is expected to put up at a city hotel and hold parleys with party office bearers. The Home Minister may also hold a meeting with administrative officials to get a feel of the situation on the ground.
Also Read: What Amit Shah's remark suggests about TN BJP, AIADMK and their alliance
Tight security arrangements are in place for the tour and besides security personnel, drones have been pressed into service at places Shah is expected to visit before boarding his return flight on Sunday afternoon.
(With agency inputs)