There is a "high level" of public support for certain forms of government surveillance, according to a study that explored public opinions and experiences regarding digital surveillance in India.
"Status of Policing in India Report 2023: Surveillance and the Question of Privacy" (SPIR 2023) findings also revealed a lack of public awareness regarding critical issues such as the Pegasus scandal.
"Recent developments, such as the Supreme Court's recognition of the right to privacy and discussions surrounding data protection, have intensified debates around privacy and surveillance. The study also considers concerning issues, including allegations of illegal government surveillance using the Pegasus spyware and the enactment of the Criminal Procedure (Identification) Act, 2022, which grants police the power to collect biometric information from suspects and detainees," SPIR 2023 study said.
Also read: Indian democracy under attack, politicians under surveillance: Rahul Gandhi
Common Cause, in collaboration with the Lokniti Programme of the Centre for the Study of Developing Societies (CSDS), conducted a face-to-face survey with 9,779 individuals across 12 states and Union Territories to understand perceptions around digital surveillance.
The study also involved a Focused Group Discussion (FGD) with domain experts, in-depth interviews with serving police officials, and an analysis of media coverage of surveillance-related issues.
Among the key findings, was that there was a "high level of public support for certain forms of government surveillance but also reveal a lack of public awareness regarding critical issues such as the Pegasus scandal and the Puttaswamy case (Supreme Court judgment that Aadhaar and its usage cannot be forced upon any individual)."
Also read: Pegasus was centerpiece of $2 billion deal between India, Israel: Report
"Consistent with earlier findings from the SPIR 2018 study, public perceptions of digital surveillance by the government and issues such as freedom of expression demonstrate high levels of support for police violence. However, support for any form of surveillance decreases with a decline in the respondent's socioeconomic status, consistent with past findings that the poor, Adivasis, Dalits, and Muslims are least trustful of the police," it added.
Overall, the SPIR 2023 study shed light on public perceptions and experiences regarding digital surveillance in India, highlighting the need for increased awareness and understanding of critical issues and addressing disparities in trust and support for the government and nongovernment surveillance.
As per the study, the public is generally in support of the government's use of surveillance technologies, but there is also a notable level of concern among people about the safety and misuse of their personal data by private entities. This is particularly evident when it comes to government issued identity documents like Aadhaar or PAN cards, as people are apprehensive about sharing these details with private companies. The survey also indicated that people have been subjected to online tracking by private companies and received targeted ads based on their profiles and past activities.
Also read: Nadella says data privacy must be seen as a human right
Here are some of the broad findings of Status of Policing in India Report 2023
Official data trends
The number of CCTV cameras available with the police, including those from private establishments, institutions and societies, is significantly lower than the actual overall number of CCTV cameras within the cities.
There is no statistically significant relationship between the CCTVs available with police stations and the rates of total cognisable crimes, murder, and auto/motor theft from 2016 to 2020.
Even among the states that have a high registration of cybercrimes, the infrastructural capacity of the state to handle such cases does not match up to the high volumes of registration of cybercrimes.
Also read: 50 shades of privacy: IRCTC dropped data monetisation plan too easily
The chargesheeting and conviction rates for cybercrime offences across the country is lower than the corresponding rates for total cognisable IPC and SLL crimes. In Assam, for instance, despite 6.096 persons being arrested for cybercrimes in 2021, the chargesheeting rate was about 16 percent and the conviction rate was 2.2 per cent.
Experts' opinions on surveillance and the Right to Privacy in India
In the FGD, the stakeholders broadly agreed that while surveillance is being conducted by various actors — state, private companies as well as individuals — it was the unchecked targeted surveillance by the state and its agencies that was the biggest cause for concern. Some of the participants felt that surveillance by private companies was also being used for more nefarious purposes such as stifling dissent or manipulating electoral processes.
While the participants had differences about the efficiency of mass surveillance technologies such as CCTVs for controlling crime and improving public safety, there was consensus that surveillance technologies required better oversight and accountability.
Also read: Snooping, threatening, stealing foundations of Modi's Amrit Kaal: Rahul Gandhi
The FGD participants were of the opinion that support for surveillance technologies amongst the general public stemmed from ignorance about the right to privacy and the dangers of surveillance technologies. It was felt that the public tends to view surveillance as an effective tool for public safety and national security. Some of the participants also pointed out the differences in opinions depending on the class of the citizens, with the poor being less likely to support surveillance by the police or the state.
Some of the FGD participants, as well as serving police officers who were interviewed separately, pointed out that the police departments in India lack the necessary infrastructure, capacity, and legal mechanism to properly conduct surveillance (and therefore the ground reality is that the police are unable to use surveillance technologies effectively)
Some of the FGD participants pointed out that the prevailing inaccuracies and discrimination within the system can be fed into the technology as well, leading to biased algorithms, which could be dangerous for the criminal justice system.
Also read: NYT's Pegasus report: Congress tears into Modi govt over snooping revelations
Perceptions about CCTVs
CCTVs are commonly regarded as one of the most pervasive yet seemingly harmless forms of digital mass surveillance. Proponents of CCTVs often argue that they help prevent crime and ensure public safety, but there is little empirical data to support these claims. Despite this, the general public's perception, as indicated by the survey findings, is largely in favour of the continued use of CCTVs, even if it means accepting the risks of mass surveillance. However, support for CCTV cameras declines significantly among respondents with lower levels of education and socioeconomic status, according to the study.
One out of two people (51%) said that CCTVs have been installed in their households/colonies. While high-income groups are more than three times more likely to have CCTV coverage in their residential areas, compared to slums and poor localities, the government is three times more likely to install CCTV cameras in slums/poor localities, compared to higher-income localities.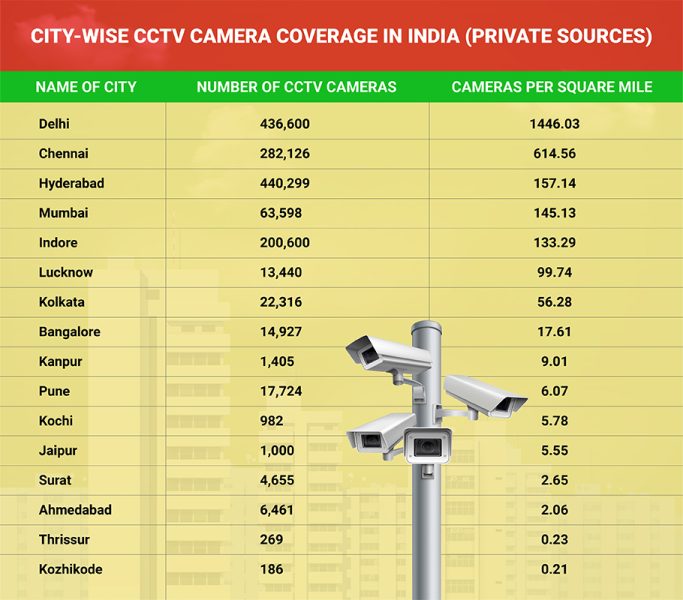 The poorest are least likely to support the installation of CCTVs at any location — entry of homes, inside the house or at places of employment.
One out of four people strongly feel that CCTVs carry a risk of illegal mass surveillance. On the other hand, nearly three out of four people also strongly believe that CCTVs help monitor and reduce crimes.
People with higher levels of education are more likely to believe that CCTVs help in crime reduction, investigation and public safety and are less likely to believe that CCTVs can be misused for illegal mass surveillance.
Two out of five people are aware of incidents of CCTV footage tampering or manipulation.
Forty-four per cent of people believe that CCTV cameras in police stations are very helpful in preventing human rights violations against those in custody. Close to half of the respondents strongly believe that interrogations by the police should be recorded on CCTVs.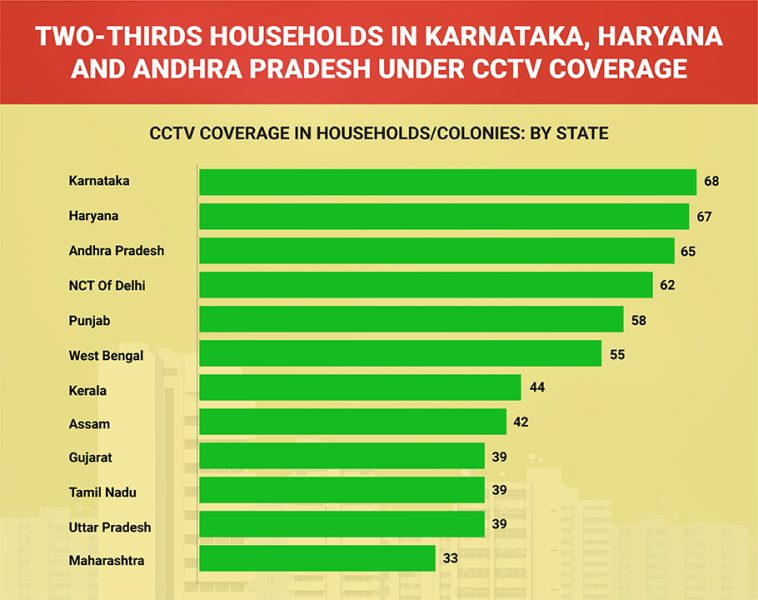 Government and police surveillance
The survey data showed that common people are largely supportive of the use of advanced surveillance technologies such as drones and facial recognition technology (FRT) by the government or its agencies, with little criticism expressed.
About half of the respondents supported the collection of biometric details of suspects, including undertrials. Adivasis and Muslims are the most critical of the police collecting biometric details of all suspects.
More than one out of two people strongly support the use of drones by the armed forces, government, and police. However, farmers and the poorest are most likely to oppose drone usage by government agencies.
One out of two people fully support the use of FRT by the government, and police. People are four times more likely to strongly support the use of FRT by government agencies, compared to its use by private entities.
Nearly two out of three respondents believe that political parties surveil citizens for electoral gains.
Forty-four per cent of people believe that police should not have any freedom to check people's phones without a warrant. Two out of five people believe that police should always obtain a search warrant before tracking anyone's laptop or phone.
People feel a greater need for an independent forum to deal with illegal surveillance by government agencies such as the police, as against illegal surveillance by private companies.
Only 16 per cent of people believe that the police are adequately trained to use surveillance technologies such as CCTVs, drones and FRT.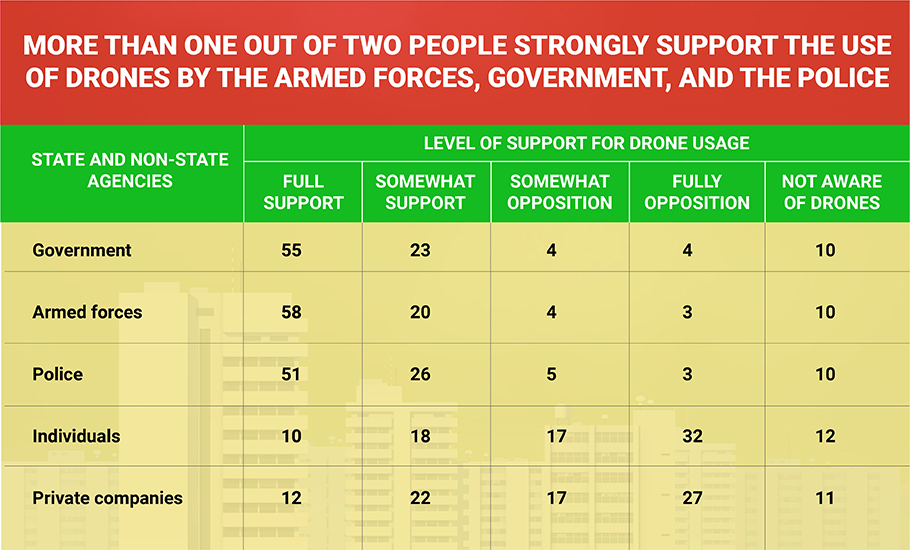 Right to privacy and freedom of speech
Over half of the people strongly justify using CCTV cameras to control protests.
People from small cities and poor backgrounds are least likely to support the use of CCTVs to curb political movements or protests.
One out of five people believe that it is right for the government to monitor people's social media posts.
Large sections of the respondents feel government surveillance by CCTVs (52%), drones (30%), FRT (25%), etc. to suppress protests and political movements are justified to a great extent. Those from Punjab are least likely to support government surveillance during protests, while those from Gujarat are most likely to support it.
Nearly two out of three respondents are scared to post their political or social opinions online for fear of legal action.
Pegasus spyware
Two out of three people have not heard of the Pegasus spyware issue. More than a quarter of the respondents feel that surveillance of MPs/MLAs and other politicians using Pegasus is completely justified.
Surveillance by private entities
About two out of three respondents are concerned that data collected by private entities can be misused.
Nearly one out of two people receives targeted ads based on online search history frequently.
One out of five people are not at all comfortable sharing their Aadhaar details with private agencies.
Forty per cent of people are very anxious that information provided by them online can be misused.
Forty-four per cent of the people are very anxious about unknown persons/companies tracking their bank account transactions.
Nearly three out of four people worried that their personal data such as Aadhar number or PAN can be leaked online.
Hacking and cybercrimes
Two out of five people are concerned about hackers accessing the information on their phones without their consent or knowledge.
Three out of four people are anxious about an unknown person/company accessing their email accounts.
Nearly one out of three people do not use any form of digital banking methods such as UPI, banking wallets, online transactions using debit or credit cards or net banking.
Older respondents are least likely to use digital payment wallets or be comfortable with such apps.
SC respondents were least likely to use digital banking methods, while upper caste respondents were most likely to.
Twelve per cent of the respondents reported that they have been victims of online financial fraud.
Cybercrimes committed for alleged political motive
"Disturbingly, the reported cases of cybercrimes committed for an alleged political motive have significantly increased over a period of five years. Beyond just the actual figure, the proportion of these cases compared to the total number of registered cybercrimes has also more than doubled over the last five years," the report said.
"In 2016 at the all-India level, 40 cases (or 0.3 per cent of the total cybercrime cases in the year) were categorised as those with a political motive, but the figure in 2020 was 356, or 0.7 percent of the total number of cybercrime cases. States which show a particularly high trend among this category are Tamil Nadu, Uttar Pradesh and Andhra Pradesh," it added.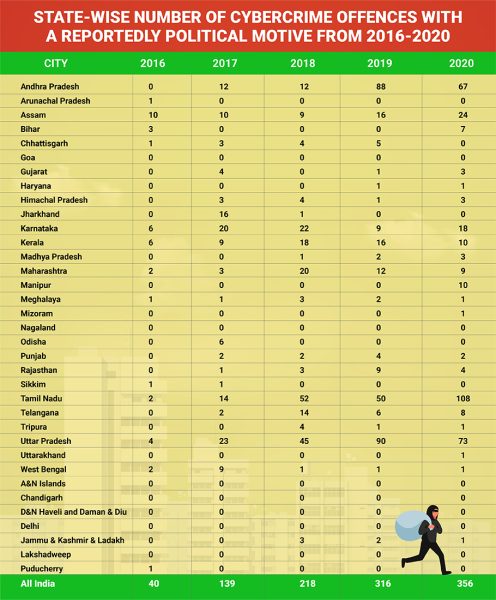 It further stated, "If we look at the trend of registering cybercrime cases as politically motivated in the three states over a time span of five years, we see a clear upward trend in Tamil Nadu and Uttar Pradesh. While in Uttar Pradesh such cases increased from 0.2 percent of the total cybercrime cases in 2016 to 0.7 in 2020, in Tamil Nadu, there was an exponential increase from 1.2 per cent in 2016 to nearly 14 per cent in 2020. In 2018, the proportion of such cases went up to about 18 per cent in Tamil Nadu."
It needs to be noted here that "political motive" is a term that is used by the NCRB (National Crime Records Bureau) in its Crime in India report to categorise motives behind cybercrimes, but the term itself is not defined anywhere in the report, as per the report.