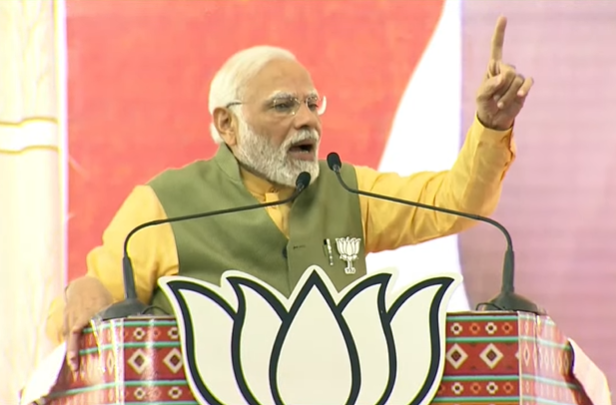 The sports department of Meghalaya has denied permission to the BJP to host an election rally of Prime Minister Narendra Modi at PA Sangma Stadium in Chief Minister Conrad K Sangma's home constituency of South Tura, citing construction work at the venue.
The BJP, fuming over the development, alleged that the ruling National People's Party (NPP), along with the Trinamool Congress and other opposition parties, were trying to stall a wave of the saffron party in the state.
Also read: BJP committed to development of Meghalaya, Nagaland: PM Modi
The PM was scheduled to participate in campaigning in Shillong and Tura on February 24.
The sports department has communicated that it will not be fit to host such a big gathering at the stadium as construction work is still going on and materials kept at the site may be of safety concerns. Therefore, an alternate venue at Alotgre cricket stadium is being considered, District Electoral Officer Swapnil Tembe told PTI.
Also read: Meghalaya denied development due to 'twin evils': Union minister Sonowal
The stadium, built at a cost of ₹127 crore, with 90 per cent of the funds borne by the Centre, was inaugurated by the CM on December 16 last year.
BJP national general secretary Rituraj Sinha said he was amused how a stadium can be declared incomplete and unavailable for use for the PM's rally just two months after inauguration.
Also read: Meghalaya polls: Allies or foes? Bizarre political games unfold in state
"Is Conrad Sangma and Mukul Sangma scared of us (BJP)? They are trying to stall the BJP's wave in Meghalaya. You can try and stop PM's rally but the people of the state have made up their minds (to support the BJP)," he said.
Sinha asserted that seeing people's response to rallies of Union Home Minister Amit Shah and other star campaigners of the BJP, other parties have been taken aback.
Senior BJP leader AL Hek said the PM will hold a roadshow in Pynthorumkhrah constituency in Shillong on February 24.
(With agency inputs)