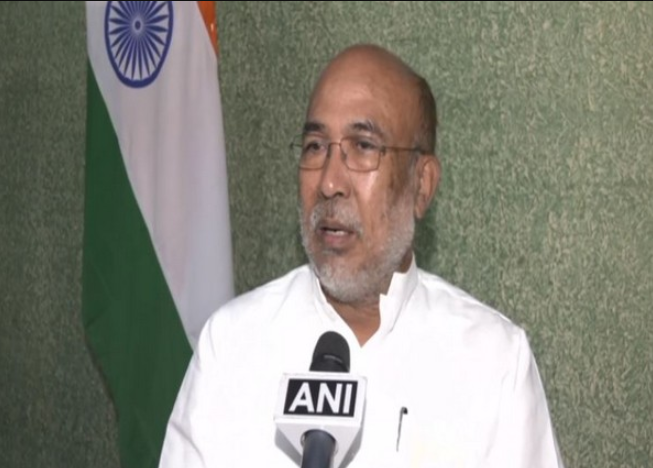 Manipur violence | Wanted to resign as I was hurt, thought lost people's trust: CM Biren Singh
Days after rumours of his intention to resign fuelled a fresh spate of demonstrations in violence-torn Manipur, Chief Minister N Biren Singh said he had indeed decided to step down because he was "hurt" by the way Prime Minister Narendra Modi was being blamed for the ethnic violence in the state and also because he felt he was losing the trust of the people.
Speaking to the media on Saturday (June 1), a day after supporters assembled outside his house urging him not to resign from his post, Singh said he decided not to quit at the request of his supporters.
Also read: High drama in Manipur as hundreds of women 'stop' CM Biren Singh from resigning
"I was really surprised that people gathered outside my house. I thought everyone had left me. But when I went out and saw the crowd, I thanked God and my people who love me so much. So, I changed my decision," he told NDTV.
Singh said he was hurt when people started burning effigies of BJP leaders including Modi's and attacking the party's offices in Manipur. He said he was also upset by the criticism he received from the Kuki community who slammed him for taking action against illegal refugees and smugglers.
"I was really hurt. I started to ask myself if I have done anything wrong. We were unprepared for this. Whatever we could, we are doing. Kuki brothers have been insulting me because I am flushing out illegal refugees, catching smugglers," he said.
"I used to tell my colleagues that people abuse politicians because of their behaviour. So, politicians need to change their behaviour and change their working style so that people respect us the way they respect others. That was my principle. So, I was thinking if people don't respect me, what's the use?" he said.
'Wouldn't allow demographic imbalance'
In a message for the residents of Manipur, which has been witnessing ethnic violence for the past two months, Singh promised that he wouldn't allow any demographic imbalance in the state neither entertain a separate administration.
Also read: Manipur women gather near Raj Bhavan, ask CM Biren Singh not to resign
"We are one. Manipur is a small state but we have 34 tribes. All of these 34 tribes have to live together…We just have to be careful that not many people from outside should come and settle here so that there is no demographic imbalance…As the chief minister, I promise you I won't allow Manipur to break or allow separate administration. I will sacrifice to keep everyone as one," ANI quoted him as saying.
The chief minister also alleged that the violence in the state was the handiwork of political enemies.
"…We can't deny outside element's hand (in Manipur violence). The political hand is already in. Attempts to attack BJP office were not done by the public, it was done politically…Those who try to take political advantage in such a crucial time will never be forgiven by God. We should not do politics with human lives…"
Also read: Kuki MLAs, civil society groups decide against dialogue with Manipur's Biren Singh govt
"We are making all efforts, at all levels, to restore peace. A few hours ago, I spoke with our Kuki brothers and sisters over the telephone that let's forgive and forget; reconcile and live together like we always have…Government has only tried to screen the people coming from outside in the wake of Myanmar turmoil and send them back once the situation improves. Our priority is to restore peace and normalcy in Manipur…," he said.
On Friday, thousands of demonstrators blocked Singh's convoy from proceeding towards the Raj Bhavan after rumours of his resignation circulated among the public. The protesters relented after the chief minister clarified that he was not resigning from his post.
Unconfirmed reports said that the chief minister had typed out a resignation letter but was persuaded by his supporters to tear it up. Some of the women agitators alleged they had seen the torn letter and social media also posted copies of it.
Sources said there were strong rumours in Imphal since Friday morning that the chief minister was contemplating resigning from his post after renewed violence in the state on Thursday claimed three more lives, leaving five injured in violence in Kangpokpi district on Thursday.
Also read: Why it falls on CM Biren Singh to clean up the ethnic mess in Manipur
More than 100 people have lost their lives in the ethnic violence between Meitei and Kuki communities in the northeastern state so far. Meiteis account for about 53 per cent of Manipur's population and live mostly in the Imphal Valley. Tribals – Nagas and Kukis – constitute another 40 per cent of the population and reside in the hill districts.
(With inputs from agencies)