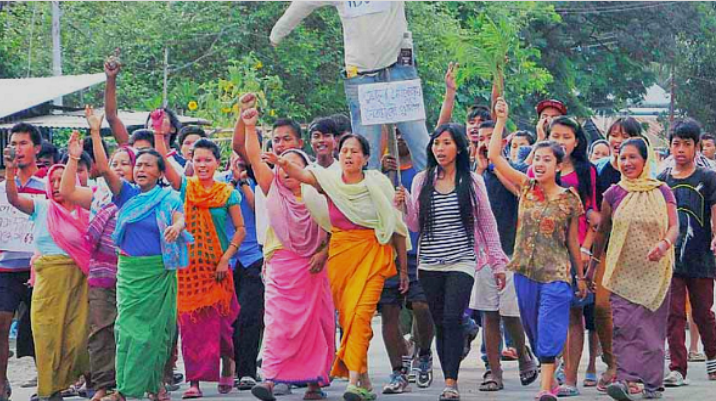 Manipur: Kuki MLAs afraid of travelling to Imphal, likely to skip assembly session
Most of the Kuki MLAs irrespective of their party affiliations are unlikely to attend the Manipur assembly session slated to be called from August 21 in view of the continued ethnic violence, according to leaders from the community.
An apex Meitei organisation COCOMI, which has been spearheading demands for an early session of the assembly to "unanimously" reject demands for separate administrative unit for Kukis, however, claimed that it would ensure safety of tribal MLAs if "they really want to come".
"In view of the prevailing law and order situation and the continuing violence in Manipur, it will not be possible on my part to attend the upcoming session," said LM Khaute, BJP MLA for Churachandpur, one of the worst-hit districts, in a chat with PTI. He also stated that the violence and the lack of a resolution to demands made by the Kukis for a separate administration "will not make it possible for all the Kuki-Zomi-Hmar MLAs to attend the session".
Also read: Manipur: 15 houses torched, 1 person shot in fresh violence; 1195 looted arms seized
There are 10 Kuki-Zomi MLAs, including seven from the BJP, two from the Kuki Peoples Alliance and one independent, in the Manipur House which has a strength of 60 members.
Meaningful debate unlikely
Tongmang Haokip, president of the Kuki Peoples Alliance (KPA), also told PTI, "The MLAs will not be safe travelling to Imphal. BJP MLA Vungzagin Valte who represents Thanlon was badly assaulted there and he is still under medical care." He added that this apprehension could be addressed only if there is a guarantee from the state government and the Centre and adequate steps are taken for the safety of MLAs.
Without Kuki representation, analysts said it is unlikely that any meaningful discussion on the ethnic rioting which has engulfed Manipur for the last three months claiming more than 160 lives could be made. A faction of Kuki organisations including the Kuki Inpi Manipur (KIM), Kuki Students Organisation (KSO), Kuki Chiefs Association (KSAM) and Kuki Women Union (KWU) have also asked the MLAs to refrain from travelling to Imphal to attend the session.
Naga Hoho, a powerful civic body of the Naga tribes, has also asked the 10 Naga MLAs in Manipur not to attend the assembly session, claiming that the Manipur government has been working against peace talks with Naga groups.
Rioting between the Meiteis and Kuki-Zomi communities broke out in May after protests over a court judgment which seemed to favour the majority Meiteis who live in the Imphal valley and who have been demanding Scheduled Tribe status, currently enjoyed by Kuki-Zomi and Naga tribals in the state.
Also read: Fresh violence rocks Manipur; 3 killed after returning from relief camp
Tension brewing for long

Besides reservations in jobs and academics, tribal status could give people the right to buy land in tribal districts in Manipur hills which make up 90 per cent of the land area of the state.
Tension had been brewing in the hills before that as well over forcible evictions of Kuki villagers from land which the tribals believe is their traditional homeland and which the state government claimed to be reserved forests.
"In the absence of an acceptable political solution for the Kuki-Zo people in Manipur, I don't see any possibility of improvement of the grave situation in the near future. The central government is urged to address the political demands and all issues already raised by the Kuki-Zomi community," Khaute said.
The 10 Kuki MLAs have already sent a petition to the Union government urging it to carve out a "separate administration" for Kuki areas. Kuki leader and BJP MLA Paolienlal Haokip has gone a step ahead and said the way forward to finding a solution to the states racial conflict is by creating three separate Union territories, upping the ante from earlier vaguely explained demands for "separate administration".
Also read: Manipur: 7 illegal bunkers destroyed by security forces after fresh violence breaks out
Ethnic separation

"The way forward, as I see it, is for the Union government to give political and administrative recognition to the ethnic separation, where in the state of Manipur is reorganised as three Union territories," Hakip had told PTI in an interview last week.
The Coordinating Committee on Manipur Integrity (COCOMI), an umbrella body of several Imphal-based civil society organisations, has been fearing and opposing such a solution and wants an assembly session to vote against this issue. Its spokesperson Khuraijam Athouba told PTI over phone, "There should be a unanimous decision against any break-up of Manipur, the central government should enforce detection and detention of illegal migrants and a war should be declared on drugs."
The COCOMI has been alleging that many Kukis are illegal migrants from northwestern Myanmar where racially similar Chins live and that many Kuki villagers cultivate poppies in hillside farms. These allegations have not been proven as yet. "If they (Kuki MLAs) really want to come, we will ensure their safety," said Athouba, while sticking to his point that the assembly should take a unanimous stand in favour of the integrity of Manipur.
(With agency inputs)