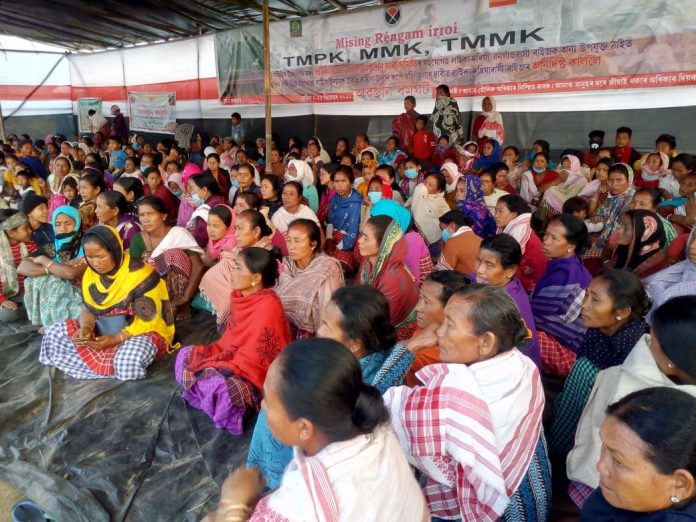 There is no merriment in Magh Bihu on Thursday (January 14) for Assam's over 12,000 people living in 'wilderness' for over seven decades now.
Their plight remained unheard until last month when they decided "enough is enough" and launched an indefinite sit-in demonstration near the deputy commissioner's office in Tinsukia, seeking permanent rehabilitation.
More than 2,000 people representing 1,480 families from the two forest villages of Laika and Dodhia, situated in the Dibru Saikhowa National Park, about 12 kms north of Tinsukia town, have been camping by rotation since December 21 to push for their decades-old demand.
The chilling winter has already claimed the lives of two protesters, including a 24-year-old pregnant woman, Kusmita Morang. She died at Assam Medical College and Hospital (AMCH) on Friday (January 8) after she felt sick during the protest. Three persons, including two middle-aged women, are battling death at the hospital. Many others, including children, are also suffering from cold and fever, according to representatives of the protesters.
Related news | Assam floods: 'The challenge is twice the size of Brahmaputra'
"It is not a celebration time for us. The mood in the makeshift camps as well as back in the villages is very sad and we are anxious as we don't see any immediate resolution of our difficulties," said Apio Taid, a member of the Laika and Dodhia Rehabilitation Committee.
He said the villagers had endured a lot of hardship due to the indifference of the successive state governments over the years.
"This is our do-and-die battle. We will not call off our agitation until we are suitably rehabilitated. We have already lost two of our own and are prepared for the worst because it is better to die than to live an undignified life," Taid told The Federal over phone from the protest site.
The state's Bharatiya Janata Party (BJP)-led government had promised them rehabilitation and financial support, but so far it could not identify any "mutually agreeable" location for the rehabilitation of the two villages spread over 373 hectares inside the national park, which is also a designated biosphere reserve.
For the rehabilitation of Dodhia villagers, the government had proposed Adhkhona-Adielani area under Harmoti forest range in Lakhimpur district.
For Laika villagers, the government had earmarked land near Namphai Reserve Forest in Tinsukia district after Chief Minister Sarbananda Sonowal set a deadline to permanently rehabilitate the families by January 31.
Dodhia villagers, however, rejected the government's proposal claiming Adhkhona-Adielani area is flood-prone and remains submerged under water for five to six months in a year.
Laika villagers too are refusing to shift to the Namphai area as it is already inhabited by indigenous tribal people and any fresh settlement there could lead to ethnic clashes.
"We have conveyed to the government our reservation about the two sites and suggested that we be settled in Oguri, Mamorani, Tinkupani and Pharpur areas," Taid said.
Related news | In flood-hit Assam, victims stare at uncertain future amid pandemic
For the plight of the villagers, local BJP MLA Binod Hazarika blamed the previous governments, saying no effort was made in the past to resolve the vexed issue.
The villages, dominated by the Mising tribe, had come up in the Dibru- Saikhowa forest area after the state government gave "temporary settlement" to villagers from Murkongselek area of Dhemaji district after a massive earthquake ravaged the state in 1950, destroying several villages.
Since then, the villages have been cut-off from the mainland, bereft of any basic facilities like land-holding documents, electricity, water supply, health, and education facilities. On top of that, they have been enduring annual floods and regular erosion.
Their problem further aggravated when the Dibru Saikhowa Wildlife Sanctuary was upgraded to a national park in 1999. The upgrading means, due to strict environmental laws, the villagers are barred from building any "permanent structure."
"The protesting villagers' demand is genuine. Our government is sympathetic to their demand. They should have been relocated when the wildlife sanctuary was upgraded to a national park," Hazarika claimed.
The BJP's ally the Asom Gana Parishad (AGP) was in power in 1999.
The BJP government too had not been very sympathetic towards their demand, Taid said pointing out that the incumbent government had given them written assurance for their rehabilitation in 2017, but so far nothing had been done, forcing them to launch the agitation.
Citizenship demand in Bengal
Hundreds of kilometres away from Assam's protest site, thousands of villagers in West Bengal on Wednesday held a demonstration as they too face an uncertain future due to years of government's apathy.
Thousands of erstwhile enclave dwellers held demonstrations in Cooch Behar district as even after five and half years of the implementation of the Land Boundary Agreement (LBA) between India and Bangladesh in 2015, they were yet to get their right to citizenship, land ownership, and opportunities for employment.
The LBA facilitated transfer of 51 erstwhile Bangladeshi enclaves to India and 111 erstwhile Indian enclaves to Bangladesh. Based on a joint survey, 989 persons out of total 38,521 residents from erstwhile Indian enclaves in Bangladesh had opted to retain their original nationality while all 14,863 residents of the Bangladesh enclaves in India had opted for Indian nationality.
"Around 3,000 residents of erstwhile enclaves staged a peaceful mass demonstration in front of the office of the district magistrate of Cooch Behar seeking citizenship, land ownership and livelihood opportunities," said Nur Nabi, president, Amra Chitmahalbasi District Committee.
The committee has given a March first week deadline to the government to meet their demands, Nabi said, failing which, the committee will launch an indefinite sit-in demonstration.