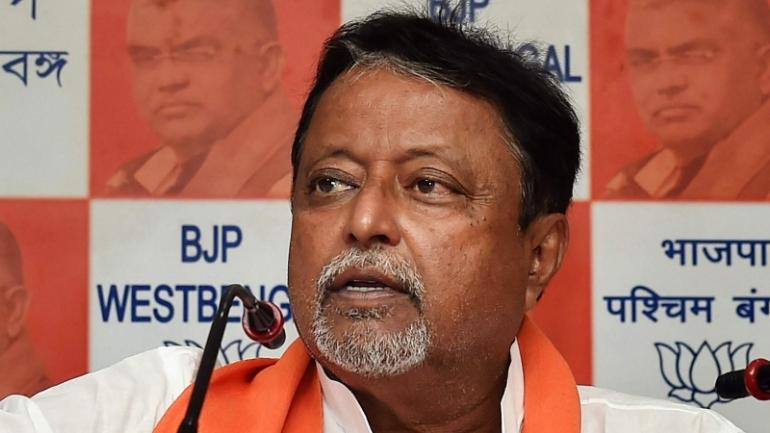 Veteran Trinamool Congress leader Mukul Roy, who has expressed his desire to work for the BJP in future, on Wednesday said he is a soldier of the saffron camp, and there is no question of resigning from the TMC as he was never "mentally" with the party even after re-joining it in 2021.
The founding member of the TMC switched to the BJP in 2017. He won as a saffron party candidate in the 2021 West Bengal assembly election. Roy, however, returned to the TMC soon after the assembly election results, complaining of ill-treatment by the saffron camp leadership. He did not resign from the House and is technically still a BJP MLA.
Roy upbeat about BJP
In a telephonic interview with PTI from New Delhi, Roy said the saffron camp would do well in the upcoming panchayat polls in Bengal, and the party would easily achieve the target of winning 35 plus Lok Sabha seats in 2024 set by Amit Shah last week.
Also read: TMC's Mukul Roy says he is in New Delhi after family's untraceable claim
"I am absolutely fit and fine. Some people are spreading rumours that I am unwell, but this is not true. I am a BJP MLA and have come here to be with the party. I want to work for my party BJP. I was never mentally with the TMC after I left it," the 69-year-old politician said.
When asked about his post-2021 stint with the TMC, Roy said, "I was not well at that point of time and was never mentally part of it."
After his return to the TMC, Roy remained away from the public glare citing ill health.
Battling health problems
Roy has been suffering from dementia and Parkinson's disease, according to his doctors and his son. He also underwent a neurological operation of the brain last month.
When asked whether he would resign from the TMC, Roy said, "There is no question of resigning from TMC as I am officially not part of it; I am still a BJP legislator."
Roy, however, declined to comment on TMC supremo Mamata Banerjee's remark that he is a BJP legislator, and it's his affair if he wants to go to Delhi.
Speaking about the prospects of the TMC in the panchayat polls and the next years Lok Sabha polls, he said, "the TMC will not do well. The BJP will do well in the panchayat polls and achieve the target of 35 plus Lok Sabha seats in the next parliamentary polls. The people of Bengal want a change."
He said he would soon meet Union Home Minister Amit Shah and BJP president J P Nadda and start working for the BJP.
Family issues
Asked whether he spoke with his son Subharangshu, who has claimed he needed medical attention and that his remarks should not be taken seriously, Roy replied in the affirmative.
"I had spoken to him, and he was a bit worried as I had suddenly come to Delhi," he said.
Also read: A tale of two turncoats: Mukul Roy and Himanta Biswa Sarma
Roy on Monday night travelled to New Delhi for "some personal work". His family initially claimed that he was "missing", only to later accuse the BJP of indulging in dirty politics using the TMC leader who is unwell and not in the "right frame of mind."
(With Agency inputs)