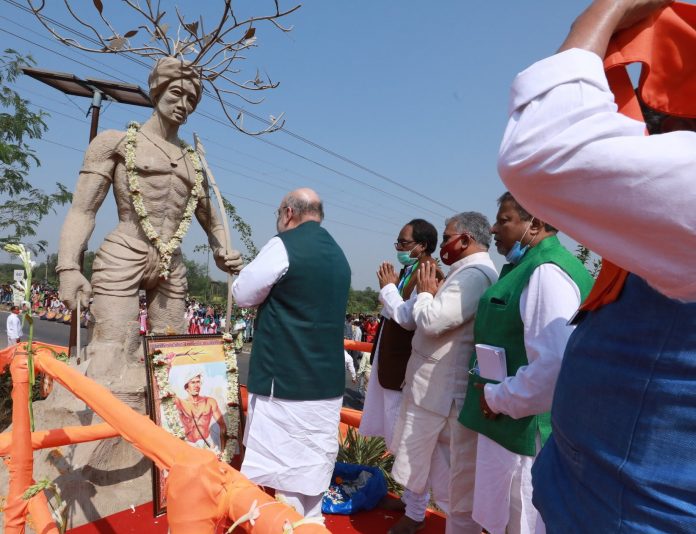 The BJP's tribal outreach programme in Bengal left the party red-faced after Amit Shah on Thursday (November 5) offered floral tribute at a roadside statue of an anonymous hunter in Bankura, mistaking it as that of tribal icon Birsa Munda.
The ruling Trinamool Congress pointed out the faux pas, claiming it was another manifestation of the BJP's disconnect with tribal culture and history.
"The BJP's newfound love for the tribal icon is nothing but a gimmick. The party has no idea about tribal culture and history. It's ridiculous that the BJP leaders could not even identify the statue of Birsa Munda, the great freedom fighter and tribal icon," remarked Arup Chakraborty, a TMC leader from Bankura district.
Related news: Shah embarks on Bengal lunch politics, Trinamool tries to change the course
The statue of the hunter was built about five years ago at a crossing on National Highway 60A at Powabagan, 7 km from Bankura town for beautification purpose and it has nothing to do with the 19th century tribal icon.
In the official programme schedule of home minister Amit Shah released by the BJP, it was clearly mentioned that he would offer "floral tribute at Bhagwan Birsa Munda's statue."
Sangiri Hembram, a leader of the apex tribal body Bharat Jakat Majhi Pargana Mahal, said when they drew the attention of the BJP district leader, they hurriedly tried to make amends by putting a portrait of Birsa Munda at the foot of the statue and let Shah garland it.
Putting the picture of Bhagwan Birsa Munda at the foot of the statue was another gesture of disrespect, said Hembram, adding it was not acceptable.
BJP's Bankura district president Vivekananda Patra admitted the mistake. He said some local people told them that the statue was that of Birsa Munda. "But when some tribal groups pointed out the mistake, we put a photograph of Birsa Munda there. Amitji garlanded the photograph," Patra said.
Locals who were present at the venue said the statue was already garlanded even before Shah reached there on Thursday morning. Immediately after reaching the venue Shah paid floral tribute at the statue, they said. It was then that a district BJP leader requested him to garland the picture instead, eyewitnesses said.
Related news: Overthrow Mamata govt, let BJP build a 'sonar Bangla': Amit Shah
Shah later had lunch at the residence of Bibhishan Hansda, a local tribal functionary of the BJP as part of the outreach programme. Even the luncheon politics was not as palatable as the TMC poured cold water into it. Just hours before Shah's lunch programme, the TMC government provided job to Gita Mahali, a tribal woman who had hosted Shah for launch three years ago, much to the BJP's embarrassment.
Mahali said she and her family were ignored by the BJP after the lunch politics, whereas the TMC government provided her job as a homeguard.