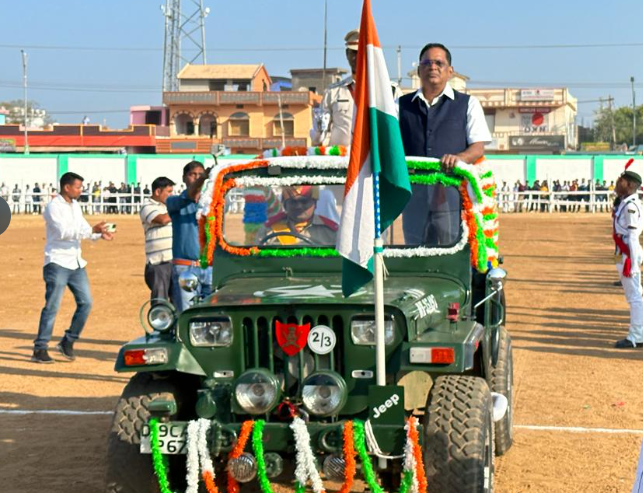 Odisha minister Naba Kishore Das, who died after being shot by a policeman on Sunday, was cremated on Monday (January 30) with full state honours and in presence of thousands of people who reached Jharsuguda to bid him a tearful adieu.
Amid chants of shlokas, his son Bishal lit the funeral pyre, as a large gathering of MPs, MLAs and industrialists paid tributes to the popular BJD minister. The last rites were held at the Kherual Crematorium.
Also read: Odisha Health Minister Naba Das dies of bullet injuries
Among those present at the funeral were Finance Minister Niranjan Pujari, Agriculture Minister Ranendra Pratap Swain, MLA Dibya Shankar Mishra, Bargarh MP Suresh Pujari and industrialsts from Jharsuguda. Earlier in the day, thousands paid homage to Das, as his mortal remains reached Jharsuguda from Bhubaneswar.
Many shops, business establishments and educational institutions in the district remained closed on Monday, with locals pouring out on the streets to shower flowers on the hearse carrying the departed leader's remains, which drove through the streets of Jharsuguda town on its way to his home.
Earlier in the day, Governor Ganeshi Lal and Chief Minister Naveen Patnaik visited the leader's residence in Bhubaneswar, where people from different walks of life had also gathered to pay tribute to the 60-year-old leader, who dominated the political landscape in western Odisha for at least three decades.The Naveen Patnaik government had earlier announced a three-day state mourning as a mark of respect to Das.
Das died hours after being shot by an assistant sub-inspector (ASI) at Brajarajnagar, where he had gone to attend an event on Sunday. Two bullets had entered and exited his body, causing injuries to the heart and the left lung and leading to massive internal bleeding.
Bullets fired with clear intention to kill: FIR
Odisha police, however, are yet to establish the motive behind the crime even though 24 hours have passed since the minister was shot.
Latest reports said the accused ASI, Gopal Das, on Monday was interrogated by a team of Crime Branch officers including department ADG Arun Bothra and Northern Range IG Deepak Kumar in the nearby Sundergarh district.
The FIR filed at Brajrajnagar police station in the case on Monday said that the assailant fired the shots from point-blank range with a "clear intention to kill the minister."
He had used his 9 mm service pistol to commit the crime.
The FIR, filed by Brajrajnagar Inspector In-Charge Pradyumna Kumar Swain said that Gopal was posted as ASI at the Gandhi Chowk outpost and was put on traffic clearance duty for the minister's programme.
Gopal's family has said that he suffers from mental issues and was not given leaves by senior officers. While senior officers in Jharsuguda admitted that Gopal was on medication for certain psychological issues, they refused the family's claims that he was not granted leaves.
Also read: Odisha Health Minister Naba Kishore Das shot at by cop, hospitalised
Reports said that the Crime Branch is probing if Gopal was still suffering from psychological issues and if he had discontinued his medication in the days before he committed the crime.
Cop had 'satisfactory track record'
Senior officers have described Gopal as an officer with a satisfactory track record besides a minor punishment.
He had reportedly won 18 medals for investigation in his 28 years of service. He had earned 12 good service marks and was given cash award at least eight times.
While colleagues said he seemed normal on the day the shooting, his wife said Gopal had spoken to their daughter in a video call earlier in the day.
(With inputs from agencies)