Odisha train tragedy: Hope, despair and kin's desperate search for loved ones
"Hurry up," 32-year-old Shivalik Rai urges a relative, sipping tea outside a makeshift counter offering free breakfast and tea. They have a job on their hands – show the documents to authorities, clear mandatory paperwork and complete the formalities. Once done, they can return home, along with the body of Shivalik's 16-year-old cousin Akhilesh, to their village in Bihar's Hajipur district.
Shivalik looks somewhat relaxed. At least his four days of torrid search has paid off and he won't reach his village empty-handed.
Akhilesh, a minor, was travelling with others in his locality to a city in Andhra Pradesh to work as a labourer. It was his first attempt to find a job — it also turned out to be his last.
"Hopefully, we will be on our way home in two-three hours. Back home, everyone is crying for the last four days," Shivalik tells The Federal before heading with some documents to an official manning a helpdesk in front of the mortuary at the All India Institute of Medical Sciences (AIIMS), Bhubaneswar.
Also Read: Odisha train tragedy: Why was Coromandel Express' Point 17-A set for the loop line?
Scores of others cramming the ground floor hall of the building housing the AIIMS mortuary are not as lucky, though. Desperation and hopelessness are writ large on their tired faces. Most of them are poor, and most of them hail from Bihar, West Bengal and Jharkhand.
A Himalayan task at hand
The staff working there find it tough to wade through the crowd to reach the elevators at the corner of the hall. However, none of them is complaining. For, they are aware of the trauma of these people – family members, relatives and friends of the passengers who perished in the deadly rail disaster involving two trains, the 12841 Shalimar–Chennai Coromandel Express and the 12864 (SMVB-HWH) Yesvantpur–Howrah Express on June 2 at near the Bahanaga Bazar station in Odisha's Balasore district.
Yet to hear anything about their sons, fathers, husbands or relatives, the teary-eyed, worried lot stares at a long, painful quest for their loved ones. Their frantic search continues. But no one knows how long will it take.
One among them is a visibly tired 60-year-old Naresh Yadav of Maniyari village in Darbhanga district of Bihar. Since June 3, he has been searching for his eldest son and the hope of his family, Akhilesh, 23.
'My Son was Married Only Last Month
Speaking to The Federal, Naresh says that Akhilesh had come home in late April this year. "On this date (7 June), a month ago, my entire family was on the top of the moon. That day, Akhilesh had married," he breaks down.
A father of three sons – two of them minors aged 16 and 14 – Naresh works as a daily wager in and around his village. He and his wife Asha Devi have struggled a lot to feed their family.
"Throughout, we have been crushed by poverty. But we completely forgot our miseries in the weeks before and after Akhilesh's marriage. There was never so much happiness in my family, before," he recounts in a choked voice.
On June 1, Akhilesh who worked in a small hotel in Chennai, happily left his village along with a fellow villager-cum-friend Bawa Saheb, to his workplace. He had also promised his mother Asha and his fewer-than-a-month-old wife, Pooja Kumari, 20, that he would return home a few months after and construct a few more better rooms for the family.
The next afternoon, both friends boarded the Coromandel Express from Shalimar station (in Kolkata). Akhilesh had also called home, twice, an hour before the train began the journey and then at around 6 pm. "We were relieved that he had settled in well," recalls Naresh.
Father borrows Rs 50,000 in search of son
However, a couple of hours later, Naresh' family learnt that the Coromandel Express had met with a severe accident. Alarmed, Naresh hired a Scorpio, with much difficulty, to visit the crash site. It will take him at least three years to repay Rs. 50,000 he has borrowed for the vehicle, he says.
With a resolve to carry his son back with him and never allow him to go away from village for a job in future, Naresh, along with nine relatives, started at 10 pm and reached the accident spot, Bahanaga, the next morning.
The 10 members divided themselves into separate groups and searched frantically the entire area multiple times. But they failed to trace Akhilesh.
Without losing heart, they then moved to and searched all hospitals in Balasore, Cuttack and Bhubaneswar where the injured passengers were admitted. Despite the anxiety and apprehension, they scanned from beds in wards to ICUs and those lying in coma in different hospitals, over and over again. That was to no avail. Finally, they arrived at the AIIMS.
If they get the body, they feel lucky
Meanwhile, the family members of Bawa Saheb have returned to their village with his dead body, says Naresh's nephew Rakesh 38, who also works at a Chennai-based hotel. As he heard about the accident, Rakesh took the next available train from Chennai to Bhubaneswar, boarded a bus from there, and joined his uncle and others in Balasore, late into night on June 3.
Also Read: Could better budgetary muscle, Kavach implementation have averted train tragedy?
After days of non-stop search in terrible heat and humidity, Naresh's body begs for rest. He sits down on the floor as Rakesh along with relatives of other unidentified passengers of the ill-fated trains pleads Bhubaneswar Mayor Sulochana Das for help. Advising them to hold patience, Das assures them all support.
Naresh, though, is not interested in assurances anymore. Trying to put the pieces of papers (documents) into a bag in his hand, he glances at the photograph of Akhilesh, to find any distinctive mark which would give him some clue to identify his body. Naresh and his relatives have closely observed more than 50 times and checked the monitor, displaying in rotation, the disfigured and burnt faces of 70-odd bodies preserved inside. A majority of these bodies are of the passengers – all migrant workers – travelling in the general compartments of the Coromandel Express have been charred, with their faces beyond recognition.
Reportedly, around 40 passengers of the Coromandel Express are believed to have died due to electrocution. The bodies recovered have no visible injury marks. An FIR registered at the Government Railway Police (GRP) station at Balasore suggested that passengers succumbed to injuries caused by electrocution when live overhead wires snapped after the accident took place. The live wires got entangled with a few coaches and electrocuted the passengers trapped in them.
Till June 7 evening, 88 and 31 passengers of Bihar and West Bengal, respectively, were still missing. Naresh believes his son is one among them. "What will I tell my wife and daughter-in-law?" he asks with his hands on his head.
Not only the relatives of unidentified passengers are worried, but even those in charge of handing out the bodies are also in a tight spot. One among the many officers in charge says that it is a huge challenge for them as many people are claiming the same bodies. "Hopefully, identification will be easier after the DNA reports are with us. DNA profiling has begun, and the reports will reach six to seven days after," says an officer on the condition of anonymity.
Claims and counterclaims
Though blood samples have been collected from Naresh, he doesn't know what to do. However, he is readying for Bahanaga to lodge a missing person's complaint with the GRP, as has been advised by some authorities at the AIIMS. In all likelihood, he and his relatives would return home from there.
To be fair, they have no options left with them. Whatever little money Naresh had carried has been exhausted. Half the members of his group have been sleeping out in the open in the night, while the other half rests in a nearby dormitory at Rs 25 a night per person. Food though has been provided free by the government.
According to Rakesh, Akhilesh was into third year of his job in Chennai. He received a monthly salary of Rs.15,000, a huge amount considering the condition of his family back home.
"Now, we will go home, sir. Whenever, we get a call from authorities we will rush back, doesn't matter if we have to beg for the cost of travel. I want my brother's body," Rakesh announces with folded hands.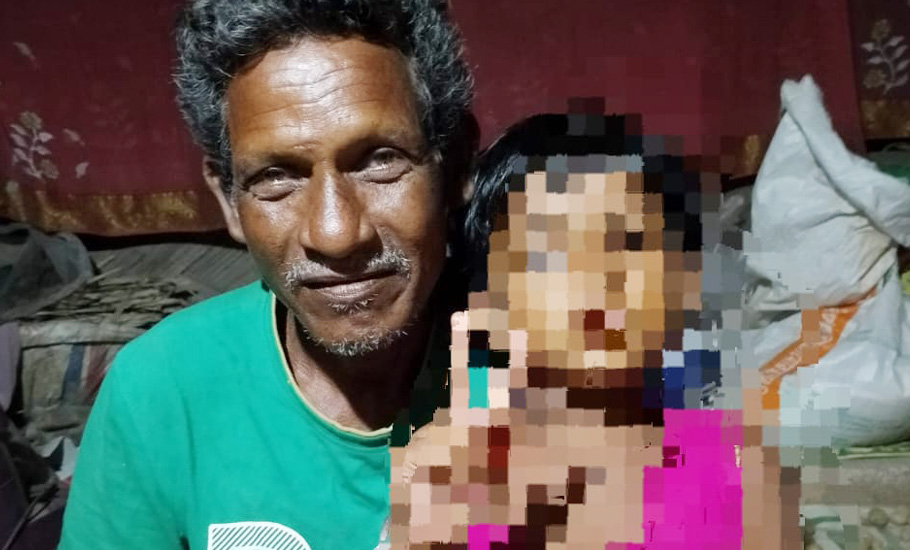 However, Sukesh Sardar, 24, is determined to stay back at the AIIMS, though he has been equally unfortunate. His search for father Sukumar Sardar, a labourer, from a village in 24 Parganas (South) district in West Bengal, has yielded little result.
Search is not over yet
Sukumar, along with 11 others of his locality, were on their way to a place near Vijayawada to work as farm hands. Seven of the group have been found alive, while the bodies of three have been recovered. He is the only one who is untraceable.
In between looking into the monitor, Sukesh throws his eyes on the crowd around with  hope that he could spot his father. Moments later, he reaches Z Hussain, who is at the help desk set up by the West Bengal government, and asks for something.
"I believe I will get my father soon," he tells The Federal.
Like him, there are many who are not ready to give in to despair, hopelessness. They try hard to keep their hopes alive.