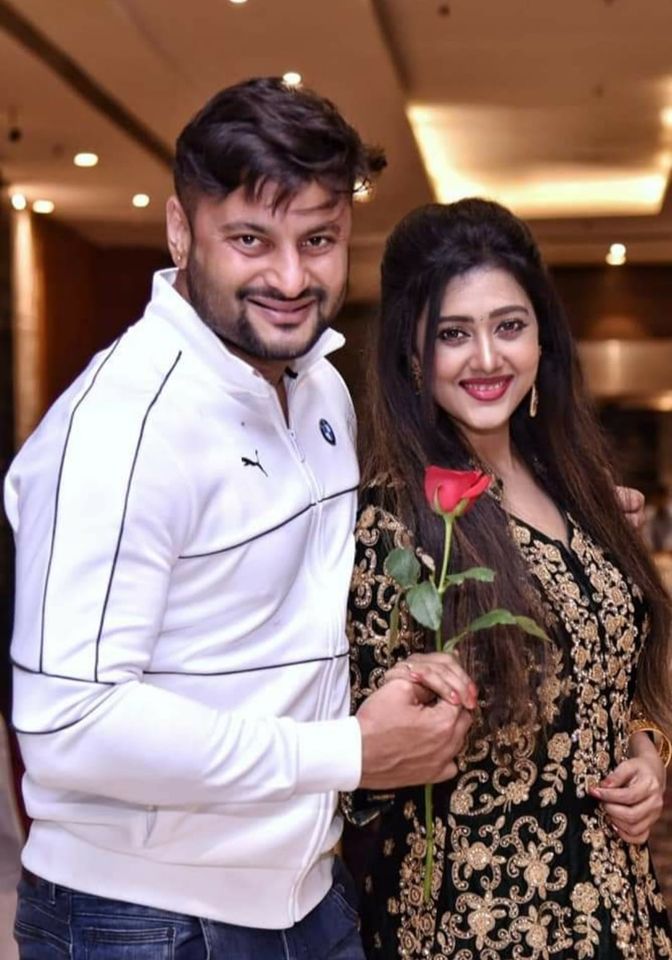 Over a year ago, during the 2019 general elections, all eyes in Odisha were glued to the riveting political contest in the Kendrapara Lok Sabha seat. BJP vice-president, Baijayant Panda — once a close confidant of Odisha Chief Minister Naveen Patnaik — was taking on Anubhav Mohanty, an Odia cinema superstar and BJD nominee. Panda, who had successfully kept the seat since 2009 as a BJD nominee, lost to the less anubhavi (relatively inexperienced) Anubhav Mohanty.
The coastal Kendrapara district is politically sensitive and is known for its unflinching loyalty to the Biju (Naveen's late chief minister father Biju Patnaik) family for over four decades. It's often described as Biju Babu's karma bhoomi. Anubhav's victory from this seat against a heavyweight like Panda, and, that too, with a decent margin, soared his political stocks.
About 16 months later, Anubhav, 38, is facing another battle. This time, against his successful actress wife, Varsha Priyadarshini, who filed a case of domestic violence against him in a Cuttack court on September 5. The court has sought the report of the protection officer. It posted the case for hearing again on October 12.
Anubhav, who is BJD's deputy chief whip in the Lok Sabha and a national spokesperson for the party, and his wife Varsha, are very popular for their on and off-screen chemistry. Married in 2014, they were perceived as the 'Jodi no '1 in the state.
Anubhav, though, is no stranger to controversies. Earlier, he was accused to have misbehaved with a woman journalist; he also humiliated a reporter in full camera glare.
In her petition, Varsha has accused Anubhav of being a 'professional drinker', who used to torture her physically and mentally under the influence of alcohol. The actress, who continues to stay at her in-law's house, has said that Anubhav had an extra-martial affair.
Varsha has demanded ₹15 crore compensation from her husband for the loss of her income as an actor as well as medical expenses and monthly alimony of ₹70,000 towards house rent and maintenance.
Varsha has also moved the Cuttack district family court and sought a decree of restitution of conjugal rights. It too was adjourned to October 14 as the petitioner sought some more time to rectify the petition.
On the other hand, after Varsha's allegations surfaced, it was learned that Anubhav had filed a divorce petition at Patiala House Court in New Delhi in July. As per media reports, in his petition, the actor-politician said the couple had been living separately since May 2019. He said that Varsha had been falsely accusing him of having affair with his co-stars since 2016 and making unreasonable demands, which caused him mental stress.
The Kendrapada MP further said that Varsha denied him his conjugal rights and had failed in her duties as a wife and daughter-in-law. She regularly insulted him in front of her family members.
In a press statement, Anubhav said, "My marriage has been in a bad shape since long. I have tried my level best to reason, to explain, to understand, and to make amends; unfortunately, things did not shape up as expected. Hence, it seemed the best way is to part ways amicably. I and my family sincerely tried our best for a mutual separation just because we were concerned about each other's social image and dignity."
The starry marital conflict, however, has come as an embarrassment for the BJD. With Anubhav being a high profile leader, it has acquired political colour as well.
Senior Congress leader Tara Prasad Bahinipati told reporters that while Chief Minister and BJD president Naveen Patnaik talk about respect to mother, his party MP tortures his wife, which is grossly unfortunate. "Is this the team of Naveen Babu?" he asked.
On the other hand, the women's wing of the BJP also staged demonstrations seeking action against the actor-politician.
While Naveen has maintained a studied silence in reacting to the opposition's demand, BJD leader Arabinda Dhali said, no one should comment on this issue as it is a family matter of Anubhav and he will find a way to resolve it.
Incidentally, some years ago, in a similar case, a senior minister in Naveen's government, Raghunath Mohanty, had to resign after his daughter-in-law filed a case of domestic violence against him and his family. The five-time MLA, too, had been arrested.
Later, though, he was reinstated as the party's vice president after the court cleared his name in the case, sensing denial of a ticket, Mohanty switched to the BJP, contested from an assembly constituency in Balasore district in 2019 and lost.
According to veteran journalist Rajaram Satpathy, with the elections over three years away, the issue is least likely to have any impact on the public. "Political leaders react to an issue only when they think it suits them politically, they do things which are convenient to them," Satpathy said.