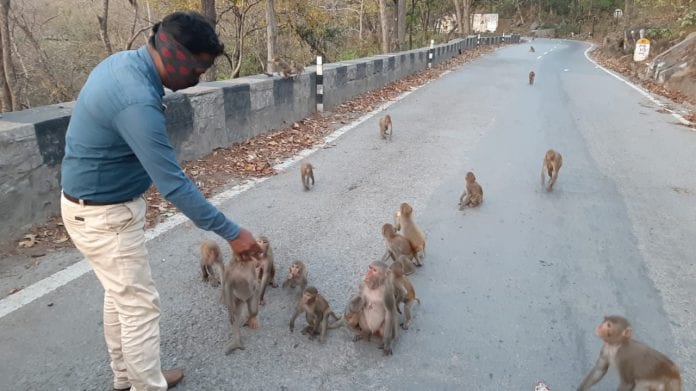 For the last few weeks, the deserted national highway in the Bastar division of Chhattisgarh has been strange to a large troop of monkeys. They had been unused to the stillness in the Keshkal valley of the Kondagaon district due to the nationwide lockdown. Generally, bus and truck drivers and tourists feed the primates while travelling the highway that leads to Andhra Pradesh.
The densely forested valley that is around 150 km far from the capital Raipur is the only point of entry to the tribal-dominated Bastar division. As summer sets in, the water shortage has left monkeys dependent on humans for sustenance. Many are returning to the jungles in search of food and water. Currently, only residents of the valley have been feeding the monkeys with whatever they have.
The primates have enough nourishment to forage around in the forest, but they are used to eating the food provided by humans, says divisional forest officer (DFO) S Manivasagan. As they don't get enough food in the valley, many have returned to their natural habitat, he says. People too have begun seeking the department's help in feeding the monkeys.
Related News: Chhattisgarh villagers block roads, practise strict social distancing to tackle corona
However, as a tiger was infected with the coronavirus at the Bronx zoo in New York, the Central Zoo Authority and National Tiger Conservation Authority had issued certain guidelines, which do not allow the forest department to feed animals, says Manivasagan. This came after Chhattisgarh Forest Minister Mohammed Akbar reviewed the protective measures at national parks, sanctuaries and zoos in the state on April 7.
So, he says the only option for the monkeys to survive is to return to the jungle. On the water shortage issue, Manivasagan says there are already several waterholes and natural streams in the valley. If necessary, the forest department will create more waterholes and plant fruit trees, he says.
On his first arrival to Kondagaon after becoming the Chief Minister, Bhupesh Baghel said the government would plant more fruit trees in jungles in the region to benefit wild animals and forest dwellers. But it is yet to be implemented.
(Inputs from Prakash Nag, Kondagaon)