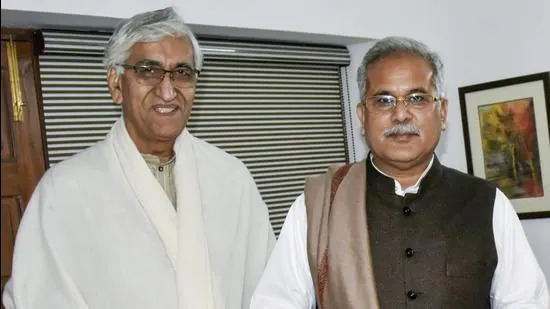 BJP, AAP flay Congress after Singh Deo is named Chhattisgarh deputy CM
The appointment of TS Singh Deo as Chhattisgarh's deputy chief minister will not help chief minister Bhupesh Baghel lead the Congress to victory in assembly elections, the BJP and AAP said in unison on Thursday (June 29).
The Congress on Wednesday made the dramatic announcement just months before the elections which Baghel had repeatedly said his party will win hands down.
BJP Chhattisgarh unit chief Arun Sao said Singh Deo's appointment towards the end of the government's tenure will not save the Congress from being defeated in elections.
Also Read: Eye on polls, Congress appoints Chhattisgarh CM Baghel's rival Singh Deo as his deputy
"When the time has come to complete the term, Singh Deo has been made deputy chief minister. This is not only insulting to the people of Sarguja (constituency) but also injustice with Singh Deo," Sao said.
"The Congress is a sinking ship. With such decisions, the Congress is not going to gain anything. Chhattisgarh people have decided to dislodge the Congress government," he added.
AAPs Chhattisgarh in-charge Sanjeev Jha said that by bringing in Singh Deo, the Congress had accepted that the people of Chhattisgarh do not have faith in Baghel.
AAP attack
"It is a damage control exercise by the Congress high command but it is not going to help the party in the state as Baghel has caused a lot of losses to the people by looting its resources," Jha told PTI.
The AAP leader asked the Congress to make it clear who will be the chief ministerial candidate of the party in the assembly polls.
A scion of the erstwhile Sarguja royal family, Singh Deo now holds the Health and Family Welfare, Medical Education, Twenty Point Implementation and Commercial Tax (GST) portfolios in the Chhattisgarh government.
Also Read: BJP in pitiable situation in Chhattisgarh, says Bhupesh Baghel
BJP IT department head Amit Malviya said the appointment of Singh Deo was deeply problematic as it usurps Baghel's constitutional mandate.
"Before Karnataka, Baghel used to fund the Congress. But soon after winning Karnataka, once an alternate source of funding was available, he was cut to size," the BJP leader charged in a tweet.
"It is a case of (Rahul) Gandhi using a regional satrap, an OBC leader, till it was convenient, and then dumping him.
"Will Singh Deo now be projected as the CM face since Baghel faces massive corruption charges and has become a liability?" Malviya asked.
(With agency inputs)