Another failed campaign, another season of disappointment, another year where the hype and the hoopla weren't matched by performance. A familiar tale of under-achievement unfolded in Season 15 of the Indian Premier League as Royal Challengers Bangalore's quest for a maiden title was buried under an avalanche of runs that cascaded from Jos Buttler's scything willow on Friday night.
And to think that this was a season that began with so much promise. Under first-time skipper Faf du Plessis, RCB seemed to lay down the gauntlet in their very first match when they amassed 205 for two, the South African and his predecessor Virat Kohli joining hands in a rousing 118-run second-wicket association.
Also read: Kohli disappointed himself, his fans: Sehwag
It wasn't enough, not by a long way, as an attack-minded Punjab Kings reeled in the target with plenty to spare. But RCB found a way to shake off that disappointment, winning five of their next six matches to make one of their brightest starts in the tournament's history.
Like most competitions where teams are required to play a reasonable number of matches in the league phase – 14 apiece, in this instance – the IPL demands consistency in the race of playoff berths. There are bound to be inevitable slip-ups because that is the nature of the 20-over shootout, and no team is immune to the vicissitudes of dipping form and loss of momentum that can act as slippery slopes in the bid for qualification. RCB had their fair share of ups and downs, and by the time they finished their league campaign with eight wins and 16 points out of a potential 28, their fate was no longer in their own hands.
In one of those fascinating ironies, the franchise seeking its first crown turned to the most successful team in the competition's history to do them a favour. Mumbai Indians, the five-time champions, had a forgettable tournament, but as they bowed out of the competition, they took down Delhi Capitals along with them. Rishabh Pant's men, consumed by the pressure of a must-win game, imploded spectacularly as Mumbai facilitated RCB's entry into the playoffs as the fourth-placed team. Perhaps, just perhaps, the tide was turning.
Fanatical support and unwavering backing
That belief was reinforced in the Eliminator when Rajat Patidar single-handedly laid Lucknow Super Giants low. RCB's die-hard fans, most of them raised on the altar of Kohli's scything willow, were convinced this was their year. The annoying and oft repeated ee sala cup namde (the cup is ours this year) assumed deafening proportions as the Bengaluru boys arrived at the sprawling Narendra Modi Stadium in Ahmedabad, where the majority of the massive gathering was pro-Kohli and, therefore, pro-RCB.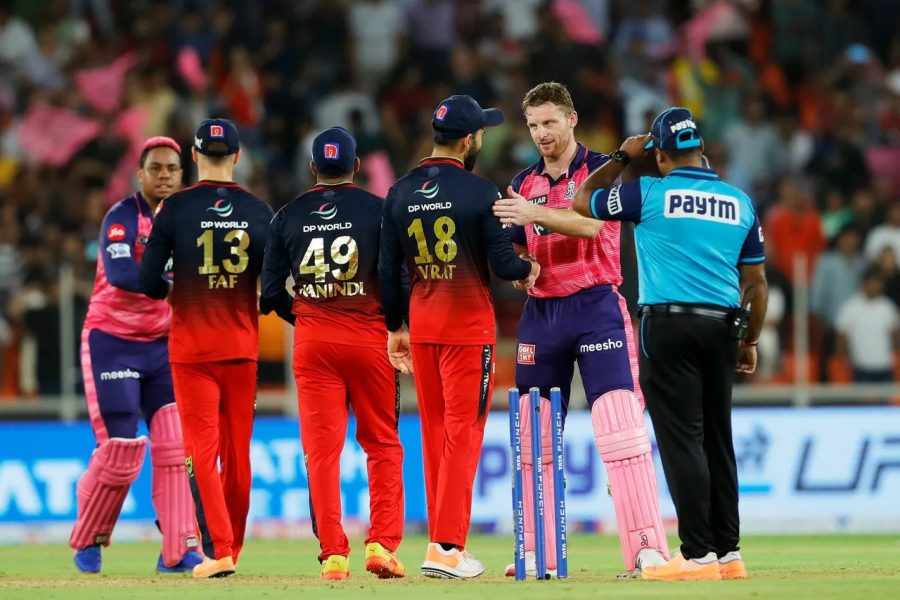 If fanatical support and unwavering backing even in the face of repeated disappointment was the deciding factor, RCB would have won at least as many titles as Chennai Super Kings (four), if not Mumbai Indians. Unfortunately for a legion of fans accustomed to heartbreak year after year, their vociferous exhortations again fell on deaf years as RCB, tame and timid and devoid of fight for at least the last quarter of Qualifier 2 against Rajasthan Royals, made a beeline for the exit door.
Also read: Launching soon, a cricket bat for greenhorns, budding players
The twists and turns and trials and tribulations of the first seven weeks mean precious little once the playoffs, the real deal, get started. That's when the big boys must put their hand up and ask to be counted. RCB's heavy artillery went chillingly cold in their two knockout games, and as valiantly as Patidar tried, he could only do that much and no more.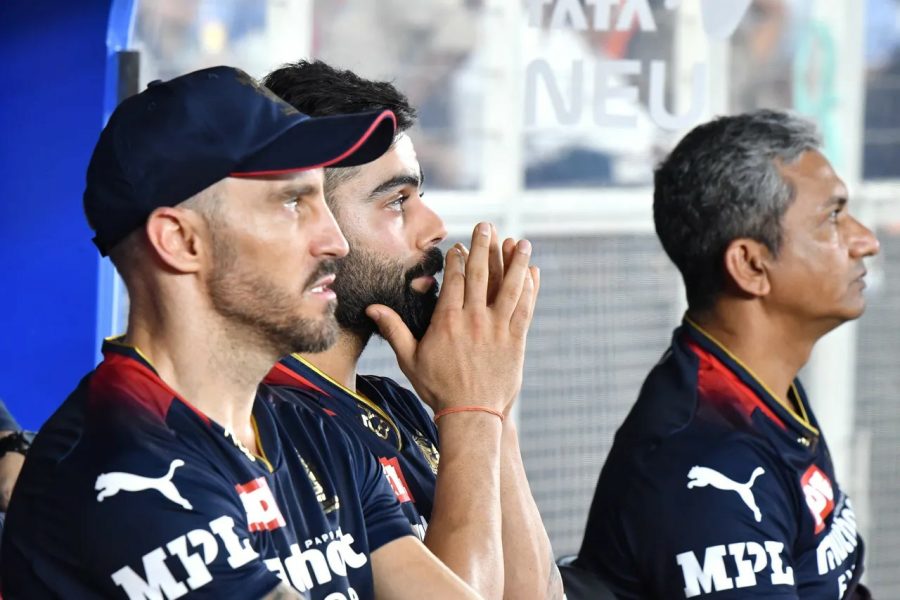 Trio didn't step up
Between them, du Plessis, Kohli and the largely misfiring Glenn Maxwell eked out 90 runs in the last two games. Contrast this with Buttler, who had a terrible finish to the league phase, and a clear picture emerges. The Englishman, by a distance the leading run-scorer this IPL, tapered off dramatically in the last seven matches after smacking three tons in the first seven, but hauled the Royals to the finals with efforts of 89 and 106 not out in Qualifier 1 and 2 respectively. The big stage demanded that the du Plessises, the Kohlis and the Maxwells step up and absorb the pressure of a knockout situation. Instead, all they could do after fleeting appearances in the middle was egg on an unsung 28-year-old from Indore to pull off the impossible.
Patidar tried his best. Despite playing in exactly half his team's matches, he finished with an impressive 333 runs at a strike-rate of 152.75, behind only the supremely innovative Dinesh Karthik (183.33) and the vastly inconsistent Maxwell (169.10). Du Plessis finished as the leading scorer for the franchise though he failed when it mattered the most, but the biggest let-down was Kohli, his 341 runs accumulated laboriously, as evidenced by a strike-rate of 115.98, and without an iota of dominance that has been his calling card for so long.
There was a touch of class to the bowling through current Purple Cap holder Wanindu Hasaranga, Josh Hazlewood and Harshal Patel, who between them accounted for 65 of the 90 wickets RCB bowlers picked up. Teams can sometimes compensate for the odd weak link, but RCB struggled all season to find meaningful fourth and fifth-bowler support for this stirring trio. Mohammed Siraj hit an impregnable roadblock, taking just nine wickets in 15 games and conceding 10.07 runs per over. He set the tone for a deflating Friday evening by going for 16 in the first over of the Royals' chase of 158, and it wasn't just in the figment of fertile imagination that RCB shoulders drooped immediately.
Tactically too, the Bengaluru franchise seemed to miss a trick or three. With wickets the need of the hour, Hazlewood bowled only one of the first five overs in Qualifier 2. And when Sanju Samson came out to bat, Hasaranga was taken off after just one over even though the Lankan leggie had accounted for the Royals captain five times in six T20 innings. By the time Hasaranga was brought back and duly claimed Samson's scalp again, the horse had bolted. That pretty much summed up RCB's season.