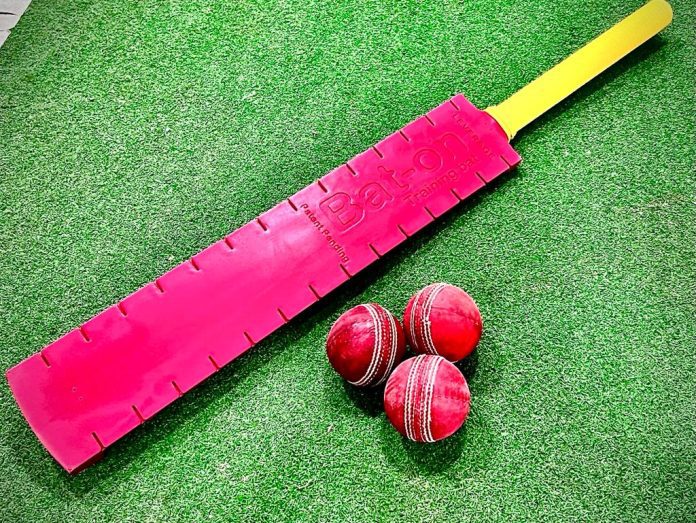 An innovative bat, with no technological aid or chips inserted, is set to be launched soon, primarily aimed at beginners and budding cricketers.
According to the makers, if a batter is struggling with his timing or is unable to middle the ball, the new 'BatOn', which is of the same size as the regular bat, will, "in a matter of 12 balls", help him/her analyse his/her batting and correct the techniques.
Developed by Hyderabad-based Leverage Science and Technologies, which manufacturers variety of bowling machines, ball throwing aid called RoboArm and other patented sports products, this bat — not made of the traditional willow — has already received an international "utility patent" and is likely to launch in June.
The firm says it has already tested the bat with coaches, first-class cricketers, and beginners and the response has been positive.
Also read: Dinesh Karthik's choice for top batter in the world
7-year research
Leverage company's founder and Managing Director Partha Pemmaraju told The Federal that he and his team of researchers worked relentlessly for close to seven years to develop the product.
"We started developing this bat in 2015. It was a huge challenge for us, considering that this bat was not made of willow wood. We tried several combinations and experimented a lot," says Pemmaraju.
The Made-in-India bat looks like a rubber product, but it is actually made of a TPE (thermoplastic elastomer) compound. It is manufactured in a single mould.
Also read: RCB enters IPL 2022 Qualifier 2
The bat, with an odd shape, has flaps at the edges that are flexible. The part where the "sweet spot" is located has a bulge at the back and the rest of the bat is thin.
What coaches and players say
"We have tested this BatOn with Ranji Trophy players, coaches, and youngsters who have just started playing the game. They have all given us positive feedback. Going by their responses, I have no doubt that this bat will be a big hit," he said.
Among those who have already tested this bat are IPL franchise Delhi Capitals' (DC) fielding coach Biju George, who runs cricket coaching classes in Thiruvananthapuram.
"BatOn gives a batter instant feedback. Unless you middle the ball, the ball won't travel. My players first start with this bat at the nets and later use the regular bat," George, who was previously the fielding coach of the Indian women's team, told The Federal.
Kent County Cricket Club's head coach Matt Walker, who has tested this bat, said: "BatOn will make you realise whether you are watching the ball, or playing it late… When the ball hits the sweet spot, it makes you feel good."
When asked how BatOn can improve a player, he explained, "Once you get into the nets with this bat, you will immediately know whether you are middling the ball or not. It gives you instant feedback."
The company will come out with a normal size bat for seniors and also several other models for kids starting from the age of five.
Pemmaraju wants this practice tool to reach every cricket kit in the country and other countries as well.
"For me, the success of a product depends on how it improves the skills of a cricketer. Now, everybody, be it specialist batter or bowler, has to improve batting. With BatOn they can get better. I want this bat to reach a boy in an Indian village to the top-most professional player, be it here or anywhere around the world."
The company plans to price the regular-sized BatOn between ₹3,000 and ₹5,000; the kids' models will be priced lower.
How BatOn works
The batter using BatOn gets real-time feedback. The way the bat is shaped, unless a batter middles the ball, it doesn't travel. Sometimes, with regular bats, even edges fly a long way, thanks to the way the modern bats are manufactured with thick edges.