Rahul Dravid's son Anvay Dravid named captain of Karnataka U-14 team
Indian cricket team's head coach Rahul Dravid's younger son Anvay Dravid has been appointed as the captain of the Karnataka Under-14 team, it was announced on Thursday (January 19) in Bengaluru.
In a press release, the Karnataka State Cricket Association (KSCA) said that wicketkeeper-batsman Anvay will lead the state team in the South Zone inter-zonal tournament for the P Krishna Murthy Trophy.
The tournament (two-day matches) involving seven teams will be played in Kerala from January 23 to February 11. Karnataka's first match is against Hyderabad in Kochi from January 23.
Also read: Shubman Gill hits record 208 in ODI against NZ
Anvay, who was born on April 27, 2009, has been a prolific run-scorer in the KSCA U-14 league (one-dayers) and other matches, aggregating over 1,000 runs.
In the league, playing for Vijaya Cricket Club, he scored 427 runs in five innings with three centuries at an average of 107.
Later, in the interzonal matches (two-day games), the right-handed Anvay, playing for Secretary XI, hit 372 runs in seven innings with one hundred and one fifty at an average of 62.
After the league and the interzonal phase, the best 48 players were selected and divided into four teams for the final selection process involving two-day games. In those four innings, Anvay continued his rich vein of form and accumulated 207 runs (Average 69) with a highest of 99 not out.
Rahul Dravid's elder son Samit is also a cricketer. He had scored heavily for his school team in various age group tournaments in Bengaluru.
In February 2020, Samit and Anvay had a partnership of 260 runs off 224 balls in a match to guide their school – Mallya Aditi International School to the semi-finals of the BTR Shield tournament for Under-14 years (Group 1, 2nd Division) in Bengaluru.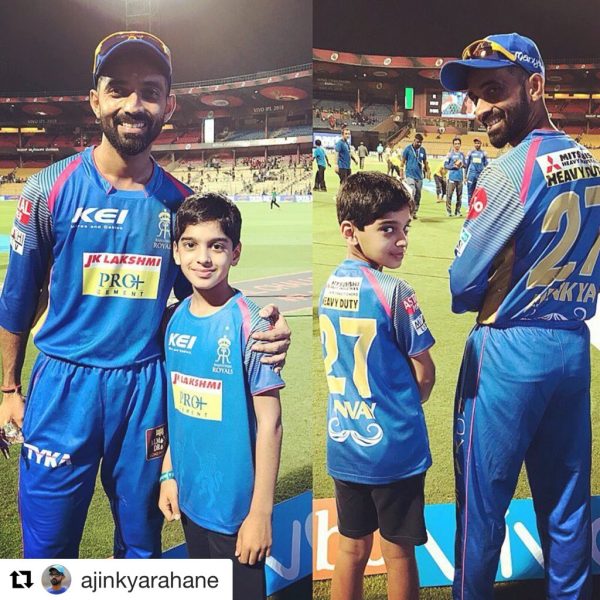 Captain Samit had scored 166 off 131 balls and took four wickets. Anvay had scored 90.
Meanwhile, coach Rahul Dravid is involved in the ongoing ODI series against New Zealand. On Wednesday (January 18), India defeated the Kiwis by 12 runs in Hyderabad to take a 1-0 lead in the three-match series. Shubman Gill became the youngest to score a double hundred (208) in ODIs.
Karnataka Under-14 squad
Anvay Dravid (captain and wicketkeeper), Arya J Gowda, Ayush Patil, Banesh SP , Bilal Mabasheer, Dhruv Krishan, Dhruv Santosh Rao (wicketkeeper), Gaurav Venkatesh, Harshith Pai, Karthik HN, Rathan B, Rohith AA, Saksham Agarwal, Samarth Kulkarni, Sukruth J. Coach: Kunal Kapoor. Physio: Gautam. Manager: PV Sumanth.