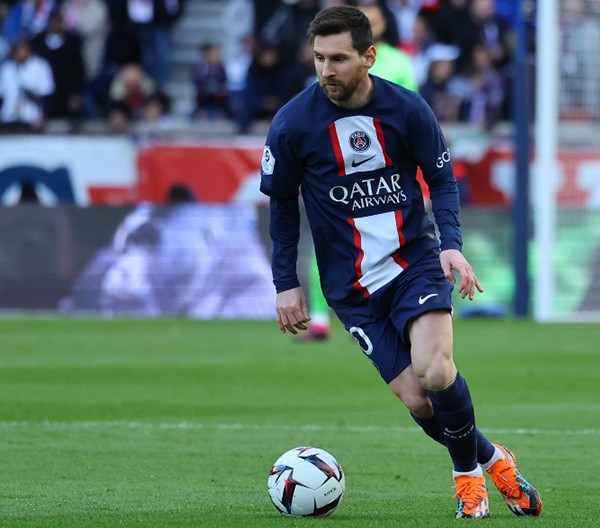 The World Cup victory of Lionel Messi and company has not yet worn off in South America, but in Europe, where he currently plays, his failure at Paris Saint-Germain (PSG) is the talk of the town. Football pundits have been asking questions, that why Messi hasn't performed well in Paris and why PSG has crashed out of the UEFA Champions League (UCL) without making it to the round of eight, twice in a row despite making dream signings last year.
It would not be wrong to assume that, it was PSG management's commercial or even political interests that made the Messi signing possible after the player had to leave FC Barcelona in 2021. Former German captain, Philip Lahm rightly pointed this out in his latest article published in the German newspaper Die Zeit.
"Qatar invests millions in PSG. Politically the strategy works but on the sporting level the team is a disappointment. The club remains a bland experience," said Lahm.
Also read: Lionel Messi: When geometry and poetry coalesce into football
Critics say after Messi's arrival in Paris, PSG could not go past the round of 16 in the UCL. "Wrapping up the Ligue 1 title is considered a formality. It's really all about the Champions League. In that light, almost two years into Lionel Messi's contract in Paris, we're left to conclude his arrival hasn't worked," observes British journalist and author Michael Cox.
In these circumstances, it would be interesting to assess Messi's performance at PSG – The Messi effect, or is there even such a thing?
It's true that PSG had a decent run under Thomas Tuchel first and then Mauricio Pochettino. In 2020 they had reached the final only to be beaten by Bayern Munich. "In that unique season, two German and two French clubs contested the semi‑finals, largely because the English and Spanish clubs had not played for a few weeks and were not in the rhythm of the competition, nor in training," observes Lahm.
Also read: Will eventually return to my home Barcelona, says emotional Messi
Although they ultimately fell short to Bayern Munich in the final, the PSG management was convinced that their team has it in them. That must be one of the reasons they went all out to sign Messi after trying for almost a decade.
Messi was introduced to a front line that already consisted of Kylian Mbappe and Neymar Junior. He was accompanied by Sergio Ramos, Achraf Hakimi, Georginio Wijnaldum and Gian Lugi Donarumma in the team – a line-up that any other team would have dreamt of. When they presented the 'MNM' (Messi, Neymar, Mbappe) attacking trio, everybody had been busy speculating that this trio would outclass the 'MSN' (Messia, Suarez, Neymar) era of Barcelona. However, they have fallen far short of expectations after two seasons and nearing the end of Messi's initial contract period.
Messi could not find his rhythm in the first season as he struggled to bond with the Paris players the way he did with his mates in Barcelona. It was evident on and off the field. The gossips, as well as news reports, were rife that he only hung out with Spanish-speaking South American players like Neymar, Marquinhos, Di Maria, Paredes, and Keylar Navas, aside from the Italian Marco Verratti. The feud between Neymar and Mbappe that transgressed from the locker room to the pitch fuelled these rumours. Little has changed, even after Christophe Galtier took over as Mauricio Pochettino's successor.
Also read: Lionel Messi wins Best FIFA Men's Award
A footballing genius like Messi did not appear to fit well enough into PSG's forward line according to Pochettino's game plan or formation. In fact, neither Pochettino nor the PSG management seemed to have had a plan for Messi. Angel Di Maria was the first casualty, as far as a place in the starting eleven is concerned – of Messi's entry to the PSG ranks.
From a distance, Messi and Maria appear to be the same players because they are both lefties who play on the right flanks, but their skill set is in no way comparable. However, a cursory look at the match videos will show that the majority of the PSG midfielders, with the exception of Verratti, saw Messi as merely a Maria replacement. They did not realise the necessity of getting the ball to Messi, who has this uncanny ability to pass and link up play, which he tried brilliantly with Neymar.
Mbappe remained a third wheel despite Neymar's constant attempts to play with Messi in tandem. Playing second fiddle was not an option for a player with his potential and stature, and it's understandable too.
No player in the team, except Neymar, Di Maria or Paredes for that matter, has the experience of playing alongside such a player. It's a fact that someone like Mbappe, who plays with such authority on the pitch, would be slightly unsettled with another celebrity player breathing down his neck. It should be noted that Mbappe's scintillating performance in the World Cup final came after Griezmann and Giroud were substituted.
At the same time, the PSG coaching staff failed to realise that Messi would have lost a yard or two from his pace and the team should be re-strategised accordingly. On the other hand, in his national team, Lionel Scaloni did know this and their plans were totally different, which is the reason why they are the champions of the world now.
The second season at PSG was entirely different for Messi. He was on top of his game after the victory in Copa America and Finalissima. He excelled both as a scorer and playmaker. The level of understanding between him and Mbappe significantly improved. Almost all of Mbappe's goals had Messi's assistance and interestingly the pair began to thrive on the pitch without Neymar.
The majority of the South American contingent in the PSG locker room, had left by then. Their replacements were the Portuguese – Vitinha, Renato Sanches, and a bunch of youngsters from France. Neymar, who had started the season in stunning form, incidentally had to retire hurt.
Both Messi and Neymar were in terrific form in the matches just before the World Cup, underlining their – especially Messi's – intent to perform well for their countries. They were actually competing with one another for goal contributions, with Mbappe reaping the biggest rewards. At that period, PSG appeared in very good shape. However, it took a turn following the World Cup in Qatar, leaving the club in a bind. The World Cup final between France and Argentina and the uneasy incidents that followed have taken a toll on Messi- Mbappe relationship. According to a section of French Media, that could be the reason for the recent poor performances of PSG.
They crashed out of the French Cup for the second consecutive year followed by the exit from the UCL and a defeat at their home ground. The fans – ultras as they are called – vented their anger at Messi by whistling and booing him. They had done the same last season too.
The defeat by Bayern Munich in the UCL has hurt the club badly. Many pundits attribute it to their off-the-ball performance on the field. Both Messi and Mbappe tend to ghost the pitch when they are deprived of the ball.
A Messi who drops deep when possession is lost, is an utter waste for any team, feel experts like Cox. Mbappe too shows the same tendency, but he can compensate for it with his express speed. It's interesting to see Messi's touch map against Bayern – 37% of his touches had been in his own half, which is obviously counterproductive.
"Sometimes, Messi needs to trust the ability of his teammates in possession and concentrate on receiving the ball from them where he can do damage. He risks, of course, not receiving the ball and being criticised for being anonymous in games, but that gamble is often the optimum approach," opines Cox in his article published in The Athletic.
On the other hand, we all saw what he is capable of, in Qatar – against Mexico, Poland, Australia, Netherlands, Croatia, and in the big final against France.
What makes the Argentine captain and the PSG player different? It's simply the Argentine midfield players who are more than willing to play along with him, or in tandem with him, or ultimately for their captain. The work rates of the midfielders do matter.
In Argentina's national team, they might not be having a Luca Modric, Tony Croos or Kevin De Bruyne, but they have a bunch of young energetic players who are ready to give more than 100 per cent for Messi and the team. That's the difference between the world champions and PSG. Argentina's midfield consists Giovanni Lo Celso, Rodrigo De Paul, Enzo Fernandez, and Alexis Macalister – whereas PSG have Vitinha, Renato Sanches, Carlos Soler and Fabian Ruiz.
They lack that particular player who has the work rate to compensate for their top three, and the creativity to engage in link-up plays with the forwards, Messi in particular.