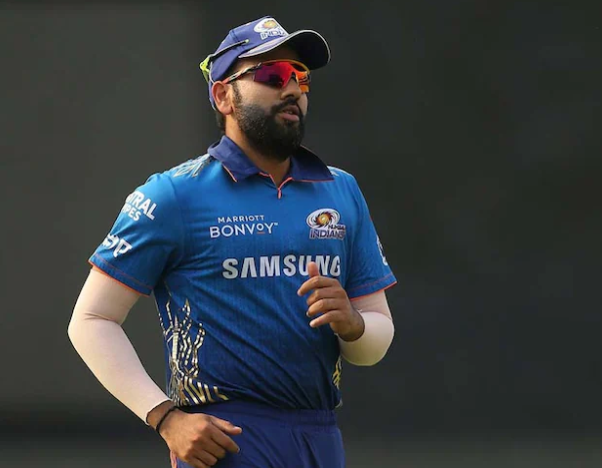 In a desperate bid to overturn a sequence of poor scores, Rohit Sharma slotted in at No. 3 in Saturday afternoon's game against Chennai Super Kings. The Mumbai Indians skipper walked out in the second over at the dismissal of Cameron Green, and safely negotiated the final ball of that over from Tushar Deshpande.
Up against him in the next over, after Ishan Kishan pinched a single, was Deepak Chahar, the swing exponent. Barely had Rohit put bat to his first ball from Chahar than, as he usually does, Mahendra Singh Dhoni pulled a rabbit out of the hat. Rohit's preferred mode of operation against swing bowlers is to chip down the track, meet the ball early and negate potential movement in the air. Dhoni, smartly, requisitioned a helmet and stood up to the stumps, forcing his MI counterpart to do something different.
Also read: IPL 2023: Rohit Sharma should take a break, says Sunil Gavaskar
To the next ball, Rohit went down on his knee, seeking to scoop the ball over short fine-leg. He was early into the stroke, the ball hit the splice of the bat, struck his right thumb and looped, almost bizarrely, to short third-man. Rohit gone for a third-ball duck, earning him the dubious distinction of having been dismissed for the most noughts (16) in IPL history.
Poor strike rate should worry Rohit  
That's not a stat that will worry Rohit, MI or anyone else; it's just a footnote, however annoying and unwelcome. What will worry the batsman, his franchise and Rohit's legion of fans is his poor returns in IPL 2023 – just 184 runs in 10 innings, strike-rate 126.90, and a solitary half-century.
Since making 65 against Delhi Capitals in MI's third match of the season, on April 11, Rohit's bat has gone tellingly cold. The last four innings have been particularly disappointing, marked by two ducks and a grand total of five runs. For a proud performer like Rohit who loves leading from the front, it must be galling that he isn't quite pulling his weight in what has been an up-and-down season for the franchise with the most titles (five) in the competition.
Saturday's dismissal was the perfect example of Murphy's Law – "Anything that can go wrong will go wrong" – coming into operation. When Rohit's in the middle of a good run, as he often is, the ball would have sailed way over short fine and comfortably cleared the ropes, or at least kept its tryst with the boundary cushions. But that's what makes cricket a great leveller; when it's not your time, you can court the most unlikely of dismissals.
Middling IPL form
The current horror run, for that's what it is, is an extension of Rohit's middling IPL form over the last few years. Since stacking up 405 runs in 15 hits in 2019, the right-hander has failed to get cracking; before IPL 2023, his season totals have been 332 (2020), 381 (2021) and 268 (2022) and his strike-rate hasn't crossed 128 in any instance. Even though he has more than 6,000 IPL runs in 237 matches, Rohit isn't quite the giant in this tournament – certainly not in the league of a Virat Kohli or an AB de Villiers, or even a David Warner.
Yet, over the years, Rohit has been instrumental in MI's five title triumphs, and in the ultimate success Deccan Chargers enjoyed in 2009. His sense of timing and occasion have been exemplary, which is why his diminishing tallies in the last few years are a little surprising.
Also read: IPL 2023: Rohit Sharma leads from front to set up maiden win for Mumbai Indians
Perhaps, some of it has got to do with the penchant for teeing off from the beginning. In the past, Rohit was a gradual builder of an innings, giving himself just that little time to suss the conditions and the bowling. Given how adept he is at clearing the ropes, he'd quickly catch up and accelerate the rate of scoring effortlessly. But now, he is a lot more gung-ho, buying totally into the concept of going hard at the bowling from ball one, and more so when the field restrictions are in place in the first six overs when only two fielders are permitted beyond the 30-yard circle.
Is he ready for WTC?
Rohit's mounting frustration at his inability to make a meaningful contribution was all too evident at Chepauk when he was uncharacteristically significantly more demonstrative than usual. He still has at least four innings to turn the corner, and get some confidence and momentum on his side before embarking to England for the final of the World Test Championship against Australia in less than a month's time.
To extrapolate his failures in the IPL thus far and suggest that he won't be effective at The Oval in London is both ill-advised and naïve. As recently as in February, in the first Test against Australia in Nagpur, Rohit showcased his adaptability and versatility with an outstanding century that set the tone for the series. The urge to get cracking and take the fight to the bowling will be decidedly less pronounced in a Test match scenario with so much riding in the one-off game, and Rohit has repeatedly revealed his willingness to play the waiting game in red-ball cricket, his exemplary leaving of balls outside off-stump one of the standout features during the Test tour of England in 2021 when he brought up his only overseas ton to date, coincidentally at The Oval.
That being said, it won't be entirely out of place for Rohit to want the cushion of a couple of decent digs under his belt before leaving for London. For all of one's experience and wisdom, there's nothing like immediate runs in the bag for feel-good and being in an excellent mind-space. It won't just be his franchise, still in with a decent shot at making the playoffs, that will be hoping for an instant turnaround in fortunes.
Also read: T20 World Cup: Rohit Sharma breaks Yuvraj Singh's sixes record
Neither Rohit, nor head coach Rahul Dravid, will however be too fussed if he doesn't shed his poor form over the next fortnight, because they are well aware that the demands of the two formats are vastly and diametrically different and Rohit has the class and the pedigree to compartmentalise the two. Rohit on song, firing on all cylinders, is a sight for sore eyes, a sight that has been conspicuously absent for most part of this season. A throwback to the free-flowing destroyer one is familiar with won't be out of order.