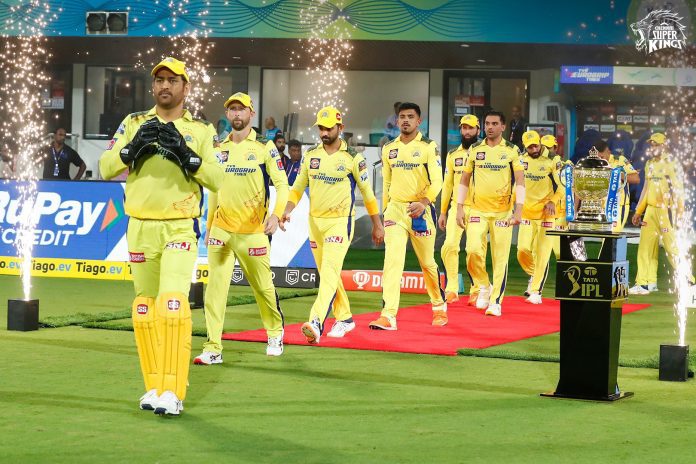 This time last year, a pall of gloom had descended over Chennai. Their favourite sporting team CSK had cut a sorry figure, finishing ninth out of ten in Season 15 of the Indian Premier League, a debilitating blow for a side unaccustomed to being at that spectrum of the points table.
The mood couldn't have been any different 12 months on. In front of their adoring fans who have stuck by their team through thick and thin and have often been rewarded for loyalty and support, Chennai Super Kings sent the city into a paroxysm of ecstasy on Tuesday night (May 23), making it to the final of IPL 2023 with a comfortable 15-run win over the holders Gujarat Titans.
CSK's fortress
The MA Chidambaram Stadium is hailed as CSK's fortress, an intimidating venue where any colour other than yellow is frowned upon and where anyone not supporting the Mahendra Singh Dhoni-marshalled outfit is in a singular minority. The venue attracted the loyalists by the thousands in what could be their talisman's final game here, and played host to a party of the kind seldom seen before with young and old, man and woman, adult and child celebrating with gusto long before the final ball was bowled.
Also read: Podcast | IPL 2023 Qualifier 1 review: CSK's record 10th final; Dhoni's retirement question
There are grounds with character and electricity and history and buzz, and then there is Chepauk, the theatre of a zillion dreams that seldom disappoints. As a capacity crowd settled down to soak in the entertainment, there were inevitable nerves, but those were more than cancelled out by the immense faith in the Dhoni magic.
Dhoni steers CSK to an unprecedented 10th IPL final
Holding true to the larger-than-life persona that has been conferred on him by the people of Chennai and the supporters of the franchise, Dhoni steered the CSK ship to the IPL final for an unprecedented tenth time in their 14-year existence. That's a remarkable record; Chennai have had outstanding talent and innumerable magical performances to reflect on, but the one constant in their corner has been Dhoni, whose relationship with the city transcends mere words.
Hardik Pandya, who has attempted to model his captaincy around his mentor, paid the ultimate tribute to Dhoni when he admitted after Qualifier 1 that Dhoni had made his team's 172 seem like 190. "That's the beauty about him as well," he smiled, his voice dripping with sincerity and scarcely- concealed admiration. That's the effect Dhoni has on the vanquished, too.
Also read: CSK march into IPL 2023 final; GT to play Qualifier 2 in Ahmedabad
Having taken their appointed place in the final at the first time of asking, CSK will only cast a casual glance at the events of the next three nights, which will decide who among Gujarat, Lucknow Super Giants, and Mumbai Indians will square up against them in the May 28 final at the Narendra Modi Stadium in Ahmedabad. CSK will have no preferences when it comes to who they'd rather meet in the title clash; like most self-assured units, they are a team that looks inwards and on current form, it's unlikely that they won't be delighted at what they see.
Until Tuesday (May 23), Chennai had never put it past Gujarat. Admittedly, the sample size is small – the teams met twice in the league phase last year and once this season – but even so, they could have been forgiven for entertaining gremlins of self-doubt. Instead, they came out with a well-crafted game plan and executed it to near-perfection, thriving on a pitch that was right down the alley and thankful for the absence of dew that could have played havoc with their implementation.
Ruturaj Gaikwad – the difference between the two sides
The first indication that this could be Chennai's night came in the second over, when Ruturaj Gaikwad was caught at mid-wicket off Darshan Nalkande, playing his first game of the season. As the prolific opener, downcast, started to make his way back to the dugout, he was halted in his tracks and informed that he had been gifted a second chance because the bowler had overstepped. Gaikwad should have been dismissed for two, off seven deliveries. Instead, he proved the difference between the sides, his wonderfully-paced 44-ball 60 which earned him the Player-of-the-Match award just the hand his team needed, given the conditions.
Unlike some of the other pitches at Chepauk over the last eight weeks, this wasn't a belter where one could plonk his foot down the track and hit with impunity through the line. More than the odd ball was sitting in the pitch, or gripping and turning. Runs had to be eked out, not amassed through naked aggression. Gaikwad was the only batsman who seemed to have its measure, his fluency highlighted further by the scratchiness of Devon Conway, who still hung around long enough to add 87 for the first wicket.
CSK's bowlers choke the Titans' batters
By eliciting small but vitally important cameos down the order, Chennai had put the masters of the chase in a bind. Gujarat have the reputation of hunting down targets, however daunting, with some authority, but they were choked to their doom by the intelligence of the Chennai bowlers and the towering presence of Dhoni, whose fields were impeccable, whose bowling changes were spot-on, and whose belief in Ravindra Jadeja was vindicated when the left-arm spinner finished with two from 18 from four unchanged overs.
That Chennai kept a marauding Shubman Gill, coming off back-to-back hundreds, in check speaks to their hunger and desperation. True, there were wides galore – 12 extra deliveries, in direct contrast to Gujarat who didn't bowl a single wide – but around those infractions, their quintet of bowlers rose to the occasion with Sri Lankan tweaker Maheesh Theekshana complementing Jadeja superbly and Deepak Chahar reiterating that his recent purple patch is no flash in the pan.
Also read: I have 8-9 months to decide, why take the headache now: Dhoni on retirement
Gujarat, generally composed in a chase, fell like nine pins, suffocated by the choke applied mercilessly by the poker-faced Dhoni. Barring Gill and a late flourish from Rashid Khan, who threatened the impossible, they had little to show and were well-schooled by a bunch that has shown how adept it is at cocking a snook at the impossible, time after time.
Having been on the mental tiptoe for 20 overs, Dhoni allowed the ballerina in him to resurface at the presentation too when he deftly side-stepped a question about his future. "I have 8-9 months to decide, why take that headache now?" he said. Why indeed, several thousands screamed in unison. Or so it seemed. It was that kind of a night, really.