Hockey World Cup: Odisha rolls out the turf, with an eye on future
The countdown has begun for the Men's FIH Hockey World Cup, slated to kick off in Bhubaneswar and Rourkela, Odisha's two cities separated by over 400 km, from January 13.
Hundreds of men and women are giving last-minute touches to the beautification activities in both cities, lending them a bridal look.
Freshly coated footpaths in red and green along cleaned roads, flower pots, paintings on the walls and decoration with lights create a festive atmosphere.
It is difficult to miss the illuminated flex posters and billboards of a smiling Odisha Chief Minister Naveen Patnaik and Olly – the Olive Ridley turtle mascot of the event – holding a hockey stick across the cities.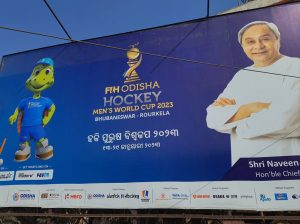 Odisha is hosting the event for a second successive time. Previously, Belgium won the World Cup in 2018.
Grand opening
The opening ceremony will be held at the Barabati stadium in Cuttack on January 11. The star-studded show will feature live performances by Bollywood stars Ranveer Singh and Disha Patani along with BLACKSWAN, a K-Pop band featuring Odisha's Shreya Lenka.
India last won the hockey World Cup in 1975. With Odisha as its main sponsor, the Indian team is hoping to build on its bronze victory in the 2021 Tokyo Games. Patnaik has announced a reward of ₹1 crore to each member of the team if India wins the trophy.
State-of-the-art infrastructure
With the participation of 16 teams, the January 13-29 event will see 44 matches, of which 24, including the finals, will be held at Bhubaneswar's decked-up Kalinga Stadium. It was the venue for all the matches in 2018.
Twenty matches will take place at the newly-built stadium, named after tribal freedom fighter Birsa Munda, in Rourkela.
The new facility has a seating capacity of 20,000. It also houses a swimming pool, a state-of-the-art fitness centre and a tunnel connecting the dressing rooms to the playground.
Also read: Rourkela gets India's largest hockey stadium ahead of men's world cup
Earlier this month, Patnaik inaugurated the stadium and World Cup Village, which has 225, 4-star category rooms to house the teams and officials. The Taj Group is managing the hockey village.
Patnaik opens stadium
Inaugurating the Birsa Munda stadium, Patnaik called it "a time to rejoice, a day of pride and glory for Sundargarh, especially its sports-loving youths".
"The world's largest hockey stadium is standing tall here in Sundargarh, the cradle of hockey, speaking volumes on the glory of this land," Patnaik said.
Sports and Youth Services Minister Tusharkanti Behera said an outlay of ₹1,098.4 crore has been made in the 2022-2023 state budget for the construction and development of hockey stadiums in Rourkela, Bhubaneswar and beautification of the two cities.
Projectors will come up in all 6,798 gram panchayats for live streaming of the opening ceremony. Plans are in place to set up LCD screens in higher educational institutions across the state to enable the students watch the matches live.
Promoting sports
Patnaik has given a lot of thrust to the promotion of sports and development of sporting infrastructure. Besides the hockey World Cup, Odisha has also hosted a number of big-ticket sporting events.
In the tribal-dominated Sundargarh district alone, work is underway to roll out astro turf facility in all 17 blocks. The job has been completed in some locations.
"It will bring about a huge positive change. As kids will practice on these turfs, they surely will do well in future," believes former India (women's team) captain Subhadra Pradhan.
A cradle of hockey
In Subhadra's village Saunamara in Sundargarh district, youngsters have begun dribbling on the newly laid astroturf. Saunamara is also home to ex-India captain and now Hockey India President Dilip Tirkey, current vice-captain Amit Rohidas as well as Dipsan Tirkey.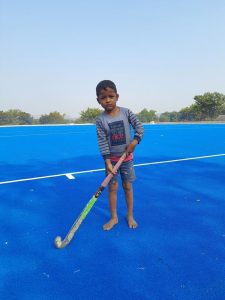 Also read: Major sports events in 2023: Hockey, cricket World Cups and more
Though ex-India player Lazarus Barla felt the astroturf facility at the block level should have been laid long back, he hopes the new infrastructure, along with the World Cup will give a big push to the game.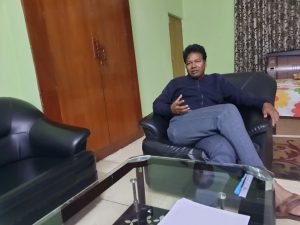 Barla said for the "hockey-crazy" people of Sundargarh, it's a momentous occasion.
"Such a big event in a small place is going to be a reality… We never imagined that one day the greatest hockey stadium would be built in our district," he said.
Experts, however, say that grounds alone don't produce stars.
"It's important to ensure that young athletes get to groom under the watchful guidance of dedicated coaches and trainers. We lack enough committed manpower (coaches and training staff). Unless this area is looked into, the new facilities will serve little purpose," a senior coach said.
Roadmap ahead
David John, director, Hockey Odisha, believes that Odisha is going to play a key role in producing national players. "We are going to get skilled coaches on board," said the Aussie who resigned as Hockey India's high-performance coach in 2020.
Stressing the importance of having a club structure in place, he said, "Each of the 24 turfs is a club, and they will play matches every week. We will bring in players from other states and possibly a few foreign players".
"So far, our players have been only practising. They have to practice and play with highly skilled players," he added.
Sundargarh's former district sports officer Abhay Patnaik who, along with the coaches toured on bikes, to spot rural talent – many of whom later represented the country – is a satisfied man. "Decades of hard work has paid off," he beamed.
According to him, although hockey was a popular sport in Sundargarh and some other parts of Odisha, much changed in the 1980s, particularly after the Asian Games in Delhi in 1982.
"Earlier, sports used to be part of the tourism and culture department. But during the JB Patnaik government, (sports) was made a new department with separate budget," he said.
Turning point
The turning point was the setting up of sports hostels – including in Sundargarh and at Panposh (Rourkela). Talented athletes from interior villages were groomed under professional coaches. A few years later astroturf facility was added at Panposh hostel.
Also, since the early 1990s, the Sports Authority of India (SAI) has started providing coaching and training to the athletes at Sundargarh. It adopted two schools at Sundargarh for separate coaching of boys and girls.
In 2002, SAI's special area games centre (SAG) was set up there and synthetic turf facility provided in 2007.
From the SAI's Sundargarh facility, 10-12 players, including Bikash Toppo, Roshan Minz and Banmali Xess, have donned the India jersey. Olympian and women's team vice-captain Deep Grace Ekka was groomed at this centre.
Also read: Hockey yearender: Indian women steal limelight, claim CWG medal after 16 years
Today, the worn-out turf that caters to 60 athletes begs attention. According to a senior SAI coach, the average life span of turf is seven to 10 years. "Despite repeated requests since 2016 to relay the turf, nothing has been done yet," he rues.