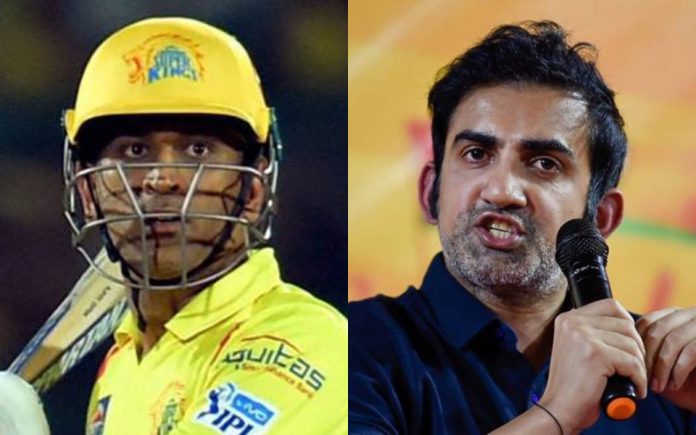 Gautam Gambhir may have been hogging the limelight for recently locking horns with Virat Kohli, but the latter wasn't the first Indian cricketer who got into a face-off with Gambhir.
Gambhir had somewhat similar equation with Mahendra Singh Dhoni. Gambhir has often traded barbs with India's most successful skipper over the years, particularly when they were pitted against each other as rival captains in the IPL with the IPL 2012 being a prime example. The two players were also at loggerheads when CSK were slapped with a two-year-ban and Dhoni led the Rising Pune Supergiants for a couple of years. Gambhir and Dhoni were engaged in an intense fight with each trying to outsmart the other tactically.
Also read: Kohli vs Gambhir: Old baggages lead to another round of juvenile bust-up
Former India all-rounder Irfan Pathan narrated a fascinating incident on Wednesday when Dhoni and Gambir came face to face during during Chennai Super Kings' IPL 2023 encounter against Lucknow Super Giants, albeit in a different role.
Though Dhoni is known world over as a great finisher with a steady and calm demeanour, Pathan recalled the time when Gambhir's tactics weighed heavily on his mind. It was during Gambhir's stint as the KKR captain when he would set up a Test match-like field, bringing in close-in field for Dhoni and operated with his top spinners – either Sunil Narine or Piyush Chawla. Interestingly, the ploy worked almost every time with Dhoni falling to spin cheaply. Referring to Gambhir's strategy, he added: "MS was rattled to the core by the field setting."
In 2016, Dhoni came to bat with RPS struggling at 74/4 against KKR with Chawla in red-hot form. Sensing the opportunity, Gambhir surrounded Dhoni with fielders, bringing in Shakib Al Hasan, Suryakumar Yadav and Yusuf Pathan in close-in positions. Dhoni had become a bit susceptible against spin over the years and Gambhir knew it. With Dhoni trying to defend or block, he looked extremely vulnerable.
Also read: IPL fracas: Kohli, Gambhir are no teenagers, need to introspect, set the right example
Going down the memory lane, Pathan recalled an instance to corroborate his claim when he sacrificed his wicket for his former RPS captain. Dhoni was 5 off 14 when he nudged the ball and took off. Pathan responded but after taking a few steps realised that perhaps the run wasn't on. However, by then, Dhoni was almost half-way through the pitch and screamed 'run' at his partner. Pathan eventually went for it and although Dhoni made the crease, Irfan didn't.