Here is some good news for sports fans.
A new Reliance-backed sports channel has been launched in India, marking exciting times, besides intense competition and bidding wars, for the sports broadcasting industry.
In India, sports broadcasting has been dominated by two major players — Disney-owned Star Sports and Sony Sports Network. Now, with the entry of Viacom18's Sports18, it is no more a duopoly.
Also read: COVID hits IPL 2022
According to Viacom18, which owns more than 45 channels, Sports18 is available in both SD and HD and the TV channel will offer "best-in-class" sports content in India. The channel will be available across all DTH platforms at Rs 8 per month (this price is fewer compared to its rivals Star Sports and Sony Sports), the company said.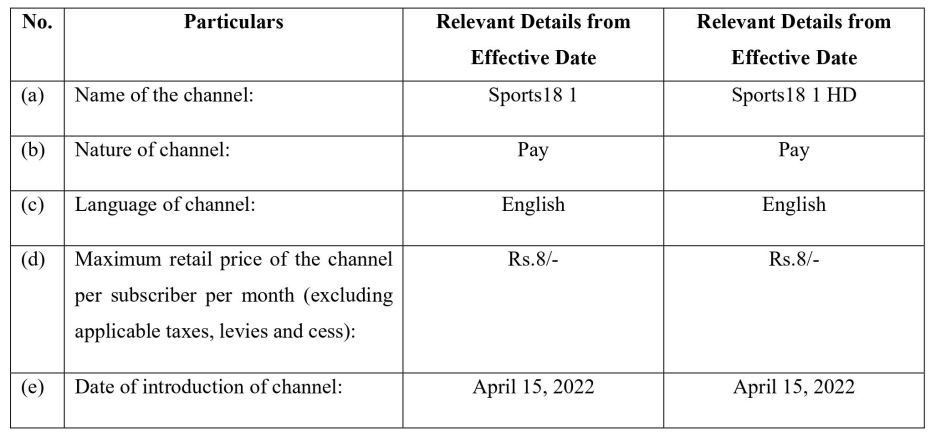 As part of its promotional offer, viewers can watch the channels (Sports18 1 and Sports18 1 HD) for free from April 15 to May 14, TV18 Broadcast Limited said.
Viacom18 Media Private Limited is a joint venture of Network18, which owns 51%, and ViacomCBS, with a 49% stake.
FIFA World Cup broadcast rights
Sports18 has already made a big impact before the launch by bagging the FIFA World Cup 2022 broadcast rights. It has beaten both Star and Sony for this year-end's mega event.
Besides the football World Cup, Sports18 holds the rights for NBA (basketball), LaLiga, Ligue 1, Serie A (all football), Abu Dhabi T10 (cricket), and top ATP (tennis) & BWF (badminton) events.
The NBA and Viacom18 announce a multiyear broadcast and streaming partnership in India. 🏀 x 📺

You can now watch NBA games live on @MTVIndia, @Vh1India, @justvoot, and @OfficialJioTV#NBA75 #NBAonMTV #NBAonVoot #NBAonVh1 #NBAonJioTV pic.twitter.com/c3WCjsWukW

— NBAIndia (@NBAIndia) December 3, 2021
"Apart from premier picks from the world of football, basketball, tennis, cricket and badminton, the channel will provide fans access to top programming covering international sports news, magazine and highlights shows. Viewers can continue to watch their preferred sports by downloading Viacom18's premium video-on-demand platform Voot (iOS & Android) and JioTV (iOS & Android)," the channel said.
Viacom18 Sports CEO Anil Jayaraj, who was Star Sports' Executive Vice President, Ad Sales, said Sports18 will "strive to be India's most-coveted broadcast network".
Also read: CSK's Deepak Chahar ruled out of IPL
"We are pleased to launch a dedicated sports channel for an audience across demographics and geographies. Sports18 will strive to be India's most-coveted broadcast network by providing fans easy access to a comprehensive bouquet of international and premier sports content," said Jayaraj.
𝗬𝗼𝘂𝗿 𝘀𝗽𝗼𝗿𝘁𝘀 𝗵𝗲𝗿𝗼𝗲𝘀 𝘄𝗶𝗹𝗹 𝗵𝗮𝘃𝗲 𝗮 𝗻𝗲𝘄 𝗵𝗼𝗺𝗲 𝗮𝘁 𝟭𝟴𝟬𝟬 𝗵𝗼𝘂𝗿𝘀 🥁#Sports18 #HeroesHaveANewHome

— Sports18 (@Sports18) April 15, 2022
Sports18's entry comes ahead of media rights bidding for Indian cricket's hot property – IPL, for the next cycle – 2023-2027. The Board of Control for Cricket in India (BCCI) has already called for 'Invitation to Tender' (ITT) from interested parties and the closing date is May 10.
The BCCI is expecting more than Rs 34,000 crore for IPL media rights. Star India had paid Rs 16,347.5 crore in 2017 for five years of media rights for IPL. Back then, it was a consolidated bid but now the BCCI has made it separate packages – digital, TV, rest of the world, and a new non-exclusive bundle of 18 matches.
Now, it will mainly be a three-horse race between Star, Sony, Sports18 for IPL broadcast rights.
What do experts say?
According to experts, an entry of a new player into the market is always good news.
ITW Consulting MD Bhairav Shanth feels the entry of Sports18 could "unlock" the value of other sports in India. However, he termed Viacom18's foray into sports "a drop in the ocean".
"New entrants could help unlock the value other sports offer which is severely underserved right now because of lack of good production values, packaging, marketing, and visibility. There is limited space on linear TV broadcast for live sports, but when it comes to digital streaming there is quality play available for driving more value to sports fans. A case in point is innovation like metaverse, which will take the digital fan closer to the real game as AR/VR becomes more affordable. This will open new revenue streams for the rights holders," Shanth told exchange4media website.
"On the 2nd screen (OTT) and connected TV which has already become the 1st screen, in my opinion, Viacom18's entry will be a drop in the ocean given this space is all about the technology and pay per view base. We have some big names who may be eyeing this already. What stops Netflix to foray? Amazon Prime has already picked up some live sports content and for 5 years, that should give us some cue. Adding to this, SonyLIV, Disney+ Hotstar, ZEE5 and many more have the stretch to dive into the race with an existing strong subscriber base," he added.
An unnamed sports broadcasting executive told the website that Sports18's arrival will result in correction of cost. "As such, the cost for sports rights was skyrocketing, so it was time for a correction of cost. The entry of a big player like Reliance will mean that the correction will not happen. It will be good for the rights holder. It will also be good for viewers as they will get to watch a lot more sports content."
According to him, if Sports18 bags broadcast rights of both IPL and ICC cricket events, then it will "weaken" the position of other broadcasters. "The FIFA rights acquisition is a sign of things to come, particularly with IPL and ICC rights also coming up for bidding. If Reliance manages to win both ICC and IPL, it will weaken the position of other broadcasters, who are dependent on Jio for OTT revenue. The balance of power will shift to Jio vis-à-vis broadcasters. Jio is creating its own original entertainment content, which will reduce its dependency on other players."
In January, there were reports that former CEO of Star India Uday Shankar and media mogul Rupert Murdoch's son James Murdoch were set to buy a 40% stake in Viacom18. They were to infuse Rs 12,000 crore into the company. However, there is no official word till now. Back then, experts had felt the duo's presence would be a major boost for the company's sports broadcasting.
The arrival of Sports18 will definitely mark the onset of exciting times in Indian sports broadcasting. The bidding wars may get more intense with three players (or more players including OTTs) vying for major events' media rights. Let's wait and watch.