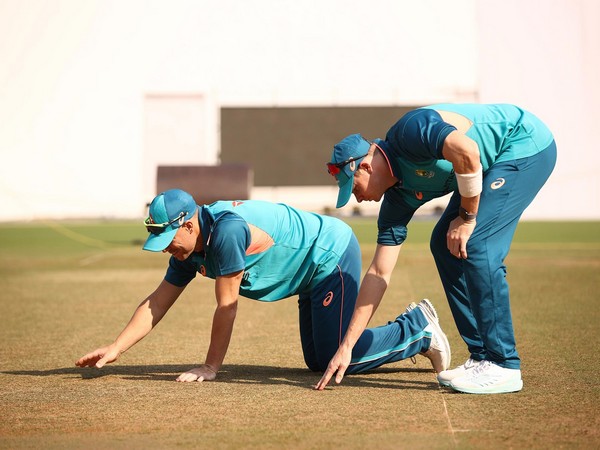 The outfield at the HPCA Stadium in Dharamsala, which was re-laid last year to ramp up drainage facilities, was rightly deemed unfit to host a competitive game of cricket because the density of the grass is inadequate and therefore posed a genuine threat to the safety of fielders.
The Board of Control for Cricket in India's utter disregard for the plight of the fans who had made travel and accommodation arrangements in the most picturesque cricketing setting in the country was evident from a studied lack of mention of the game's largest and most important stakeholder in its terse press release of Monday, but that's a discussion for another day.
Also Read: Poll ploy? Modi has dinner with Kannada film stars, cricketers, entrepreneurs
Let's get back to the pitch – or the wicket, as it is erroneously referred to by pundits, players and laypersons alike.
Except in team tennis, no other sport accords the same respect to or scrutiny for the playing surface as cricket. The Davis Cup, the ultimate team competition in men's tennis, has veered away from its traditional home-and-away format, but when it did exist in that avatar, it made for a stirring country vs country competition.
When, for instance, Davis Cup legend John McEnroe spearheaded the American challenge in, say, Sweden, he wouldn't be greeted by a beautifully manicured grass court because that was the left-handed genius' favourite surface. The Swedes have grown up on red clay, so they would lay out a court that would maximise their advantage and blunt Mac the Mouth's brilliance. That was an accepted facet of the Davis Cup. No one ever said, 'Hey, that's not tennis.'
'That's not cricket' owes its origins to the gentlemanly past of a sport that now jettisons niceties when it's convenient. Even in everyday walks of life, especially in England where the phrase originated, it was common to hear 'That's not cricket' when someone so much as contemplated anything underhanded. The moniker of the gentleman's game has long disassociated itself from cricket, no matter how hard we might try to convince ourselves otherwise.
Also Read: How rural Kerala girl Najila has made it big in Indian cricket
What's that got to do with the pitch, you might wonder. 'That's not cricket' is among the more charitable barbs emanating from various quarters before and after the two-and-a-half-day finish to the first India-Australia Test in Nagpur last weekend.
Long before the first ball had been bowled at the VCA Stadium, Australian cricket followers had been informed by several members of their media, many of them cozily ensconced Down Under and who hadn't so much as seen the deck from even afar, that the 22 yards at Jamtha would constitute a veritable minefield.
That it was designed to undermine Australia in an under-handed way – hence 'That's not cricket'. That it was stretching home advantage too far. That such an act therefore deserved widespread censure and sanctions from the International Cricket Council.
Pretty rich that, coming from a country that staged a two-day Test match – you read that right – only last December.
Also Read: Suryakumar wins ICC T20I Cricketer of Year award; picks his 'special' knock
Australia hosted South Africa in the first of three Tests at the Gabba. The match was due to run from December 17 to 21; instead by December 18, everyone was packing their bags. The entire game lasted 144.2 overs (as opposed to a possible 450) and 694 minutes (six hours a day for five days translates to 1,800 minutes).
Just 504 runs were scored and 34 wickets lost during that action-packed Test match where the dice was loaded so heavily in favour of the faster bowlers that ICC match referee Richie Richardson's official assessment of the surface as 'below average' was considered extremely generous.
No one in Australia spoke of 'pitch doctoring' then, before or after the Test match. Just for the record, the team scores in that game read 152, 218, 99 and 35 for four.
The unfairly vilified VCA Stadium surface witnessed a lot more cricket, at the end of which it was clear that it wasn't the pitch so much as Australia's lack of application, if not skills, which proved the difference. On the same track where Australia were bowled out for 177 and 91 on the first and third days respectively, India amassed 400. There's a reason why they say you must never judge a pitch until both teams have batted on it at least once.
Also Read: Celebrity Cricket League: CCL 2023 schedule, venues, squads, live TV, and more
One of cricket's unique attractions is the myriad challenges players face while travelling. Australian and South African tracks usually test batsmen with their pace and bounce, New Zealand's grassy knolls make ordinary seamers look world-class and the atmosphere in England elevates dibbly-dobbly medium-pacers to swing exponents of the highest order.
In the subcontinent, with its reputation for slow, low tracks that assist spinners and ask numerous questions of a batsman's ability, technique, adaptability and character, it's the slower bowlers who hold sway. That's been the case ever since cricket touched these shores, and apart from the loss of pace in the strips in the various Caribbean islands, precious little has changed over the years.
'Pitch doctoring,' as it's called, is when this innate character of pitches is magnified and tinkered with to provide a more-than-natural edge to the home team. That's why it's mind-boggling that nobody raises an eyebrow when 34 wickets fall to pace in two days, but the whole world is up in arms if it's the spinners who wreak similar havoc.
Also Read: Split captaincy in Indian cricket: What Rahul Dravid says
Somehow, the popular narrative seems to suggest that pace is 'superior' to spin, and while assistance for the former is welcome, help for the latter must be looked askance, even though home teams have the license, indeed the privilege, to make tracks that support their strengths.
If the ball turns from the first hour of the first day, how's that a bad thing so long as the turn is consistent and the bounce even? The problem is when the pitch is so dry that parts of it come off when the top is disturbed as early as in the first session, making batting a lottery.
The bounce becomes uneven, the turn is pronounced and prodigious, and skills have no meaning because any ball could have your name on it. Now, that's unfair, because there is no equal contest, no contest even – that's certainly not cricket. But Nagpur? Nah, that's just spin doctors letting their imagination run wild.