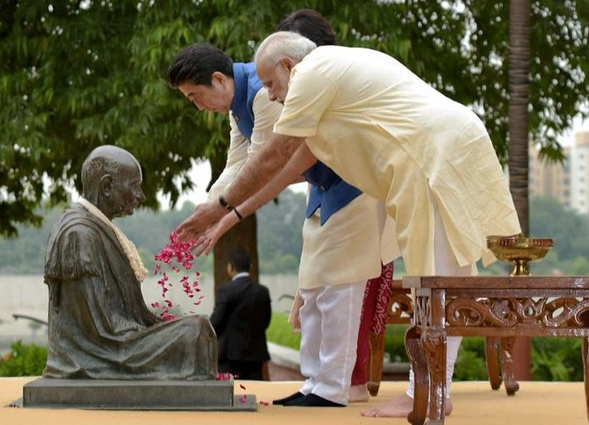 February 28 was the last Sunday of the month and it was time for the 74th episode of Mann Ki Baat, Prime Minister Narendra Modi's radio address to the citizens. Shortly after listening to it, I had to walk down on a chore on an arterial road in a (supposedly) upmarket residential colony of Patna, where I happened to be on that day, on a long-overdue family visit.
The view on the road brought a sardonic smile to my face, as all morning, I had been hearing the imploring Kailash Kher rendition of the Swacch Bharat song, monotonously blaring from the city municipality's garbage van. There was garbage littered all over the major road leading to a large sports stadium, now used as a camp site for a paramilitary force. The scene is the same in most parts of non-metro India.
The filth lay scattered everywhere, in testimony to the structural failure of the 'Clean India' campaign, an undisputed showpiece of the Modi regime. Obviously, clearing the pavements of garbage is certainly not part of the citizen-targeted campaign for clean India.
While initiating the programme on Mahatma Gandhi's birth anniversary in 2014, the government assumed that the drive neither required institutional reforms, nor was it necessary to make municipality workers, engaged in the sanitation department, as stakeholders in the programme. Barring the political and bureaucratic leadership, no one 'owns' the flagship programme.
The regime, Modi downward, considered it sufficient to enlist celebrities, eager to be on the right side of the Prime Minister, to get pictured sweeping streets, as a communication strategy to motivate citizens to change personal habits and not discard trash anywhere.
We can have a 'clean India' purely by enlisting the citizenry, the thinking went, and this has not changed in six-and-a-half years. But keeping a country clean requires much more, from policy change, institutional correction, to increasing stakeholders' involvement and commitment.
Also read: Swacch Bharat gets ₹777.4 cr donation in 5 years, but NRIs send only ₹13.79L
In his Mann Ki Baat address, the centrality of Modi's message has been that 'Aatmanirbhar Bharat' (Self-Reliant India) is not just a government policy, it is the "national spirit." Quoting a Kolkata resident (ignore that Assembly elections will shortly get underway in West Bengal), the Prime Minister said: "The first condition for Aatmanirbhar Bharat is to have pride in the things of one's own country; to take pride in the things made by people of one's own country. When every countryman takes pride, every countryman connects; self-reliant India doesn't remain just an economic campaign but becomes a national spirit."
Modi believed that it is individual citizens, not government, who must be made responsible for ushering change. In his radio address, the prime minister did not mention other steps required (after the "first") to move towards national self-reliance. Instead, he listed several instances of citizens, who beat odds stemming from crises imposed by the novel coronavirus and the dramatic nationwide lockdown.
Modi suggested that people learn from others and emulate those like a resident of Bettiah, Bihar. This person, the PM stated, worked as a technician in a LED bulb manufacturing unit in Delhi prior to the lockdown, but was unemployed thereafter. To overcome his financial crunch, he started a small unit to manufacture LED bulbs and employed local youth to complete "the journey from being a factory worker to becoming a factory owner in a few months; that too while living in his own house."
There were other similar fairytales he referred to, suggesting people could alter personal fortunes by becoming self-reliant. This was not the first time that Modi framed the goal of self-reliance within the personal domain. 'Aatmanirbharta' is an integral part of Modi and the government's phraseology since April last year, when Modi first unveiled what was to morph into a full-throated political catchphrase.
However, this government policy to make the nation self-reliant has been conspicuous in its absence of detail. The finance minister has announced several 'aatmanirbhar packages' but these are recast versions of schemes already in place. The emphasis remains on the individual citizen, while the government's role is shielded behind numerical figures, which appear impressive, but rarely stand scrutiny.
Also read: At Delhi borders, farmers bang utensils to boycott PM's 'Mann Ki Baat'
In an interaction with sarpanchs of gram panchayats from across the country through video conferencing on the occasion of National Panchayati Raj Day last April, the PM lectured Indians on the need to be self-reliant: "Villages, at their own level, have to be self-sufficient for their basic necessities, districts at their level, states have to manage primary needs on their own and this is the way, the entire nation should become self-reliant. For our needs, we should never feel the need to turn to anyone, this has become absolutely necessary."
On numerous occasions in the past, Modi asked people to "stop being job-seekers" and instead become "job-givers." But, where is the infrastructure, systems and now in the post-COVID-19 world, the demand?
Immediately after Modi's advice last April, the cue was picked up by the Rashtriya Swayamsevak Sangh (RSS) chief Mohan Bhagwat. He, too, began extolling the virtues of swavalamban, a Sanskrit term for self-reliance.
In time, the duo's vocabulary became interchangeable, although the sarsanghachalak is prudent not to take authorship of any idea. This is despite Modi drawing several of his ideas from the sangh parivar and its most prominent economic thinker, the late Dattopant Thengadi.
It is a different matter that if he had been alive, he would have been at the forefront opposing several of the government's policies, from the farm laws to the increased focus on privatisation.
In his last year's Independence Day speech, too, Modi made the idea of 'Aatmanirbhar Bharat' the centrepiece of his vision. The detail was missing even then.
Modi's concept of self-reliant India is India's third tryst with the idea post-independence, the first two being those conceptualised first by Jawaharlal Nehru, and later updated by PV Narasimha Rao.
Also read: I'm sure you'll have much to say: Modi invites ideas for Mann Ki Baat
Nehru's idea of self-reliant India emerged from the national movement — the Swadeshi movement in early 20th century was the first to energise masses. And, though it did not figure in the documents of the Planning Commission, it had enough details to enable India to embark on a growth path, that was remarkable for any post-colonial society.
Nehru's vision of self-reliance was multi-layered, from import-substituting industrialisation to infrastructure building, modernising health, and establishing educational institutions that produced some of the finest minds the nation needed and a technocracy which took charge of developments projects.
Likewise, Rao was bold enough to modify the economic path and argued that the idea of self-reliance needed redefining. Rao, too, had a comprehensive blueprint in mind, although economic liberalisation did not pan out for the best, especially for the working class and peasantry.
But, Rao did not use economic liberalisation as a political slogan, even though the economy recovered. In contrast, even before exhibiting any tangible benefit, 'Aatmanirbhar Bharat' is a full-throated jingle of the regime like 'Achhe Din' once was. At the moment, Modi's rehashed slogan is presented as the magical lamp, just uttering the two words with robust force is enough.
As an idea, the quest for self-reliance is a noble one. But for that, Modi has to have clarity of thought and embrace the Nehruvian methodology of creating new institutions if required, while reforming old ones with the objective of becoming self-reliant in every sector. It is not enough to keep asking people to become self-reliant.
The already poor majority of the country have been further burdened over the past year, as resources at their command have shrunk dramatically. To keep asking them to become self-reliant is deceitful and is aimed at hiding one's deficiencies.
(The writer is a NCR-based author and journalist. His books include The RSS: Icons of the Indian Right and Narendra Modi: The Man, The Times. He tweets at @NilanjanUdwin)