Farmers camping at Delhi's Singhu and Ghazipur border in opposition to the new agri laws, on Sunday registered their protest during Prime Minister Narendra Modi's radio programme 'Mann Ki Baat' by banging utensils and chanting slogans.
This was in line to the call given by several farmer leaders across the country to boycott the prime minister's monthly radio talk on December 27 by beating 'thalis', much like the way Modi had asked citizens to bang utensils during the initial days of the pandemic.
This comes a day after the protesting farmers' unions decided to resume discussions with the government and proposed the next round of talks on December 29. They have already held five rounds of talks but a stalemate continues as farmers are not ready to relent and want withdrawal of the laws.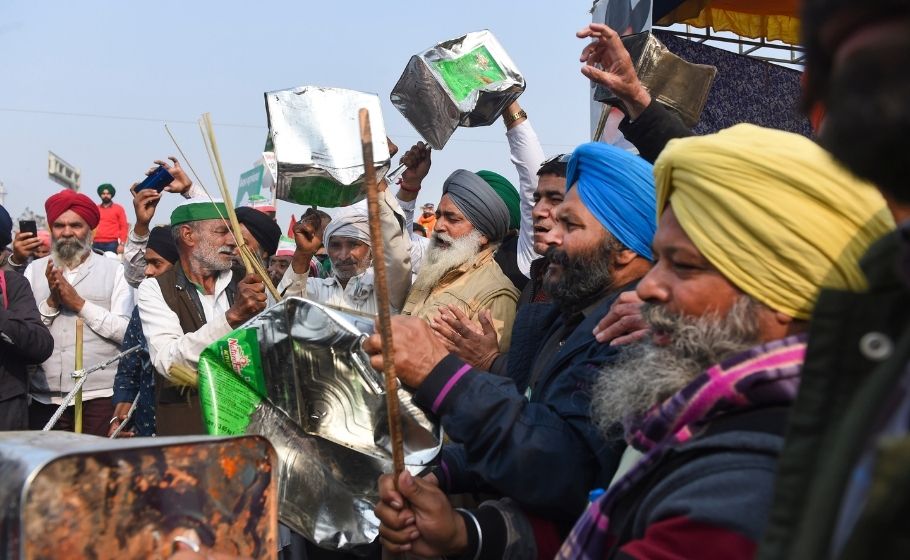 The farmers have been staying put at Delhi's borders since over a month braving the harsh winter. They've also decided to hold a tractor march on the Kundli-Manesar-Palwal highway on December 30.
Enacted in September, the three farm laws have been projected by the central government as major reforms in the farming sector that will remove the middleman and allow farmers to sell their produce anywhere in the country.
However, the protesting farmers have expressed apprehension that the new laws would pave the way for eliminating the safety cushion of minimum support price (MSP) and do away with the mandi system, leaving them at the mercy of big corporates.
The government has repeatedly asserted that the MSP and mandi systems will stay and has accused the Opposition of misleading the farmers.
Related news | Grand plan for PM's farm meet: Shah at cowshed, lot of big screens