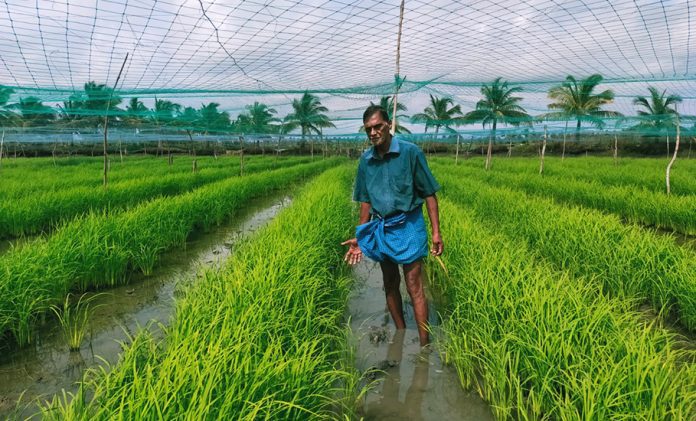 Only a third of agricultural households were aware of minimum support price for the crops they grew, just a quarter of them were aware of the procurement agency, and less than a seventh sold their produce to a procurement agency. These findings of the National Sample Survey (NSS) 70th round on key indicators of 'Situation of Agricultural Households in India', conducted between December 2012 and January 2013, should not be construed to mean that as very few agricultural households benefit from procurement, it can be done away with.
That would be like saying that because India's healthcare system is highly privatised and out-of-pocket expenditure on healthcare is very high, public healthcare can be dispensed with.
Counterpoint: Time to revamp FCI? It offers little to the farmer or PDS management 

The reasons for the poor coverage of procurement at the national level are many. Not all farmers have a marketable surplus. Of the 23 commodities for which minimum support prices are declared, only two – rice and wheat, and occasionally pulses – are procured. In the states where procurement is poor, it's not the willingness to sell to the government that is lacking.
Also read: Budget 2023-24 must focus on climate-smart regenerative agriculture: Expert
Rather the infrastructure to do so – regulated mandis within reach, roads to access them – is inadequate.
Farmers and marketing
This why after a year-long agitation against three farm laws on agricultural marketing, contract farming and stockholding that ended in the government repealing them, farmers unions wanted minimum support prices to be written into law and assured procurement to happen. This is because farmers are good at the production function; they are not good at marketing. Wherever there is assured procurement – sugarcane, rice and wheat – there is surplus output.
Currently, procurement is lopsided. It should be equitable. According to the Kharif Price Report 2022 of the Commission for Agricultural Costs and Prices (CACP), the agency that recommends MSPs, 47.6 per cent of rice produced between 2018 and 2021 was procured. In Telangana, 112 per cent of rice was procured. In Andhra it was 103.7 per cent, in Punjab 94.4 per cent, in Haryana 88.1 per cent, in Odisha 58.1 per cent and in Chhattisgarh it was 57.1 per cent.
But in the largest rice producing states, Uttar Pradesh and West Bengal, the share of rice procured was low – 7.4 per cent and 3.6 per cent respectively.
Leading states
The number of farmers benefitting from rice procurement in states with good procurement systems was 1.1 million in Punjab (flat for four years), 0.5 million in Haryana (after rising to 1.9 million), two million in Chhattisgarh (double in four years), 1.4 million in Odisha (double), two million in Telangana (double), one million in Uttar Pradesh (double) and 0.95 million in West Bengal (2.5 times rise from 0.35 million, over four years).
Should nearly half the rice produced be procured and impounded in government warehouses? No. In Punjab and Haryana, procurement has driven away private trade in common rice, a reason being high mandi and other taxes.
The cost of procuring rice and distributing it through ration shops is high. In 2022-23, it was ₹36.70 per kg of rice and ₹25.89/kg of wheat. The procurement agencies paid farmers ₹20.40/kg for rice and ₹21.25/kg for wheat. The rest were taxes, transport costs, warehousing charges, interest costs and loss due to theft and spoilage.
Also read: Farmer leaders citing old study to block reforms: NITI-Aayog's Ramesh Chand
Shanta Kumar's findings
The Shanta Kumar Committee (named after the BJP minister in the Vajpayee government who headed it) on revamping Food Corporation of India (FCI), had in its 2014 report found that FCI was riddled with corruption and inefficiency. Head load workers in FCI warehouses in Assam were earning in excess of ₹1 lakh a month. The permanent workers were sub-contracting their work at lower rates to contract workers and pocketing the difference.
When this writer met Shanta Kumar in January 2015 after he had submitted the report, he said FCI had four categories of workers. The average monthly wage of departmental labour was ₹78,000. There were some who got between ₹1 lakh and ₹2 lakh a month and there were even cases of head load workers earning ₹4.40 lakh a month. There was a certain rate for work till 5 pm, beyond that the rates were higher. There was also one rate for stacking up to five feet and a higher rate for stacking beyond that.
Shanta Kumar's committee wanted food grain buffer stocking norms to be revised. The country needed to keep 30 million tonnes in buffer stock and strategic reserve, but it did not have a liquidation policy, it said. As a result, the stock of grain went beyond need. In 2021-22, procurement was 103 million tonnes. This resulted in pilferage and wastage.
The committee recommended that subsidy be given to the poor in cash through direct transfers to their bank accounts, rather than in kind, in the form of grain. It wanted state warehousing corporations and private players to be involved as well so that the Food Corporation could get competitive rates.
Also read: Why Stalin wants Centre to advance paddy procurement by a month
Jean Dreze argument
On hindsight, some of these recommendations would have aggravated the misery of the poor when the pandemic was raging. It was abundant stocks that helped provide free foodgrain to people who were without income during the March 2020 lockdown and the economic dislocations that followed. As prosperity rises, urbanisation expands and poverty declines, it will be possible to reduce transfers in kind as development economist Jean Dreze argued in a video interview with The Federal (https://bit.ly/3QVnoxG).
Open-ended procurement distorts the market and results in excess production of crops commodities. It causes environmental harm. So long as farmers can sell fair average quality to FCI and other agencies, there will be less incentive to produce better quality. But procurement will be needed on a reduced scale and it will have to be equitable. Decentralised procurement by state agencies is now the dominant mode. The share of FCI in wheat procurement has decreased from 15.5 per cent in 2013-14 to 5.56 per cent in 2022-23.
The public distribution system is not as inefficient as it used to be. Dreze in the interview said the quality has declined ever since the right to food was enshrined in the National Food Security Act of 2013. However, some degree of inefficiency should be tolerable. It is preferable to people going hungry.
(The writer is a Delhi-based journalist with more than three decades of practice. He blogs at www.smartindianagriculture.com.)
(The Federal seeks to present views and opinions from all sides of the spectrum. The information, ideas or opinions in the articles are of the author and do not necessarily reflect the views of The Federal)
Counterpoint: FCI was created when the country was going through a severe food crisis. Today we are envisaging to feed the world. Hence the entire approach needs to be changed, writes Ravishankar Mantha.