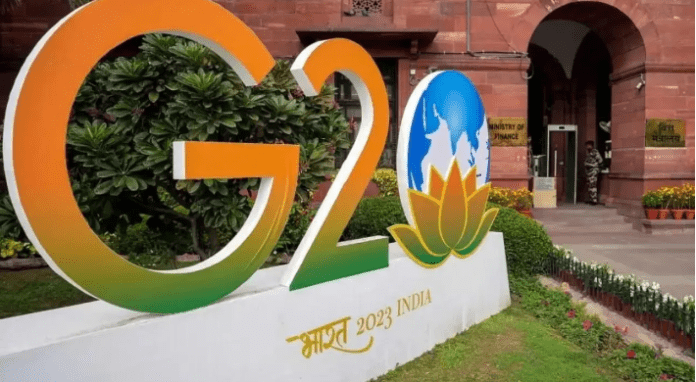 Prime Minister Narendra Modi, on his way to attend the G7 summit at Hiroshima as a guest, as India is the G20 chairman for 2023, said that he would speak for the Global South and about climate change.
But when Mr Modi spoke at the summit on May 21, the situation was different and he had to address the issue at hand, the war in Ukraine. So he began his speech saying, "We heard President Zelensky today. I also met him yesterday. I do not consider the current situation as an issue of politics or economy. I believe this is a matter of humanity, a matter of human values."  And he ended his speech quoting the Buddha: "Enmity does not calm enmity. Enmity is pacified by affinity."
Also read: G7 business group endorses India's G20 theme of 'One Earth, One Family, One Future'
Bullying tone of G7 may continue in G20 summit
But the tone and substance of Mr Zelensky, US President Joe Biden and Japanese Prime Minister Fumio Kishida were not one of affinity in the sense that Mr Modi quoted. But then that is realpolitik, and Mr Modi did not expect to convert the G7 to his point of view. Mr Modi will likely face the same situation at the G20 summit in India in September if the Russia-Ukraine war does not end by then, because at any international forum G7 leaders will continue to harp on issues relating to Russia and China.
The G7 communique, which was comprehensive in how summit communiques are, was firm in its views on Russia and China. On the Ukraine-Russia war, the G7 stated: "…we commit to intensifying our diplomatic, financial, humanitarian and military support for Ukraine…" and on China it said, "We call on China to press Russia to stop its military aggression, and immediately, completely and unconditionally withdraw its troops from Ukraine. We encourage China to support a comprehensive, just and lasting peace based on territorial integrity and the principles and purposes of the UN Charter, including through its direct dialogue with Ukraine."
"There is no legal basis for China's expansive maritime claims in the South China Sea, and we oppose China's militarization activities in the region." So, the bullying tone of G7 will continue into the G20 summit in New Delhi in September, and India will have a tough time deflecting G7 power tactics.
Also read: Will do whatever possible to end Ukraine war: PM Modi to President Zelenskyy
Pressure tactics of G7 leaders
The G20 rotating presidency – the baton passes on to Brazil after September and it is one of the reasons that Mr Modi and Brazilian President Luiz Inacio Lula da Silva were present at the Hiroshima summit – is projected by Modi and his advisers as part of India's growing stature in the international system.
But it looks like G7 leaders want to influence, even pressurise, G20 members like India and Brazil to adopt positions favoured by Western leaders. For example, Mr Zelensky's address to the G7 summit was seen as a way of pushing India and Brazil to condemn Russian aggression against Ukraine. But Mr Modi and Mr Lula da Silva refused to oblige.
G7 is a power club of advanced economies and rich industrial democracies which projects itself as the guardian of liberal democracy and it wants to have emergent market economies like India to be on its side.
At the same time, the West wants India to adopt some of its positions on its version of democracy. India's border dispute with China has nothing much to do with the Chinese Communist Party, nor is India overtly disturbed by the neo-Stalinist system that Mr Putin runs from the Kremlin. G7 pretends it is opposed to Russia and China because they are autocracies.
Also read: PM Modi to visit US on June 22; Biden to host state dinner: White House
Bid to pull India into Western orbit

India has no ideological quarrels with anyone in the world. It has less to do with Mr Modi's politics of right-wing nationalism because whatever the ruling party in Delhi, the New Delhi-Moscow and New Delhi-Beijing, and even New Delhi-Washington, equations are not based on ideology. Mr Modi will run the gauntlet at September's G20 summit without endangering India's non-ideological position on the international power ladder. Prime Minister Modi may not be able to declare at the end of India's G20 presidency that India has set a new agenda for the world to follow because G7 seems to be shaping the G20 agenda.
Mr Modi's state visit to Washington DC in June is not a mere ceremonial affair. It is a renewed bid by Biden to pull India into the Western orbit, or to make India an undeclared gateway between Russia and the West because neither Europe nor America wants to be cut off from Russia for the sake of Ukraine. This is a role that China cannot perform.
There has been much talk about a multipolar world system, and External Affairs Minister S Jaishankar had expressed the view that India wants to be one of the poles in the new configuration. And it looks like this is what the G20 summit in New Delhi will do for India. But this is an unstable and dynamic system. Mr Modi will derive maximum domestic political mileage out of the G20 summit for the 2024 Lok Sabha election, and it does not depend on how successfully India navigates its way through the G20/G7 power play.
(Parsa Venkateshwar Rao Jr is a New Delhi-based journalist and also the author of three books, including "Rajiv Gandhi to Narendra Modi: Broken Polity, Flickering Reforms" (Sage; 2019) )
(The Federal seeks to present views and opinions from all sides of the spectrum. The information, ideas or opinions in the articles are of the author and do not reflect the views of The Federal)rime Minister Narendra Modi, on his way to attend the G7 summit at Hiroshima as a guest, as India is the G20 chairman for 2023, said that he would speak for the Global South and about climate change.