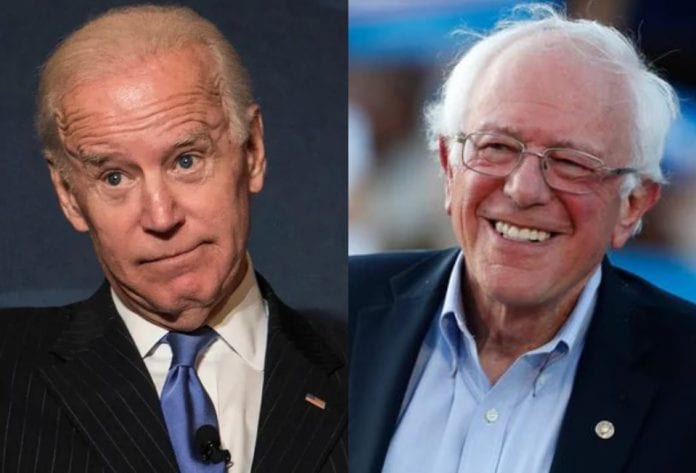 Super Tuesday Two was as good, if not better, for Joseph Biden than Super Tuesday One of March 3, 2020; and if the present momentum holds yet another Tuesday, March 17 may finally set the stage for the crowning of the former vice president as the Democratic Party's presidential candidate to take on the incumbent Donald Trump in November.
For a person who is known not to be a reckless or an overly optimistic person, Biden for sure must be aware of the adage 'it ain't over until the fat lady sings.' The current frontrunner for the party ticket knows the opposition too well that senator Bernie Sanders will continue to put up a fight until he is convinced that all options are knocked off the table. And that could come on March 17, March 24 or later.
Time to wind up for Sanders, but will he?
What happened on Super Tuesday Two of March 10 was as unbelievable as the Super Tuesday of March 3. Biden knocked the stuffing out of Sanders in four, if not five, of the six states that had the primaries/ caucuses. Biden won Michigan, Missouri, Mississippi and Idaho with the state of Washington still a tossup and where the former vice president is either tied or holding on to a very slim lead at the time of writing. The small consolation for Sanders is having got North Dakota. But the biggest blow to the senator from Vermont came from the state of Michigan with its haul of 125 delegates.
In 2016, Sanders shocked Hillary Clinton by beating her in the primaries by a margin of 1.5 percentage points. This time around, at a time when Sanders was expecting Michigan to give him the much needed boost after a shocking Super Tuesday performance, he lost by more than 16 percentage points. Sanders came away with nothing from Michigan. And the state of Washington with its share of liberals and progressives too must be a big disappointment for Sanders that he carried easily in 2016.
Related News: Biden is what the democrats want – a moderate
The mid-western state of Michigan is critical of the Democrats not only at the time of the primaries but also at the Presidential elections because President Trump carried that state in 2016 by about only 10,000 votes. But this time around as Lisa Lerer of The New York Times put it, Sanders lost every single county, lost suburban voters, lost older voters, lost black, white and rural voters and lost men and women. The only group that seems to have backed Sanders is the young Latino voters; and the problem is that youngsters do not come out and vote in large numbers. And if Michigan is anything to go by, the "movement" that senator Sanders keeps talking about slowly seems to be unraveling. And political commentators are beginning to wonder whether this is not a good time for the Vermonter to wind up the show. The fear in many quarters is that if Sanders keeps the ballgame going much longer against Biden that would only weaken the Democratic Party.
Looking for a rebound
But the Sanders campaign has made it known that their man is not about to quit; he in fact is looking for ways to rebound from the dual shocks of March 3 and 10. One theory is that the Vermont senator is looking to the one-on-one debate with his chief opponent on Sunday March 15 in Phoenix, Arizona as a way to get back on track. Another perception is that he is looking at states like Wisconsin which has primaries on April 7 to give the much needed shot in the arm. But the Sanders campaign team knows full well that Wisconsin and Michigan may not be political twins, but the two states have a lot of things in common—a manufacturing centre, traditional democrats and African American voting bloc. In 2016, Sanders won both Michigan and Wisconsin; and this time around Biden is looking to take Wisconsin also away from his opponent.
Seen in another perspective, Wisconsin may be a long way to go for Sanders for first he has to cross two more Tuesdays. With 577 delegates in all, Arizona, Florida, Illinois and Ohio throw the first big challenge to the contenders on March 17 followed by Georgia with 120 delegates on March 24. Given what happened in South Carolina and Michigan, there appears to be a further erosion in support for Sanders, especially with Biden's strong showing in the south and with the African American community.
Related News: Will it be Biden or Sanders against Trump in US Presidential polls
A bigger worry for Sanders is that the Hispanic/Latino perception and vote in a state like Florida is much different from the rest of America. Here Cuban Americans are seen as a conservative lot even within the Democratic Party and Sanders' socialist ideology clubbed with his occasional praise for the former Cuban strongman, Fidel Castro, will not have gone down well in a community that despised the former President in Havana and his policies. Sanders, on the one hand, runs the risk of not being able to consolidate the Hispanic/Latino voters; and on the other has been unable to make inroads into Biden's firm grip on the African American community, especially those voters above the age of 60.
Sunday's debate vital amid coronavirus threat
Sanders is facing the heat not just from Biden and other Democrats who are asking him to fold, but also from something totally unexpected — coronavirus. The spread of the virus has made an impact in America and on the presidential elections process by way of candidates having to cancel rallies for fear of exposure. Biden and Sanders had to do away with road shows in Ohio; and the debate scheduled for Sunday may only feature the candidates without an audience. Sanders is a fiery speaker and loves large and noisy crowds as he hammers away at some of his pet themes of education and health care.
At this point of time he is being denied of making his final shots at Biden as a way of getting back into the race. If the progressives and the left of centre Democrats are hoping for Sanders to take on Biden aggressively in the Sunday debate, there are those in the Democratic establishment who do not wish to see Biden politically hurt. In fact at least one lawmaker from South Carolina James Clyburn whose endorsement of Biden made a whole lot of difference on Super Tuesday of March 3 has said that the Sunday debate should be cancelled.
Related News: Super Tuesday sweep a shot in the arm for Biden in US presidential race
Irrespective of whether the debate goes on or not, the Democratic primaries have reached a stage in which there is a front runner in Joseph Biden and most of those who were in the race have endorsed the former Vice President. After the victorious March 10 primaries Biden reached out and said, "I want to thank Bernie Sanders and his supporters for their tireless energy and their passion. We share a common goal. And together we'll defeat Donald Trump".
But political observers believe that Sanders will continue for some more time before getting behind Biden: the Vermonter is 78 years old and perhaps this is his last shot at the Democratic ticket; and the longer he stays, the more he perhaps believes that Biden's agenda can be influenced on such issues as immigration, poverty, medical insurance, climate change, college tuition, to mention a few. If this strategy seemed to work in 2016 with Hillary Clinton, why not with Joe Biden in 2020?
(The writer was a former senior journalist in Washington DC covering North America and the United Nations)
(The Federal seeks to present views and opinions from all sides of the spectrum. The information, ideas or opinions in the articles are of the author and do not reflect the views of The Federal)