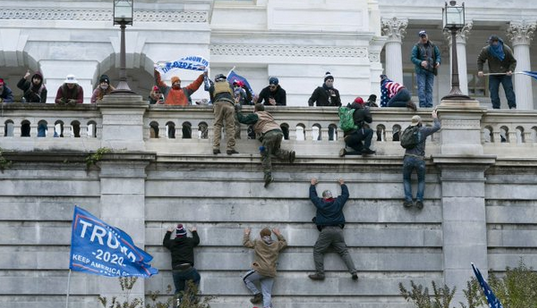 Two words can describe what is taking place in Washington DC—shocking and shameful. Shocking that a constitutional process has been halted on Capitol Hill due to a security situation; and shameful because the protector of the Constitution—the President of the United States, Donald Trump—is right behind the mob violence, egging protestors of repeated false claims of election and voting fraud in spite of being rejected by state legislatures and courts.
For a person who recently vowed to "fight like hell" to stay on in the White House, Trump has indeed successfully managed to halt a ceremonial process of certifying the victory of President-elect Joseph Biden as the 46th President of the United States.
Also read: 'Rogue' US president poses more danger than any radical outfit in power
Even as lawmakers were gathering to formalize the procedure in a sitting of Congress, all hell and mayhem broke loose on Capitol Hill, forcing law enforcement authorities to hunker down Senators and members of the House of Representatives; bring up the National Guards; other federal police officers and the Mayor of the City clamping a curfew to prevent violence from spreading. It was not just Democrats who were appalled at the goings on; well-meaning Republicans equally were with some of them demanding that President should call on protestors to desist from their disruptive tactics. And Biden called on the President to go on national television "to fulfill his oath and defend the Constitution and demand an end to this siege".
In a belated video message Trump called on his "very special" supporters to go home. "I know your pain. I know your hurt. But you have to go home now… we can't play into the hands of these people. We have to have peace. So go home. We love you. You're very special". But repeatedly in the last two weeks or more Trump has been calling on these "very special" people to rise in protest and demand back a victorious election he had won but denied. Since November 3 Trump has been making false and baseless claims of voter fraud especially in the battleground states and every one of his 50-odd law suits have been thrown out of courts including rejected twice by the United States Supreme Court. Now when all things have failed, Trump believes that his Vice President, Mike Pence, can roll back the electors list to give the incumbent a second term.
Also read: President Trump makes a last-ditch attempt to stay on
Pence has supposedly told the President, not once but twice, that the 1887 law pertaining to Electoral Count does not give him the right to replace electors  and that just a few days ago a lawsuit challenging the legality and constitutionality of the 1887 Act was tossed out of a federal court. Still Trump believes that Pence can give him what everybody else has denied even if it would mean subverting the electoral and democratic process. Although Pence has played his cards close to his chest, few believe that he would so blatantly disregard established norms and procedures. Pence also knows what is in store for him should he formally sign off on certifying Biden.
The problem with what is taking place in Washington DC is not confined to the antics of Trump alone—more than 100 Republican lawmakers in the House and about a dozen Senators belonging to the Grand Old Party have rallied around the President and have vowed to challenge the electoral list. Normally what should have been a joint sitting of 538 members will now go down separately to the House and the Senate; and what should have been a routine two hour sitting will turn into a late night debate and shouting match that will end in a vote where a simple majority will do. The Democrats have the numbers in the House of Representatives and a good many Republicans in the Senate have said they want no part of this charade. Many are convinced that this 100-odd law makers lining up behind Trump has nothing to do with any great love for him; but those who want to tap into his popular base and in the process build on their campaign coffers.
Also read: Ageing US poll process creaky but credible;  India's in trouble
The Washington DC showdown is also coming at a time when the Democrats are seen taking control of the Senate thanks to the two run-off elections in the state of Georgia in which they have prevailed. The tie in the Senate leaves the Vice President-elect Kamala Harris as the decider. Although the rules of the Senate are such that a simple majority alone is not enough to move forward on major legislations, it does give Biden and Democrats the necessary clout in the formation of powerful Committees. But the Georgia results could be delayed given the prospect of legal challenges
Republicans are already smarting that they have lost Georgia to Biden in the Presidential election and forcing that Southern state from a Red to a battleground category. So desperate was Trump in getting all of Georgia's electoral college votes that in a conversation with the state's top election official—a Republican—he pressured him to "find"  11780 votes so that he can better Biden's victory margin by one vote. And in a latent threat to the official the President even hinted of the criminal consequences of going along with a perceived fraudulent vote count. The Secretary of State for Georgia remained unmoved.
In all the goings on in Washington DC some have not failed to bring out the stark difference between Republicans at the time of Richard Nixon and those of today. In 1974 powerful Republicans went to the White House to inform their President that he did not have the votes to beat an impeachment proceeding. But today even if senior members of the Grand Old Party are slowly rallying behind the election of Joseph Biden, the hardcore supporters still throw their weight behind the President even if the writing on the wall is very clear. How much of all this will play out in the mid-term elections of 2022 or the Presidential election of 2024 remains to be seen.
(The writer was a senior journalist in Washington DC covering North America and the United Nations).