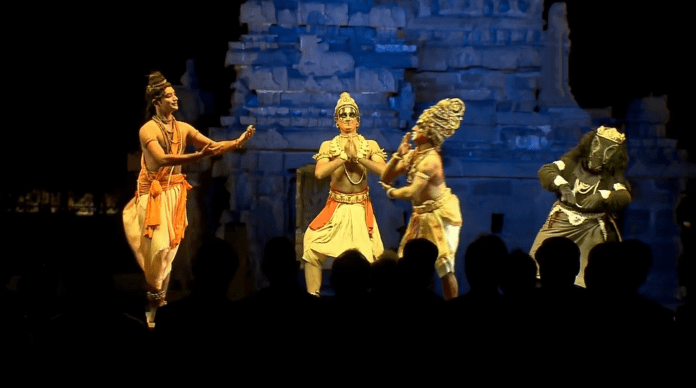 The cultural extravaganza on Friday, October 11 at Mamallapuram in Tamil Nadu during the second informal summit between Indian Prime Minister Narendra Modi and Chinese president Xi Jinping was an all-out classical affair.
Presented against the backdrop of the sea-facing Shore Temple at the historic town of Mamallapuram, the presentation by the prestigious Kalakshetra Foundation comprised the classical art forms of bharatanatyam, kathakali, and mohiniyattam. The programme was staged by students and alumni from the institution who were accompanied by an ensemble of musicians and singers.
The Maha Pattabhishekam, which is a dance drama, depicted sequences from the Ramayana. It was choreographed by the legendary Rukmini Devi Arundale, founder of the Kalakshetra, which is an eight decade-old institution. Thillana, the last segment of margam (traditional) bharathanatyam, was also performed this evening.
#WATCH Mahabalipuram: Prime Minister Narendra Modi and Chinese President Xi Jinping attend a cultural program at the Shore Temple, a UNESCO World Heritage site. #TamilNadu pic.twitter.com/ZTj5r7WDSl

— ANI (@ANI) October 11, 2019
Also read: Modi and Xi enjoy cultural programme at Shore Temple
The musicians and singers from Kalakshetra also performed a Tamil song titled Shanti Nilava Vendum, which was composed by Sethumadhava Rao.
These performances were a quick glimpse into the richness and beauty of the dance form characterised by nritya (dance) and abhinaya (expressions).
All through the first day of the summit, the cultural showcase in various spots at Chennai comprised a combination of classical and folk art forms, portraying the variety of the state's art forms.
Also read: TN cultural showcase to welcome Xi, revive folk art forms
Ancient art forms like thappattam (drum beats), mayilattam (a dance form where artistes perform wearing peacock costumes), and poi kaal kuthirai aattam (a dance form with dummy horses) were showcased during the welcome reception for the Chinese president Xi Jinping, at the Chennai airport.
Adding to that, bharatanatyam and performances with musical instruments like thavil and nadaswaram also took place at the airport. The short performance by a panel of artists at the tarmac was presented in sections when the Chinese president was escorted to his vehicle.
Later, as the president was en route Mamallapuram by road, he was welcomed at 34 reception units across the 55-kilometre route. While at Saidapet, he witnessed sequences of karakattam (where dancers balance pots on their heads). In Kandanchavadi, he was treated to a band performance. A set of thappattam artistes performed at the Highways Research Station. Madurai Karakattam artistes welcomed him at Madhya Kailash, and Kerala's chenda melam (drums) were beaten in full glory to welcome him in Tiruvanmiyur.