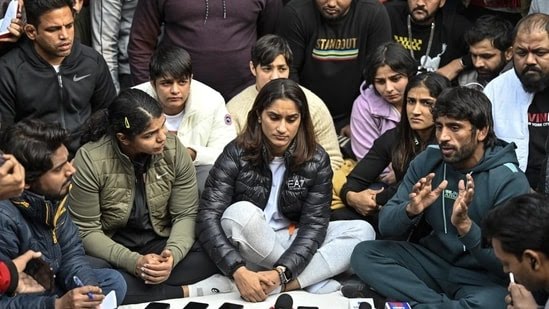 Hours after the Supreme Court closed the proceedings on a plea by women wrestlers, who have levelled sexual harassment allegations against WFI chief Brij Bhushan Sharan Singh, the wrestlers said they don't see the apex court's move as a setback.
The wrestlers have vowed to continue their protest. However, they said that they will decide their next course of action after seeking guidance from the senior wrestlers and their coach. After last night's incident, many farmer outfits have evinced interest in joining them at the protest site. The wrestlers have categorically stated that they are in for a long haul and will only vacate the site after the arrest of WFI chief Brij Bhushan. The grapplers have accused Delhi Police of working in favour of Brij Bhushan Sharan Singh and urged them to release the protestors who were being detained.
Also read: Wrestlers' protest: Supreme Court shuts case after filing of FIRs against WFI chief
Meanwhile, Delhi's Jantar Mantar on Thursday saw political leaders, students, farmers and members of civil society arrive in large numbers after the late-night scuffle broke out between the Delhi Police and the protesting wrestlers.
Tamil Nadu Chief Minister MK Stalin has also hit out at Prime Minister Narendra Modi over the alleged manhandling of protesting wrestlers in Delhi, saying contrary to the PM's "false promises" on empowering women, the BJP was "shielding" the accused. Rajasthan Chief Minister Ashok Gehlot too condemned the scuffle between police personnel and wrestlers, alleging the police was "torturing" them.
Earlier in the day, the wrestlers stated that they are ready to return their medals if it ensures justice for the protesting grapplers. Delhi Commission for Women Chairperson Swati Maliwal accused the police of high-handedness and preventing her from meeting the women wrestlers on Wednesday night.
Also read: Wrestlers' protest | Ready to return medals, awards to govt: Vinesh, Bajrang
Perhaps for the first time, student bodies — All India Students' Association (AISA) and All India Democratic Students' Organisation (AIDSO) have overtly lent support to the on-going protest and staged demonstration against the police brutality on women wrestlers.
Talking to The Federal, Anukriti, a member of All India Democratic Students' Organisation (AIDSO), said the group is asking its members to mobilise throughout the country and highlight the injustice being meted out to the wrestlers.