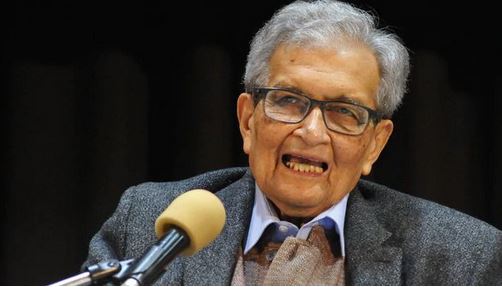 The Visva-Bharati University has sent an eviction notice to Nobel laureate Amartya Sen, asking him to vacate 13 decimals of land which he has been allegedly occupying in an unauthorised manner by May 6 or within 15 days of the publication of the last order on April 19.
Contending as per government of India advisories and CAG reports, the century-old central institution was in urgent need of getting control of encroachments and also submit report to the ministry, the notice said "Amartya Kumar Sen and all concerned persons are liable to be evicted from the said premises, if need be, by use of such force as may be necessary."
Also read: Visva-Bharati varsity terms Amartya Sen 'illegal occupant'
"It is decided that 13 decimals of land having the dimension of 50 ft x 111 ft in the north-west corner of the scheduled premises is to be recovered from him," the notice issued on Wednesday said.
The notice issued by Joint Registrar Ashok Mahato, said that while Sen does not have the authority to occupy 1.38 acres of land in the scheduled premises, he, however, can continue occupying "1.25 acres of land only, as lesses (for the residual period of lease) in the scheduled premises".
A few days back the central university had issued another notice to Sen, who is living in his ancestral Pratichi in Santiniketan during his stay there, giving him time till April 19 to respond to the missive and vacate the "unauthorised" portion of land or face necessary action otherwise.
The varsity had maintained that Sen's reply to earlier show cause notice was "fallacious, factually incorrect" and Visva Bharati was the rightful owner of all these lands which had been encroached upon in past years including the 13 decimal land occupied by Sen.
13 decimals bought by my father, maintains Sen
Sen has repeatedly trashed the charge saying while the 1.25 acres of land had been leased by Visva-Bharati to his father for a certain period the contentious 13 decimals were bought by his father and he has all the necessary documents to prove that.
Visva-Bharati University Faculty Association President Sudipta Bhattacharya told PTI that any decision by the university authority to raze down a part of the house of Sen, or any visible action to assemble people will be protested "peacefully and democratically" by teachers and students.
"The documents with state Block Land Revenue Officer (BLRO) proclaims Sen has the rights over the entire 1.38 acres of land. Also as per the magistrate's order, no activity will be allowed on that land by any party and we hope Vice-Chancellor Bidyut Chakraborty will not do anything which will be in violation of that order," he said.
Bhattacharya said the image of the document shared by Visva Bharati to media which claimed the varsity had leased 1.25 acres of land to Sen's father and not 1.38 acres should be fact checked.
"We may go to Santiniketan police station and hold peaceful democratic protest if the VC takes any action against Sen in May, as threatened in the letter. Any such move will be detrimental to the image of Santiniketan, Visva Bharati and Bengal as Sen is the pride of the state and country," he said.
Also read: I am not proud as an Indian, says Amartya Sen on govt's Kashmir move
"We are waiting how far the varsity will go. And our members will do whatever needed to avert any eviction drive as per law," Visva Bharati SFI unit leader Somnath Sow told PTI.
Visva Bharati spokesperson Mahua Banerjee said, "As specified in the notice, Visva Bharati had given several opportunities to Sen to reply to the show cause even before the start of proceedings. However, he did not respond to the issues raised in any of the aforesaid notices while his lead advocate sent a notice to express apology in all the print and electronic media for making fictitious, false, malafide remarks."
Stating there is no challenge to the assertion that the scheduled premises belong to Visva-Bharati, of which 1.25 acres had been leased to Sen's father in the 40s and the 13 decimals of land occupied by him in "unauthorised" manner, she said, adding that the central university would have the right to take any action deemed legally appropriate to free the "encroachment" by May 6.
Also read: Indians being divided for political opportunism: Amartya Sen
To another question, if the university would wait till Sen's return to India in June to settle the matter, she said "may be not. Whatever steps are taken will be done as per law. Let's see."
(With inputs from agencies)