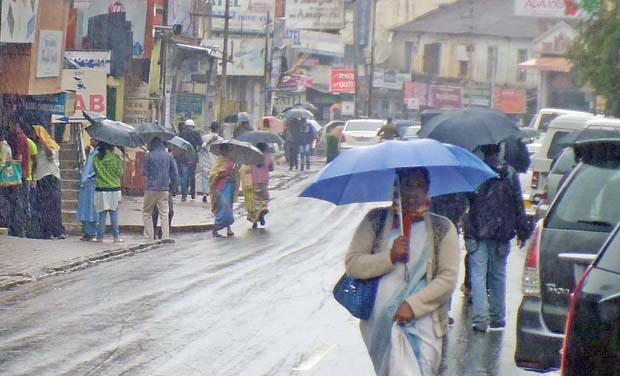 The India Meteorological Department (IMD) has forecast a fresh spell of rains and thunderstorm over northwest India including the western Himalayan region and the states of Delhi, Punjab, Haryana, Uttar Pradesh and Rajasthan from March 23.
Several parts of the country have been witnessing spells of unseasonal rains accompanied by thunderstorms and hailstorms, destroying standing crops and pushing farmers to dread a poor harvest.
Also read: Hyderabad receives record rainfall in March
Delhi receives highest 24-hr rainfall for March in 3 years
On Monday, Delhi received the highest 24-hour rainfall for March in the past three years, recording 6.6 mm precipitation in just three hours, the IMD said.
The rain was accompanied by gusty winds reaching speeds up to 32 kilometres per hour and thunderstorms, the Safdarjung observatory said. The observatory at Palam clocked 10.4 mm rainfall alongside strong winds reaching speeds of up to 46 kilometres per hour and thunderstorms.
"Monday's rainfall was the highest in 24 hours recorded in three years in March," a Met official told PTI.
Heavy rain lashed parts of the national capital on Monday evening, sending people scurrying for cover. Commuters also faced waterlogging and traffic snarls while navigating the roads. Earlier during the day, pleasant weather conditions prevailed in Delhi with the maximum temperature settling at 27.1 degrees Celsius, three notches below the season's average. The minimum temperature was recorded at 17.4 degrees Celsius, a notch above normal, while humidity levels oscillated between 48 per cent and 94 per cent.
For Tuesday, the weather office has forecast generally cloudy skies with the possibility of very light rain or drizzle. The maximum and minimum temperatures are expected to hover around 26 and 16 degrees Celsius, respectively.
Rain alert for east, northeast India
With moderate to heavy rains lashing eastern and north-eastern states for the past couple of days, the weathermen predict light to moderate rainfall to continue over West Bengal, and north-eastern states over the next three days.
"Isolated heavy rainfall very likely over Arunachal Pradesh, Assam and Meghalaya during 20th-22nd; Nagaland, Manipur, Mizoram and Tripura during 20th -21st," the IMD said in its bulletin.
Several parts of Odisha including capital Bhubaneswar on Monday experienced heavy rainfall accompanied by thunderstorm and hailstone showers.
Also read: Rainfall deficit-causing El Nino likely in coming months: why India should worry
The rains brought in by the Kal Baisakhi or the Nor'westers has affected standing crops in the districts of Rayagada, Kalahandi and Bhadrak.
Crops destroyed
Unseasonal rains and hailstorms that also barrelled through Rajasthan, Uttar Pradesh and Gujarat, have destroyed standing crops.
Gujarat is likely to receive light rainfall for the next three to four days, ANI said quoting Manorama Mohanty, Met director, Ahmedabad. The Met department has predicted a new western disturbance to be activated in Rajasthan on Thursday, bringing rains to Jodhpur, Bikaner, Jaipur, and Ajmer for a couple of days.
Thunderstorm warnings have also been issued in Madhya Pradesh, Chhattisgarh, southeast Uttar Pradesh, coastal Tamil Nadu and south Andhra Pradesh.