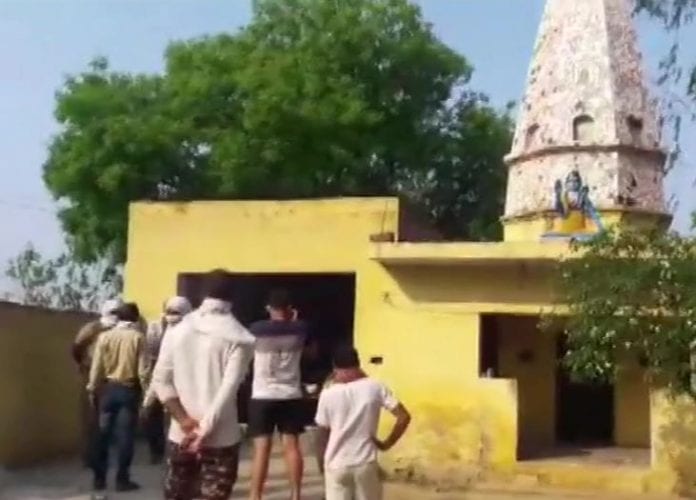 Close on the heels of the lynching of two sadhus in Maharashtra's Palghar, two priests of a Shiva temple in Bulandshahr district of Uttar Pradesh were found murdered on Tuesday (April 28), allegedly by a man whom they had confronted for stealing a pair of tongs.
Bodies of the deceased identified as Jagdish (55) and Shersingh (45) of Pagauna village, were found on the premises of the temple.
The accused identified as Murari alias Raju was arrested by police in an inebriated state, reported Indian Express.
The accused reportedly told police that he committed the murder at "God's will".
Murari moving around with a sword was spotted by the villagers. They caught him about 2 km from the scene of crime, a police official told PTI.
"The youth is a drug addict. He was under the influence of drugs and in a naked state when caught by the villagers, he added.
"Prima facie it appears that he killed them after they chided him for stealing a chimta (tongs). We are waiting for him to sober up in order to investigate further," Indian Express quoted Bulandshahr SP Santosh Kumar Singh as saying.
Uttar Pradesh Chief Minister Yogi Adityanath has taken a serious note of the incident and directed senior officials to take strict action against the culprit and submit a detailed report.
मुख्यमंत्री श्री @myogiadityanath जी ने ग्राम पगौना, जनपद बुलंदशहर में हुई हत्या की घटना का संज्ञान लेते हुए DM,SSP व अन्य वरिष्ठ अधिकारियों को तत्काल मौके पर पहुँचकर घटना के सम्बन्ध में विस्तृत आख्या देने व दोषियों के विरुद्ध सख्त से सख्त कार्रवाई सुनिश्चित करने निर्देश दिए हैं।

— Yogi Adityanath Office (@myogioffice) April 28, 2020

Congress general secretary Priyanka Gandhi has demanded a thorough probe into the incident as well as the murders of 100 other people in the state in the first two weeks of April.
In a series of tweets on Tuesday, she said it is the duty of the government to ascertain the truth behind these murders and ensure that the incidents are not politicised.
Related news: Palghar lynching: Accused held, Uddhav against communal twist
"100 people have been killed in Uttar Pradesh in the first 15 days of April. Three days ago, bodies of five members of the Pachouri family in Etah were found under mysterious circumstances. No one know what happened to them," she tweeted.
"Today, two sadhus sleeping in a temple in Bulandshahr have been killed mercilessly. There should be a thorough probe into such heinous crimes and no one should politicise these incidents at such a time," she said.
..ऐसे जघन्य अपराधों की गहराई से जाँच होनी चाहिए और इस समय किसी को भी इस मामले का राजनीतिकरण नहीं करना चाहिए।

निष्पक्ष जाँच करके पूरा सच प्रदेश के समक्ष लाना चाहिए। यह सरकार की ज़िम्मेदारी है।

2/2

— Priyanka Gandhi Vadra (@priyankagandhi) April 28, 2020