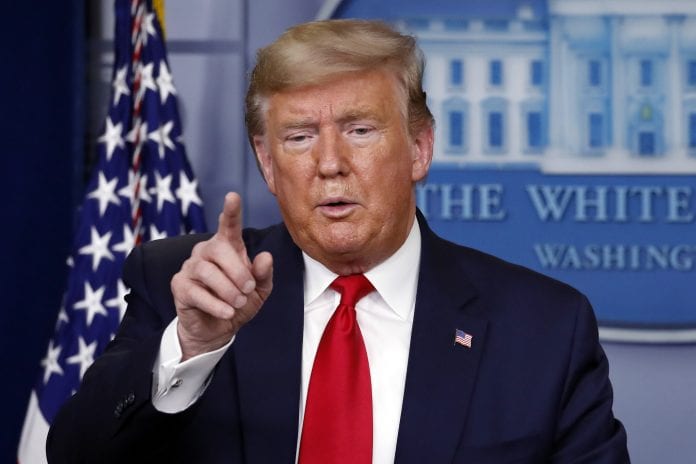 JUST VOTED. A great honor!" Donald Trump tweeted after voting early in Florida on October 24. "I voted for a guy named Trump."
JUST VOTED. A great honor!

— Donald J. Trump (@realDonaldTrump) October 24, 2020
He is one among the many Americans who have shown a preference to vote early than wait for the election day to cast their ballot. This is not a new trend necessitated by COVID-19; it has been growing over the years.
Early voting is exactly what it suggests: it's a system for citizens to vote before the scheduled election day. This can be either in-person at early voting stations, or absentee — that is by post. Many countries in the world, especially in US and Europe, have had this practice for decades.
Related News: Trump, Biden on knife's edge; it's a cat-and-mouse game
Unlike in India, when polling takes places only on the day fixed for elections, in the US, people can cast their ballots either by post or in-person even before the election day — the last day for casting the vote.
For the 2020 presidential elections, November 3 is the election day. So far (till October 24), there has been a total 57,415,468 (57 million) early votes for the US elections, according to the United States Elections Project http://www.electproject.org/. Of this, mail ballots comprised  39,521,326 (39 million) and in-person votes were 17,894,142 (17 million).
This is an increase from previous elections, a trend that should worry Trump because from a psephological analysis point of view, the most obvious way an increase in early voting will affect the election is by driving up overall turnout. This trend historically has been mostly anti-incumbent.
The United States Elections Project is an open data information source for the US electoral system. The mission of the project is to provide timely and accurate election statistics, electoral laws, research reports, and other useful information regarding the US electoral system. By providing this information, the project seeks to inform the people of the US on how their electoral system works, how it may be improved, and how they can participate in it.
This site is run by Michael McDonald, a professor at the University of Florida who specialises in early voting, and tracks the number of votes cast by state and overall. According to his data sets, the state with the highest number of early voters so far is Texas, where more than 6.3 million people have already voted — that's almost two million more people than those who had voted for Donald Trump in the state in the last presidential election, and just two million short of the total number of votes cast in Texas in 2016. Texas is followed by California and Florida. The number of people who've voted early so far is also already about 40% of the total number of people who voted in the 2016 elections.
Related News: When all things fail, Donald Trump has his 'trump' card – fear mongering
The percentage of voters who cast their ballots at a polling place on election day has declined steadily over the past decade, while the number of states offering early voting, no-excuse absentee voting, and vote by mail has increased.
According to data by the Election Assistance Commission-administered biennial Election Administration and Voting Survey (EAVS), the total number of voters who voted early — absentee or by mail — more than doubled from 24.9 million in 2004 to 57.2 million in 2016, representing an increase from 20% to 40% of all ballots cast. Also the number of US citizens voting early more than doubled from nearly 10.2 million early ballots cast in 2004 to 24.1 million in 2016.
In 2016, 16 states showed a combined percentage of greater than 50 per cent of votes cast early, by mail, or via absentee voting.
According to experts, first-time absentee voters are much more likely to make the kind of mistakes that lead to rejected ballots. Studies also show that voters of colour and young voters are more likely to have their ballots not be counted. Most absentee or mail-in ballots are rejected because required signatures are missing or don't match the one on record, or because the ballot arrives too late.
Being a Federal form of governance, each individual member state of the Union in the US has its own laws and regulations governing when, where, and how voters can cast ballots. All states allow for some form of absentee voting by mail. However, this process is administered in different ways by the states. These include:
Excuse required absentee voting: Voters must provide a reason why they are casting an absentee ballot and cannot appear to vote on Election Day.
No-excuse required absentee voting: A voter does not need to provide a reason why they are casting an absentee ballot and cannot appear to vote on Election Day.
Permanent absentee voting: A voter can sign up once to receive an absentee ballot and will receive absentee ballots in all future elections.
Vote by mail: All registered voters in the jurisdiction are mailed a ballot.
Additionally, certain states allow for early voting, which allows qualified voters to cast a ballot in person at designated locations and during specific times prior to the election day. In the Election Administration and Voting Survey (EAVS), early voting data includes both early votes cast on voting machines and absentee ballots that are cast at an in-person location prior to the Election Day (electronic voting in the United States involves several types of machines: touch screens for voters to mark choices, scanners to read paper ballots, scanners to verify signatures on envelopes of absentee ballots, and web servers to display tallies to the public. Aside from voting, there are also computer systems to maintain voter registrations and display these electoral rolls to the staff at the polling place.)
Related News: A campaign and a presidential election rarely witnessed in America
Trump's love-hate relation with early voting
President Trump and Republicans, in general, have had a love-hate relationship with early voting in general. In fact, Trump had tweeted in the recent past questioning the validity of mail-in votes saying they helped rigging but, at the same time, saying he was okay with "absentee ballots".  Trump made these claims in a series of tweets that included many of his previously debunked claims about voter fraud.
"Mail-In Ballot fraud found in many elections. People are just now seeing how bad, dishonest, and slow it is. Election results could be delayed for months. No more big election night answers? 1% not even counted in 2016. Ridiculous! Just a formula for RIGGING an Election," Trump tweeted.
"Absentee Ballots are fine because you have to go through a precise process to get your voting privilege. Not so with Mail-Ins. Rigged Election!!! 20% fraudulent ballots?"
….Absentee Ballots are fine because you have to go through a precise process to get your voting privilege. Not so with Mail-Ins. Rigged Election!!! 20% fraudulent ballots?

— Donald J. Trump (@realDonaldTrump) July 10, 2020
However, the fact here is that President Trump is actually inventing a new distinction where none exists. Also, his claims of rigged elections and fraudulent ballots are baseless. Although different states use different terms, "absentee ballots" and "mail-in ballots" mean the same.
There are strict processes in place across the country to verify the authenticity of all ballots cast by mail. These measures have been successful and there is data to show that more than 99.99996 per cent of votes in US elections are legitimate. There is no widespread fraud in US elections. In fact, the rate of voting fraud overall in the US is between 0.00004% and 0.0009%, according to a 2017 study by the Brennan Center for Justice.
FBI sees no fraud evidence
There's no evidence to support Trump's mail ballot warnings, the FBI said during an election security briefing. "FBI officials made what should have been an unremarkable statement: They've seen no evidence of any foreign plot to counterfeit or forge mail ballots," NPR reported.
One needs to first clearly distinguish between "absentee voting" and "vote-by-mail," and even though the voting methods are identical, the terminology can be different. In "absentee" systems, voters must proactively request a ballot and sometimes need an excuse to cast vote in this manner. "Voting by mail", on the other hand, refers to states with universal mail voting, where each registered voter is automatically sent a ballot for each election.