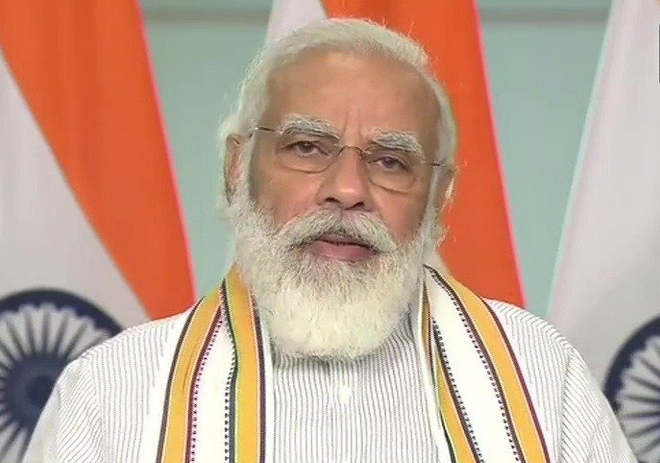 "Bengal has made up its mind to vote for 'poriborton (change)' and it will be the BJP that will bring this real change," Prime Minister Narendra Modi said at a public meeting in Hooghly district on Monday (February 22), as part of a high-stakes BJP election campaign in West Bengal. Modi, who has been continuously targeting Chief Minister Mamata Banerjee in his rallies, accused the ruling party of bringing Bengal to its current state. His speech was liberally sprinkled with Bengali words.
Referring to Trinamool Congress' cry to rouse the people of Bengal to vote for them – 'maa maati manush (which translates to 'mother, land and people'), Modi said the Trinamool is stalling the development of Bengal. "Syndicates" and "tolabaaz" (extortion) were responsible for the lack of development in Bengal. "Aaar noy anyay, amraa aashol poribortonchai (We don't want injustice… we want real change)."
Modi's latest Bengal visit is part of the BJP's multi-state, hard-hitting campaign ahead of assembly elections in Bengal, Assam, Kerala, Tamil Nadu and Puducherry.
Advertisement
The BJP has set its sights on winning Bengal, probably also bolstered by the slew of defections from the TMC to the BJP, which has come as a severe blow to Mamata Banerjee.
Also read: As Bihar goes to polls, BJP shifts its focus to West Bengal
Modi also attacked the ruling party TMC on benefit payment to farmers, which happens to be a sore point between the state and central governments.
While the TMC claims that the state has not received funds despite dispatching a list of beneficiaries, the Centre refutes this stating it has not received any list.
Calling the TMC "Trinamool tolabaaz" (extortionists), Modi said it takes the money sent by the Centre for state schemes. "This mentality has stopped people from getting Kisan Samman Nidhi," he said.
Problem is the 'cut-cut' culture, Modi said, referring to claims of bribes being demanded by Trinamool leaders. "The Bengalis I meet complain… ask how will they do anything? Even if you rent a building there is a cut. You cannot rent without the consent of the syndicate," he accused.
Modi also promised voters that Hooghly will "move towards industrial development if the BJP government is formed". He said that the jute industry was Bengal's pride but it has been cast aside. However, the BJP government at the Centre has thought about jute mill workers. However, he did not explain what they have done.
He also accused the Trinamool of failing to provide drinking water to the people of Bengal. He alleged that the Centre had sanctioned ₹1,700 crore but only ₹ 609 crore had been spent. According to Modi, the TMC has pocketed the rest of the money.
He taunted CM Mamata Banerjee with her own slogan in Bangla, Nijer Meyekei Chaye (which translates as Bengal wants its own daughter) and said the TMC does not care who gets water. "Are they not also Bengal's daughters?" Modi asked.
The BJP has set a target to win 200 seats out of 294 Assembly seats in West Bengal and the senior leaders of the party are going all out to attack CM Mamata Banerjee.
Even as Modi unleashed a vitriolic campaign against TMC chief Mamata Banerjee in Bengal, meanwhile, he was the main target of an attack by Congress leader Rahul Gandhi, who was on an election campaign in Kerala.
Leading a six-km tractor rally of around 200 tractors in his parliamentary constituency Wayanad on Monday to protest against the Centre's farm laws, he questioned PM Modi's "silence" on the farmers' protests in the country.
Also read: Sreedharan's entry may not change BJP's fortunes much in Kerala
Pop stars (Rihanna) have been commenting on the situation but not the Prime Minister, lashed out Gandhi, ahead of the upcoming Kerala assembly elections. The Congress-led Opposition United Democratic Front and the ruling Left government led by Chief Minister Pinarayi Vijayan in Kerala are strongly against the new farm laws.
Gandhi again taunted Modi with his by-now infamous 'hum do, hamare do (we two, and two of ours) comment. "Two people in the government, partnering with two people outside the government. Idea is very simple that these four people must control the Indian agriculture. Their idea is that farmers must sell their produce directly to these businesses," Gandhi said.