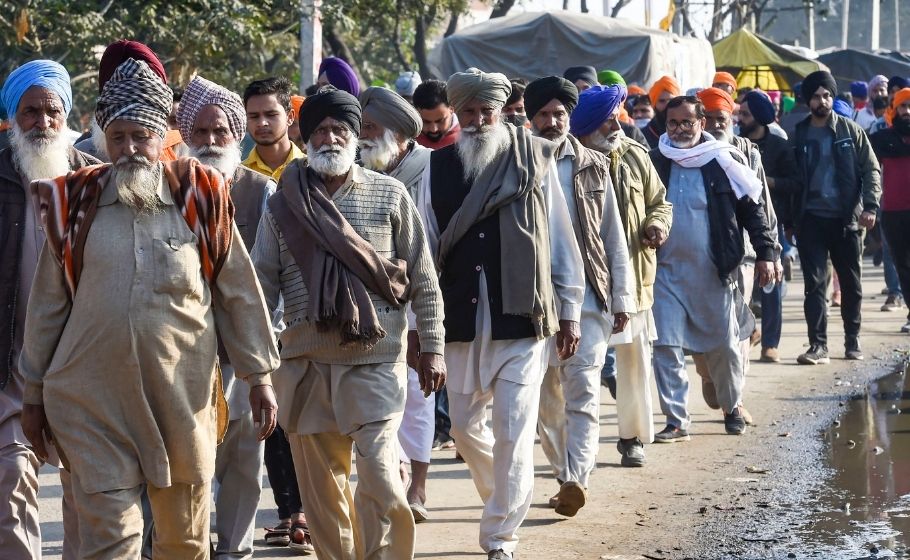 Yet another farmer has allegedly committed suicide near Tikri border – one of the farmers protest sites in Delhi. His body was found hanging from a tree near a bus stand in the area on Sunday morning (February 7).
This is reportedly the sixth suicide case since the farmers began congregating at the Delhi borders to protest against the three farm laws.
On January 21, Jai Bhagwan Rana, a 42-year-old farmer from Pakasma village in Rohtak, who had consumed poison at the Tikri border had died during treatment at a hospital in Delhi, taking the death toll by suicide to five, according to farmers unions.
In this latest case, the farmer, identified as 52-year-old Karmveer Singh, reportedly hanged himself using a plastic rope. The farmer, who has three daughters ostensibly hailed from a village in Jind. "He was found hanging from a tree in a park, which is around two kilometres away from the Tikri border," news agency PTI quoted police as saying.
Also read: Fifth farmer dies by suicide at Tikri; death toll over 135, say unions
Police also recovered a suicide note, which hailing the farmers' body Bharatiya Kisan Union (BKU) and said,  "Sarkar tareek par tareek deti jaa rahi hai. Iska koi andaza nahi hai ki kaale kanoon kab radd hoga. [Hail Bharatiya Kisan Union. The government has only been giving dates after dates. There's no idea when these black laws will be repealed].
The farmer has ostensibly evoked the famous lines from the Raj Kumar Santoshi film, Damini, in which the frustrated lawyer played by actor Sunny Deol breaks down and lambasts the court for postponing the verdict in a critical rape case by pushing the next hearing to another date. In that scene, he also laments the court's decision and cries out, tareek par tareek deti jaa rahi… 
Also read: Farmers need opportunities, not charity or empathy
His body has been sent to a civil hospital for post-mortem but the autopsy will be done only after the arrival of the farmer's family members.