Protests against the contentious Citizenship (Amendment) Act and the proposed National Register of Citizens (NRC) continued on Monday (January 20) with hundreds of students, belonging to different universities, taking out a march from Mandi House to Jantar Mantar in the national capital.
The students raised slogans demanding "azaadi" from the new citizenship law and carried posters that read "We stand united against CAA", "Agar tum decent hote toh dissent ko samajhte (If you were decent, you would have understood dissent)", "Secularism up, Communalism down down".
They marched through Lutyens Delhi escorted by police while raising slogans. The students also lauded protesters at Shaheen Bagh and Jamia Millia Islamia, who have been on a sit-in against the CAA for a month.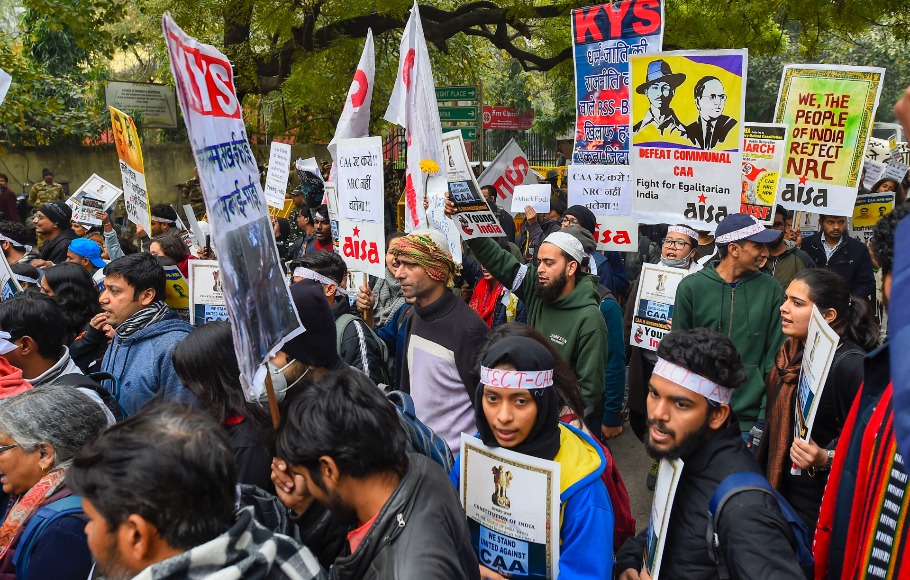 Also read | CPI(M) to launch house-to-house campaign to explain CAA-NPR-NRC 'link'

The march led by the Young India Coordination Committee was joined by several student organisations and coordination committee of Jamia and Shaheen Bagh.
Former Jawaharlal Nehru University Students' Union president N Sai Balaji led the march along with former JNU student Umar Khalid and student leader Kawalpreet Kaur. "We urge the Supreme Court to scrap the unconstitutional CAA. We are protesting to save the Constitution," Balaji said.
Meanwhile, in Mumbai, a group of lawyers read out the Preamble to the Constitution of India outside the Bombay High Court gate to protest the CAA and "some action" being taken against people across the country for opposing it.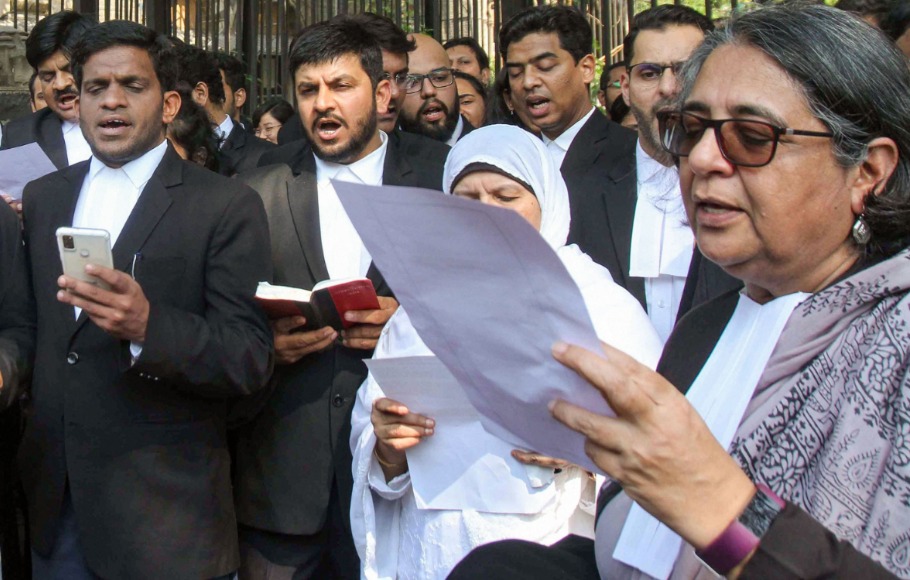 Also read | Lady Deputy Collector pulled by hair during pro-CAA rally in MP, 1 arrested
Over 50 lawyers read out the Preamble in unison and later said no one can divide the country and its citizens on the basis of religion. The lawyers said the CAA seeks to provide citizenship to refugees belonging to six religious communities but leaves out Islam, which is "constitutionally wrong".
In Kolkata, students belonging to the Left-affiliated groups of the Presidency University staged a protest against the CAA and NRC during the varsity's 203rd Foundation Day programme on Monday.
Hundreds of students shouted slogans such as 'Fascism manbo na' (Down with Fascism) and 'We won't accept CAA, NRC' near the programme venue, said SFI member Subhajit Sarkar. Students and alumni also wrote protest messages on a large whiteboard that was put up on the campus.
(With inputs from agencies)
Also read | Video shows police confiscating blankets of protesters in Lucknow
Also read | Jamia, AMU, Shaheen Bagh: Muslim women are heroes of resistance