The heroes of the protests against Citizenship (Amendment) Act (CAA), National Register of Citizens (NRC) and National Population Register (NPR) that are raging across the country are undoubtedly the women of the country.
Be it is Aishe Ghosh, president of the Jawaharlal Nehru University Students Union (JNUSU) who despite getting 16 stitches on her head and a broken arm is still soldiering on against the authoritarian tactics of the BJP, or actor Deepika Padukone whose silent show of solidarity that went viral and drew out voices of support from the reticent Bollywood millennials, it is the women who are driving the agenda.
However, the most surprising heroines of this agitation are the ordinary Muslim women who have come out in huge numbers to finally take their place in the sun.
Be it the female students of Jamia Millia Islamia or Aligarh Muslim University, who have been fearlessly sloganeering and protecting their male friends from brutal police assaults or activist Sadaf Jafar, who was arrested, and beaten and abused in police custody for daring to beam live trigger-happy policemen shooting at protesters in Lucknow, or the housewives of Shaheen Bagh whose peaceful sit-in has spawned similar protests across the country – Muslim women have shed the stereotype of being the oppressed and silent, and have come out to claim their space.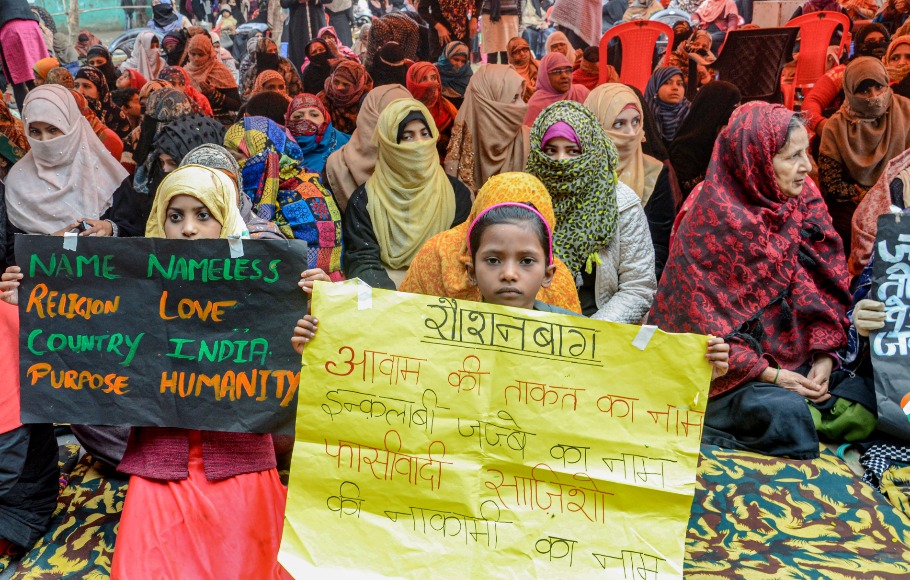 Also read | Rapist is you: Women protesters vs a macho Hindu rashtra
Dressed in their hijabs and burkhas, generally considered the symbol of their oppression, Muslim women have not shied away from defending their rights as citizens of India. Cocking-a-snook at Prime Minister Narendra Modi's infamous comment that "one can recognize protesters by their clothes", they confidently marched and protested wearing their religious identity on their heads to safeguard the rights the Indian Constitution has given them as equal citizens of this country.
This is the first time in the history of independent India that Muslim women have come out in such huge numbers as part of a nationwide agitation, and in some areas, they have virtually taken the lead.
Jamia Millia Islamia students Aysha Renna N and Ladeeda Sakhaloon have become the face of the protests ever since the video of them protecting a male colleague from armed police on December 15 went viral on social media. It was this same incident of police brutality on innocent students that initially spurred some 200 women of Shaheen Bagh in New Delhi to shed their purdahs and make the streets their homes.
A month later this trickle became a flood as thousands gathered at Shaheen Bagh every night in solidarity with the mothers and grandmothers who have been fighting for their children's future. Their weapons of choice are pictures of Babasaheb Bhimrao Ambedkar, the architect of the Constitution, and the tricolour.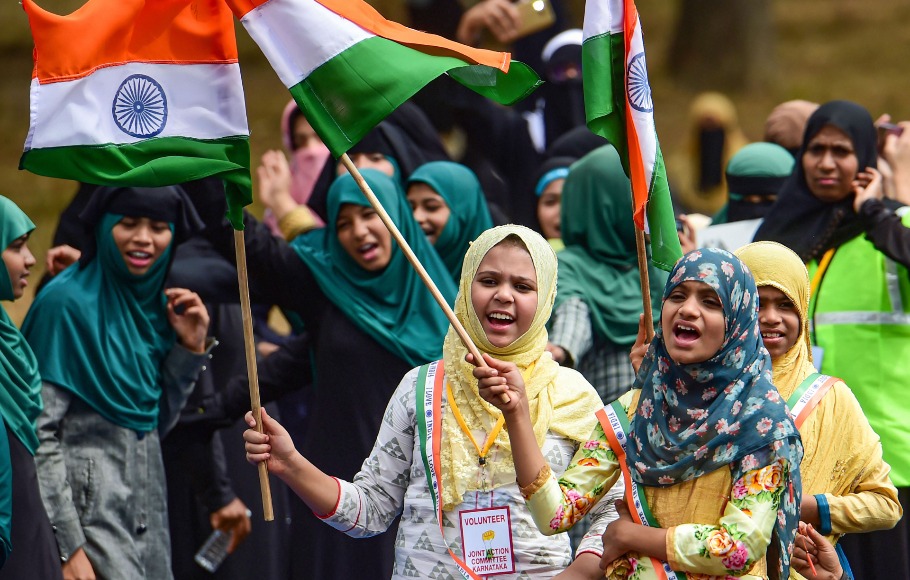 Also read | Shahbag to Shaheen Bagh: Anti-CAA protests have echoes of a secular movement in B'desh

Even as the BJP tries to spread a myth that these women are confused or ignorant about what the CAA or NRC really mean, the grandmothers in their seventies and eighties are very clear about what they are fighting for.
"Modi wants to see our documents. I will show him the graves of my ancestors who were born here, lived and died here. What more proof does he want?" they dared the government. Some even taunted him: "Modi was so worried about our rights that he passed the Triple Talaq law, but can he not see the pain of his sisters and mothers now?"
The spirited sit-in in the national capital during the coldest winter Delhi has seen in a century has become the symbol of the public resistance to the divisive law. Their fame has spread far and wide, and similar sit-ins have been started by women in Kolkata, Patna, Gaya and even Allahabad (now Prayagraj) in Uttar Pradesh. All of them have the same aim – withdraw CAA, NRC and NPR.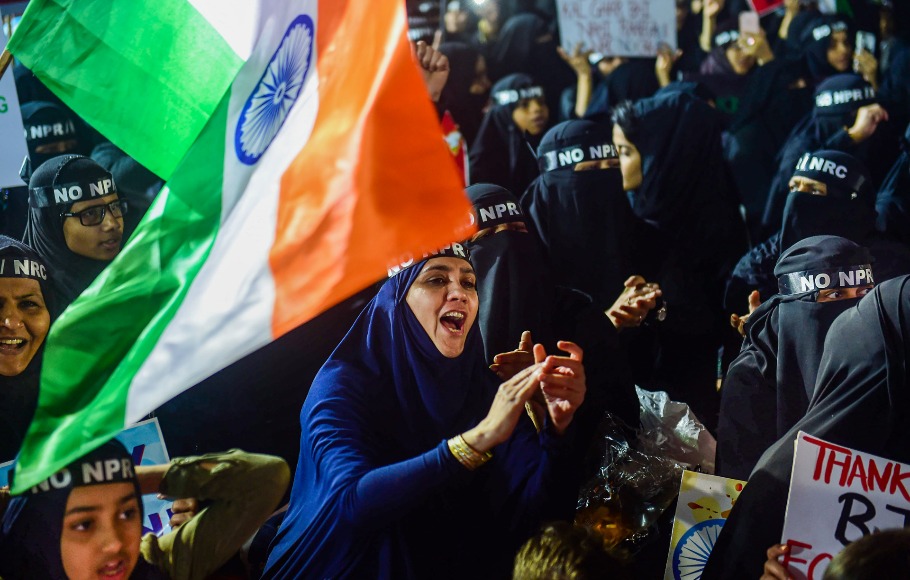 Also read | CAA: Women power sweeps Bengaluru streets as protests continue

So what is it that has brought about this amazing transformation?
For the last six years, Muslims have silently watched as the community was intimidated, demonised and pushed to the wall. They have been told what they can eat and what they can't, how they should dress, where they can live, whom they can love, where they can be schooled, and how they should behave and after all that they are still 'outsiders'.
They did not react when their men were lynched under some flimsy pretexts, when Article 370 was abrogated in Jammu and Kashmir and the state was shut off from the rest of India, when the land in Ayodhya on which the Babri Masjid stood was taken away from them and given to the same people who destroyed the 400-year-old mosque, when their 'personal law' was interfered with or when they were called Pakistani again and again.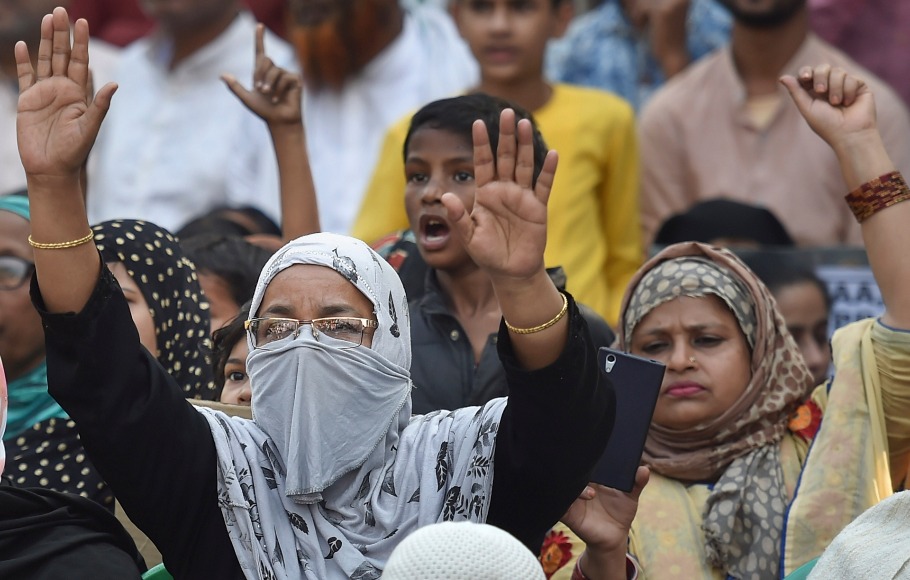 Also read | Arrested for anti-CAA stir, activist Sadaf Jafar, ex-IPS officer get bail

They waited for others, particularly political parties which visit them for their votes, to defend them and stand up for their cause.
But with the CAA and the NRC, it was a direct attack on them and their future in India — an existential threat that could no longer be ignored. It was an 'enough is enough' moment for these brave women who wanted to stand up and be counted. And it is not a battle they want to fight alone. They welcomed anyone who wanted to support them for they see the CAA and NRC as a threat to all poor and marginalised people irrespective of religion and caste.
"I have my documents but what about my Indian brothers and sisters who don't have. I can't let them down," is a common refrain when asked why they are so determined to continue until the law is withdrawn. The main difference here is that the women, who had so far relied on others for speaking up for them, have now decided to take the lead and speak up for others.
(Sajeda Momin has held senior positions in Indian newspapers and now divides her time between Kolkata and London)
(The Federal seeks to present views and opinions from all sides of the spectrum. The information, ideas or opinions in the articles are of the author and do not reflect the views of The Federal)