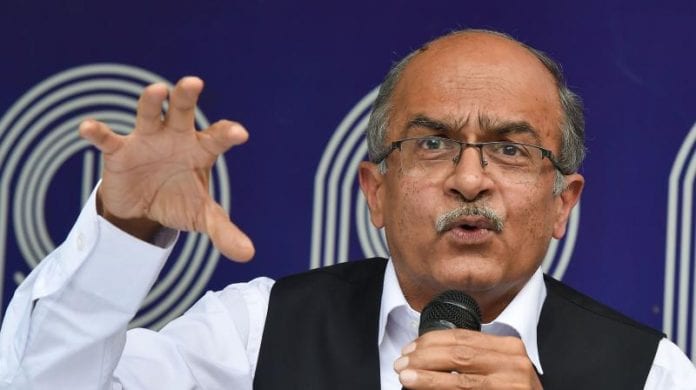 The Supreme Court on Thursday (August 20) asked activist-lawyer Prashant Bhushan to reconsider his statement refusing to apologise for the tweets found contemptuous by the top court.
It granted him two days' time to 'reconsider' his statement, saying the court can be very lenient if there is realisation of mistake. Bhushan told the bench headed by Justice Arun Mishra that he would consult his lawyers and think over the court's suggestion.
Attorney General KK Venugopal urged the bench not to award any punishment to Bhushan in the contempt case saying he has already been convicted. The bench said the request cannot be considered unless Bhushan reconsiders his earlier stand of not apologising.
Earlier in the day, Bhushan told the court he is "pained" at being "grossly misunderstood" by the Supreme Court, but that he was discharging his highest duty with his tweets that the apex court found was in criminal contempt.
"I am pained to hear that I am held guilty of contempt of court," Bhushan said. "I am pained not because of the would-be sentencing, but I am being grossly misunderstood. I believe that an open criticism is necessary to safeguard the democracy and its values. My tweets need to be seen as an attempt for working for the betterment of the institution."
"The tweets, I consider, were discharge of my highest duty. Apologising would also be dereliction of my duty," said Bhushan.
Related news: Prashant Bhushan bats for free speech to raise 'corruption in judiciary'
The court, meanwhile, rejected Bhushan's request that a separate bench should decide on the quantum of his punishment. It said Bhushan's lawyer Dushyant Dave was asking them to commit an "act of impropriety" by requesting another bench to hear the arguments on sentencing.
The activist-lawyer said he intends to file a review petition against the court's verdict and requested the court to wait till a verdict on his review petition to decide on his punishment. The bench said no punishment will be acted upon till a decision on his review petition is made.
A contemnor can be punished with simple imprisonment of up to six months or with a fine of up to ₹2,000, or with both.
Related news: Court could have been magnanimous in Prashant Bhushan case
The bench, also comprising Justices B R Gavi and Krishna Murari, had on August 14 found Bhushan guilty of contempt of court, for making comments on Twitter in June about the current Chief Justice, SA Bobde, and the Supreme Court.
In its judgment, the bench had said, "The Indian judiciary is not only one of the pillars on which the Indian democracy stands but is the central pillar. An attempt to shake the very foundation of constitutional democracy has to be dealt with an iron hand."
In a tweet on June 27, Bhushan said there had been a "destruction of democracy" under the previous four chief justices. In another tweet on June 29, commented on a photo of CJI Bobde astride a high-end motorcycle, he said the CJI was "riding a Rs 50 lakh bike of a BJP leader" and keeping "SC in lockdown denying citizens their fundamental right to justice."