The tide may finally be turning in India's fiercely competitive telecom market as the aggressor may be forced to shed some of its ferocity on pricing.
Reliance Jio Infocomm has been the latest and the most successful entrant in a crowded wireless telecom market in India, decimating competition through freebies and announcing profits within 15 months of commercial operations.
All this while, incumbent telecom operators have been losing subscribers and money, hand over fist, since RJio's arrival. RJio has been able to trump market leader Bharti Airtel and the Vodafone-Idea combine through a bruising price war since arriving on the scene in September 2016.
While incumbents bled, RJio's own average revenue per user (ARPU, a metric to determine how much a telco earns from each subscriber on an average) was above theirs as it attracted subscribers through freebies including free voice and low cost data plans.
Now, even though RJio's ARPU still remains ahead of the rest, it has been declining quarter on quarter for the last six quarters.
And this is providing some hope to incumbent telcos. This continuous decline in ARPU for RJio could prompt it to go easy on price wars and freebies. Therefore, give competitors some breathing space.
Meanwhile, incumbents such as Airtel have also begun weeding out their own low paying customers to improve ARPU. Both, Airtel and the Vodafone-Idea combine have scrapped some of their low value plans, making it mandatory for such subscribers to get a recharge within a specified time period to continue making calls, while also raising the amount for that recharge.
All this shakeup in the telecom market could mean some pain for subscribers. They were making unlimited calls on plans which were usually below Rs 200. Now, not only will such subscribers need to recharge every month but the recharge will also have to be for a higher amount.
This should benefit incumbent telcos and their bleeding could be eased somewhat over the next few quarters.
According to an analysis by Morgan Stanley, RJio was earning Rs 156 revenue per user (ARPU) in Q2FY18 (July-September 2017). This fell to Rs 154 and then to Rs 137 in the next two quarters.
In the June quarter of 2018-19, it fell further to Rs 135, then Rs 132, Rs 130 and was estimated to be just Rs 126 by March this year. That's a decline of Rs 30 per subscriber in six quarters.
During the same period, while Airtel's ARPU remained below RJio's in each quarter, the gap has been narrowing. Airtel was at Rs 145 in Q2FY18 and continued to decline till the March quarter of this year, when it suddenly jumped to Rs 122 (from Rs 104 in Q3FY19). So in Q4FY19, the ARPU gap between RJio and Bharti was just Rs 4.
The analysts at Morgan Stanley said in a note that "RJio's market share in the wireless business has seen substantial growth, and, in our view, RJio is poised to become India's largest wireless operator in FY20, both in terms of subscriber market share and revenue market share."
"Having said that, our base case estimates still do not assume that it touches the 50% market share mark anytime until FY21 – a target that RJio has alluded to in the past.
Monthly subscriber additions have come down to about 9 million per month in the past six months versus the about 12 million it witnessed in F2Q19. Hence, we believe RJio is unlikely to increase tariffs in the near term, as increasing them might slow the on boarding process (thus further pushing out its market share ambitions)," they said.
Bhupendra Tiwary and Sameer Pardikar of ICICI Securities note that Airtel's strategy of focusing on high-paying customers (the low paying ones could move away after recent pricing action and mandatory recharging within a month) was apt.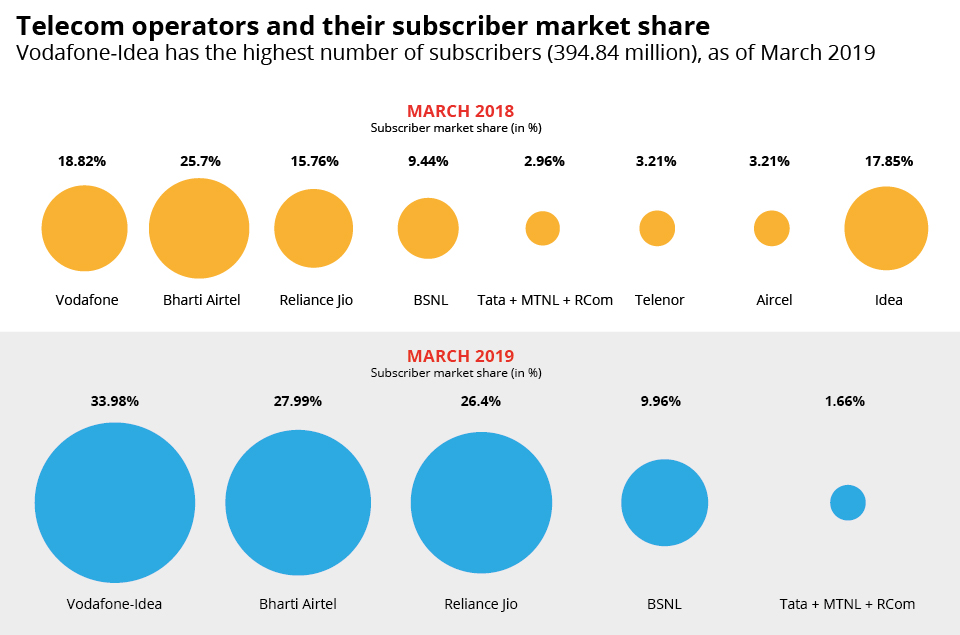 "While the marked price improvement at industry level is still away, we highlight that Bharti is gearing up to tackle the industry pressure with an apt strategy of focusing on high paying customers (seen through recent post-paid price hike), weeding out low/no paying ones (minimum recharge packs), well expanded 4G coverage as well as getting comfortable on balance sheet with deleveraging initiatives. We believe Bharti with a relatively nimble balance sheet (vis-à-vis peers), can remain one of the major players in Indian telecom," they said.
Meanwhile, subscribers continue to flock to RJio, abandoning the incumbents as the overall wireless subscribers also shrink. In March this year (as per latest data from TRAI), subscribers for Vodafone-Idea and Airtel shrank by 14.5 million and 15.1 million, respectively, over February.
But 9.4 million additional users flocked to RJio. Overall, almost 22 million subscribers fell off the wireless telephony charts in a single month.
Analysts said this decline could be a result of myriad factors, such as consolidation of multiple SIM cards by users and weeding out of low value customers by the telcos themselves. Of the subscribers who fell off the grid in March, almost 16 million were rural subscribers.
Comparison with numbers released by TRAI for March 2018 shows an interesting trend. RJio did not account for even every sixth wireless subscriber then but now accounts for almost every fourth wireless subscriber.
It has gained more than 10 percentage points in market share in 12 months which means over 120 million additional subscribers. So RJio averaged additional 10 million subscribers a month between March 2018 and March 2019.
In March 2018, Airtel accounted for every fourth subscriber, Vodafone and Idea individually for not even every sixth subscriber. But in March this year, every third wireless customer was on the Vodafone-Idea combine's network while almost every fourth was with Airtel.