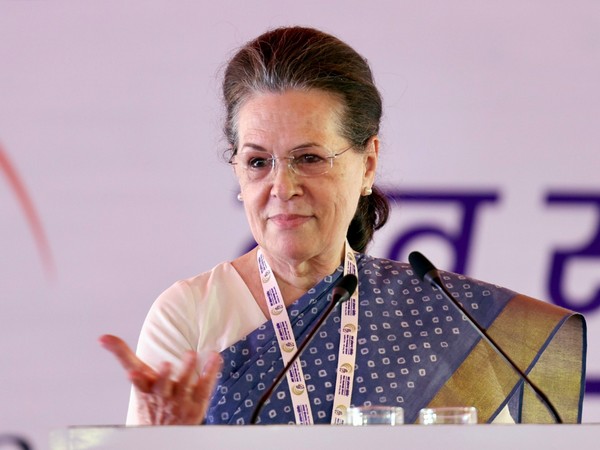 Former Congress chief Sonia Gandhi on Friday (April 14) launched a scathing attack on the Centre, accusing it of "misusing and subverting" the institutions of the Constitution, and called on people to defend the Constitution from this "systematic assault".
Sonia, in an article in The Telegraph on the 133nd birth anniversary of BR Ambedkar, the architect of India's Constitution, said the real anti-nationals are those who are misusing their power to divide Indians against each other on the grounds of religion, language, caste and gender.
"As we honour Babasaheb's legacy today, we must remember his prescient warning that the success of the Constitution depends on the conduct of the people entrusted with the duty to govern," the Congress parliamentary party president said.
Also read: Difficult struggle ahead but victory will be ours: Sonia Gandhi at Congress Plenary
She said the Narendra Modi regime was weakening the foundations of liberty, equality, fraternity and justice on which the Constitution was built.
Sonia alleged that liberty is "threatened" by misusing the law to harass people rather than to protect their rights and equality is "assaulted" by "favoured treatment to chosen friends" in every sphere, even as the vast majority of Indians suffer economically.
"Fraternity is eroded by deliberately manufacturing an atmosphere of hatred and polarising Indians against each other. The resultant injustice is amplified by pressuring the judiciary through a sustained campaign," she said.
She called upon Indians to defend the Constitution from this "systematic assault".
"All Indians wherever they stand political parties, unions and associations, citizens in groups and as individuals must play their parts at this critical time. Dr. Ambedkars life and struggle teaches critical lessons which can serve as a guide," she said.
She said the first lesson is to vigorously debate and disagree, but ultimately work together for the nation's interest.
The history of India's freedom struggle is full of sharp disagreements among Mahatma Gandhi, Jawaharlal Nehru, Ambedkar, Sardar Patel, and many others, she noted.
"These debates naturally attract interest, as they offer many perspectives on serious questions about our future," she added.
"But we must not forget that ultimately, all the eminent men and women who fought for our freedom worked together for our independence and to shape our nation. Their ups and downs at different times only shows that they were fellow travellers on a common journey, and they were well aware of the fact," she added.
Sonia said Dr Ambedkar's conduct as the Chairman of the Constituent Assembly's Drafting Committee exemplifies this principle.
'Spirit of fraternity bedrock of nation'
Sonia said the second lesson to learn is to encourage a spirit of fraternity, the bedrock of the nation.
"Babasaheb believed deeply in the importance of nurturing a brotherhood of Indians as one people, saying without fraternity, equality and liberty will be no deeper than coats of paint," she said.
She said that in his final speech, the Dalit icon had discussed how the caste system strikes at the roots of fraternity and called it "anti-national".
"This phrase is abused by those in power today, but Dr Ambedkar explained its true meaning the caste system is anti-national because it brings about separation, generates jealousy, antipathy in short, because it divides Indians against each other," she said.
"Today, the real anti-nationals are those who are misusing their power to divide Indians against each other on the grounds of religion, language, caste and gender. Thankfully, despite the regimes efforts, the sense of fraternity runs deep in Indians," she asserted.
Sonia cited the example of crores of Indians from all walks of life protesting against religious divisiveness, raising their voices for livelihoods of farmers, and helping each other to their best abilities during the COVID-19 pandemic, saying those instances prove that sense of fraternity runs deep beyond doubt.
Also read: Priyanka puts three options before Sonia Gandhi to revive Congress in UP: Report
"We must always nurture this sense of brotherhood and defend it from attacks in our households, communities, and organisations," she said.
Must fight for social and economic justice: Sonia
The third lesson from Ambedkar is to always fight for social and economic justice, Sonia said.
"Dr Ambedkar fought for the rights of Dalits, as well as the rights of all individuals and communities who were marginalised. The system in the Constitution for backward classes and minorities is flexible and expansive, and has enabled progressive action for their welfare," she noted.
"Today, the challenges of ensuring social justice have taken new forms. The economic reforms of 1991 introduced by the Congress government have increased prosperity, but we now see growing economic inequality," she said.
She said that the "reckless privatisation" of public sector units is narrowing the system of reservation which offered security and social mobility to Dalits, Adivasis and OBCs.
The advent of new technologies is threatening livelihoods but also creating opportunities to organise better, and ensure greater equality, she said.
"The challenge is to learn from Babasaheb Ambedkar and ensure social justice in these changing times, and act on our convictions in our public and private lives," she said.
She also quoted Babasaheb Ambedkars last words in the Constituent Assembly "If we wish to preserve the Constitution… let us resolve not to be tardy in the recognition of the evils that lie across our path…nor to be weak in our initiative to remove them. That is the only way to serve the country. I know of no better."
These words must be our resolve in the years to come, Sonia added.
(With inputs from agencies)